Oxyperm
Integrative Therapeutics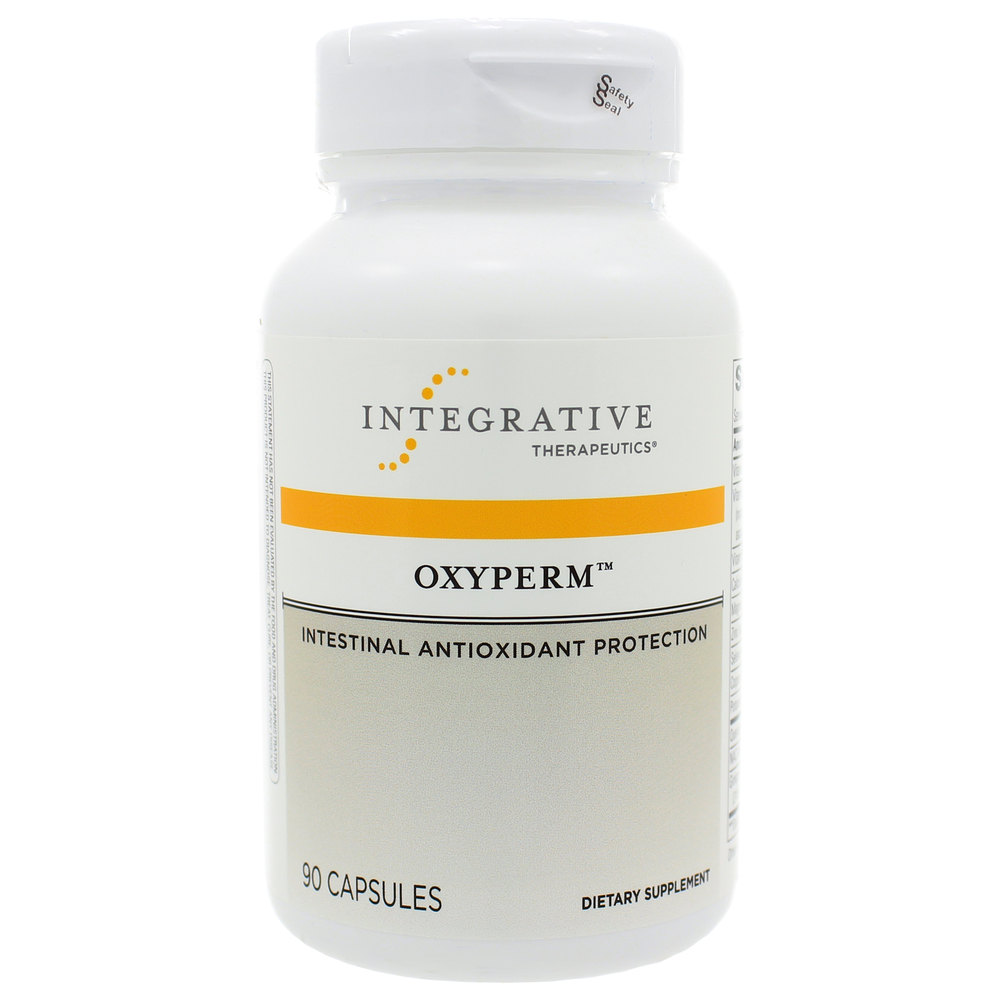 SKU: ITI-236008
Oxyperm - Intestinal mucosa and lining protection.*
Oxyperm supports healthy gastrointestinal mucosa by providing intestinal protection, promoting normal mast cell function, and helping to replenish intracellular glutathione.* This high potency antioxidant formula contains a blend of powerful free-radical scavengers, such as beta-carotene, vitamin C, and E. Both quercetin and ginkgo biloba have been shown to enhance intestinal barrier function.*
Additionally, ginkgo has cytoprotective effects on cells of the gastrointestinal mucosa.* This unique formula also contains zinc, which plays a critical role in supporting healthy intestinal permeability.* Together, these nutrients help protect intestinal mucosal cells from oxidative stress.*
Promotes glutathione production*
Supports proper nutrient absorption*
Take 1 or 2 capsules three times daily with meals for 2 to 4 weeks. Then reduce dosage to 1 or 2 capsules two times daily, or as recommended by your healthcare professional.
Serving Size: 2 Capsules
Amount Per Serving
Vitamin A ... 20, 000IU
(as beta-carotene)
Vitamin C ... 650mg
(from Poly-Ascorbates™) (ascorbic acid and calcium, magnesium, potassium and zinc ascorbates)
Vitamin E ... 133IU
(as d-Alpha Tocopheryl Succinate)
Calcium ... 20mg
(as Calcium Ascorbate)
Magnesium ... 20mg
(as Magnesium Ascorbate)
Zinc ... 30mg
(as Zinc Picolinate, Ascorbate)
Selenium ... 133mcg
(as L-selenomethionine)
Copper ... 500mcg
(as Copper Aspartate)
Potassium ... 5mg
(as Potassium Ascorbate)
Quercetin ... 250mg
NAC ... 100mg
(N-Acetyl-L-Cysteine)
Ginkgo Leaf Extract ... 28mg
(Ginkgo biloba) (standardized to contain 24% ginkgo flavone glycosides)
Other Ingredients: gelatin (capsule), cellulose, calcium laurate, silicon dioxide
Oxyperm™ Does Not Contain
artificial coloring
artificial flavoring
dairy products
gluten
preservatives
salt
soy
sugar
wheat
yeast
Poly-Ascorbates™ is Integrative Therapeutics exclusive blend of pH-buffered mineral ascorbates.
If pregnant, nursing, or taking prescription drugs, consult your healthcare professional prior to use.