PaleoReds Strawberry Powder
Designs for Health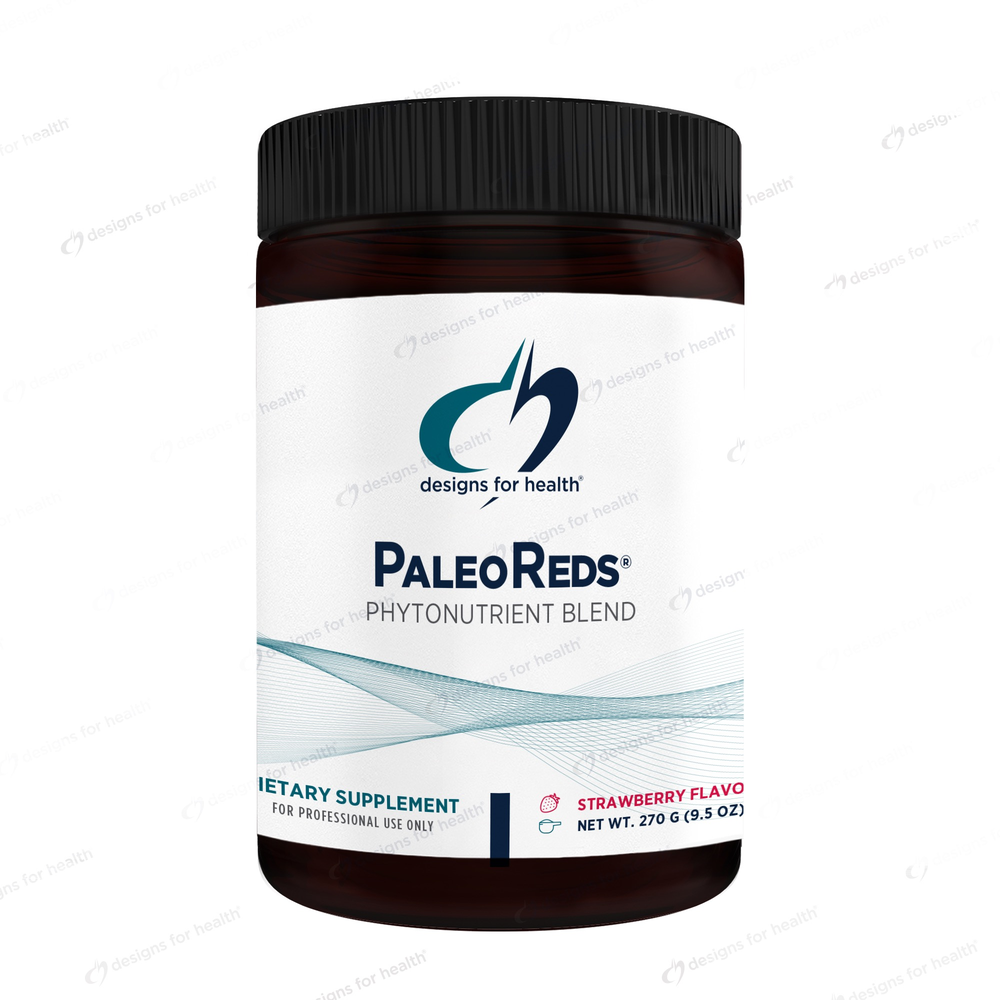 SKU: DFH-PLR270
Nutritionists and physicians are recommending a diet rich in brightly-colored fruits and vegetables because they contain phytonutrients that act as antioxidants to ward off free radical damage. From polyphenols in apples to natural vitamin C from the Amazonian acerola cherry, PaleoReds™ combines over a dozen fruits and vegetables and their phytonutrients from the red/purple group to help reduce the risk of common chronic diseases and premature aging. For our PaleoReds™ powder, Designs for Health has chosen the highest quality, antioxidant-rich ingredients, with over 80% certified organic ingredients, all of which meet stringent standards. The grape skin extract is standardized to resveratrol and the pomegranate is standardized to ellagic acid. This great tasting fruit and berry formula is ideal for patients who need antioxidants, yet are sensitive to synthetic vitamin C made from corn.
Made with non-GMO ingredients.
As a dietary supplement, mix 9 grams (approx. one tablespoon) in water per day, or as directed by your health care practitioner.
Serving Size: 9 grams (approx. one tablespoon)
Amount Per Serving
Calories ... 30
Sodium ... 25mg
Total Carbohydrate ... 8g
Dietary Fiber ... 1g
Sugars ... 6g
Protein ... 1g
Vitamin A ... 309IU
(Beta-Carotene)
Vitamin C ... 120mg
Calcium ... 40mg
Fruit Proprietary Blend ... 6.6g
Organic Apple Powder
Organic Acerola Cherry Powder Extract
Organic Strawberry Powder
Organic Raspberry Powder
Organic Cranberry Powder
Pomegranate Powder Extract
Organic Blueberry Powder
Acai Juice Powder
Vegetable Proprietary Blend ... 1.9g
Organic Carrot Powder
Organic Beet Powder
ORAC Proprietary Blend ... 35mg
OxyPhyte® Grape Skin Extract
OxyPhyte® Grape Seed Extract
Elderberry Extract
OxyPhyte® Apple Extract
Enzyme Blend ... 10mg
Cellulase (450 CU)
Protease (1450 HUT)
Amylase (250 DU)
Lipase (60 FIP)
Other Ingredients: Sunflower lecithin, natural strawberry flavor, tapioca dextrin, stevia powder extract, organic rice flour.
Does not contain gluten
OxyPhyte® is a registered trademark of RFI Ingredients
Notice: This is a natural product that may exhibit color, taste and density variations from lot to lot. It contains naturally occuring ingredients; therefore amounts may vary within the blend.
STORE IN A COOL, DRY PLACE.