Pancreatic Enzymes 1000mg (full strength)
Vital Nutrients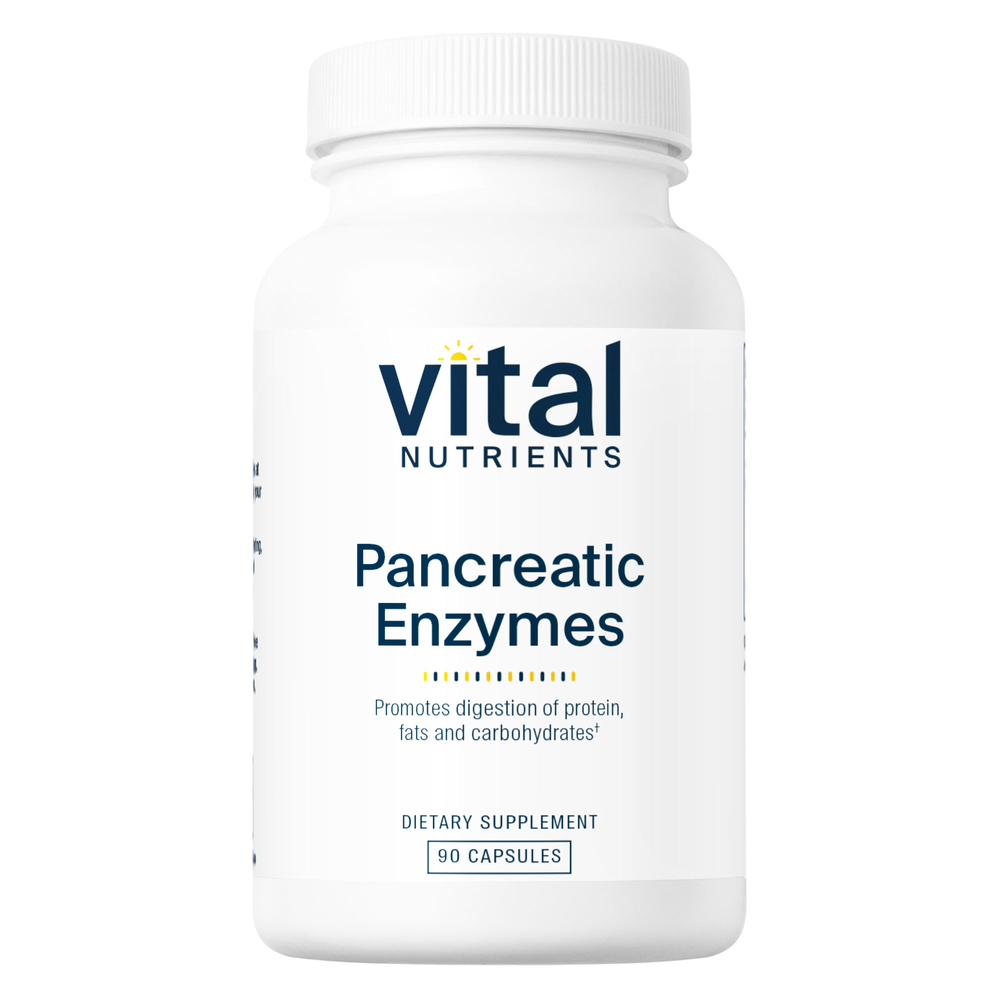 SKU: VN-PE
• Supports natural digestive enzymes*
• Promotes digestion of protein, fats and carbohydrates*
• Supports nutrient absoption*
Pancreatic Enzymes support healthy digestion by supplying natural enzymes that are secreted by the pancreas.* These pancreatic enzymes are essential to the breakdown and absorption of food and its nutrients, helping to promote the normal digestion of proteins, fats and carbohydrates.* Taking pancreatic enzymes wsupplements shortly after a meal may help relieve occasional gas and bloating.* When selecting pancreatin supplements, it's important to note that full strength pancreatin is the preferred form, to ensure it is free of lactose – a commonly used filler which can aggravate digestive complaints in the large proportion of the adult population who are lactose intolerant.
Packaging and labels may vary.
 
Suggested Use: Take 2 capsules at the start of a meal, or as directed by your healthcare practitioner.
Serving Size: 2 capsules
Amount Per Serving
Pancreatic Enzyme Blend ... 1000mg
Protease 223, 000 USP units
Amylase 245, 000 USP units
Lipase 35, 500 USP units
Other Ingredients: Gelatin Capsule, Cellulose, Calcium Carbonate, and Ascorbyl Palmitate.
Free From: Gluten, Dairy, Soy, Egg, Peanut, Tree Nut, Fish, Shellfish, Sesame, Sugar, Coatings, Binders
and Fillers and is non-GMO.
Warning: If you are pregnant, nursing, taking any medications, have a medical condition, or have questions, consult your healthcare practitioner before use. Not intended for children.