Pancreatin
Seroyal/Genestra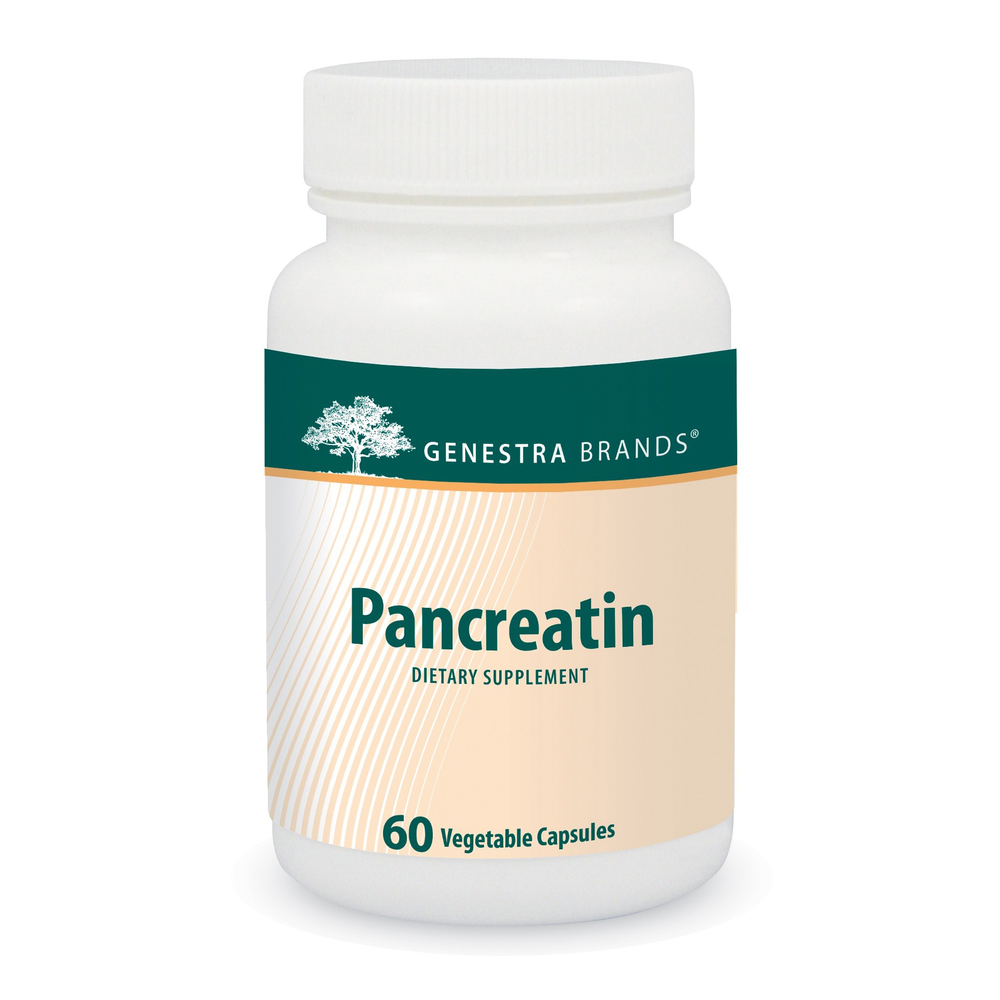 SKU: GN-1051160
Delayed-release pancreatic enzyme formulation
Delayed-release pancreatic enzyme formulation
Helps to decrease bloating after high-caloric, high-fat meals*
Supports optimal digestion and absorption of nutrients*
Provides a mixture of pancreatic enzymes, such as protease, amylase, lipase, chymotrypsin and trypsin
Improved formula
Higher concentration of lipase, chymotrypsin and trypsin
Formulated with delayed-release capsules for targeted release in the intestine*
New easier to swallow capsule format
Pancreatin is a digestive aid formula that helps to decrease mild bloating after high-caloric, high-fat meals. It provides a combination of pancreatic enzymes, including lipase, amylase and protease, which break down fats, carbohydrates and proteins, respectively. Chymotrypsin and trypsin are also present in pancreatic secretions and further contribute to protein digestion. Adequate activity of pancreatic enzymes is critical for proper nutrient digestion and absorption, including the absorption of fat-soluble vitamins. Pancreatin contains enzymes that act like those normally secreted by the pancreas, supporting optimal digestion and nutrient absorption in the gut. Supplementation with pancreatic enzymes has also been shown to significantly reduce the occasional postprandial complaints associated with caloric, high-fat meals, including mild bloating, gas and fullness. As pancreatic enzymes are sensitive to low pH, Pancreatin is specifically formulated with delayed-release capsules that resist stomach acid for targeted delivery to the duodenum and allow optimal enzyme activity.*
Take one capsule three times daily, with each meal or immediately before a meal, or as recommended by your healthcare practitioner.
Serving Size: 1 Capsule
Amount Per Serving
Pancreatic Enzymes ... 370mg
(from porcine pancreas)
Yielding
Protease Activity 37000 USP
Amylase Activity 37000 USP
Lipase Activity 8880 USP
Trypsin ... 20mg / 1500 USP
(from porcine pancreas)
Chymotrypsin ... 8mg / 8000 USP
(from bovine pancreas)
Other Ingredients: Delayed-release capsule (hypromellose, gellan gum), cellulose, ascorbyl palmitate, silica, lactose
Contains: Milk
Guaranteed to contain no added wheat, starch, gluten, corn, soy, artificial coloring or flavoring.
Risk Information: Do not use if you are sensitive to pancreatic enzymes or to pork proteins. Consult your healthcare practitioner prior to use if you are pregnant, breastfeeding, taking any medication, or have any health condition. Hypersensitivity, nausea, vomiting, abdominal pain or heartburn have been known to occur; in which case discontinue use and consult your healthcare practitioner.
Quality Assurance: Safety sealed for your protection and for product freshness. Do not use if outer seal is missing or broken. Store tightly sealed, at room temperature. Keep out of reach of children.