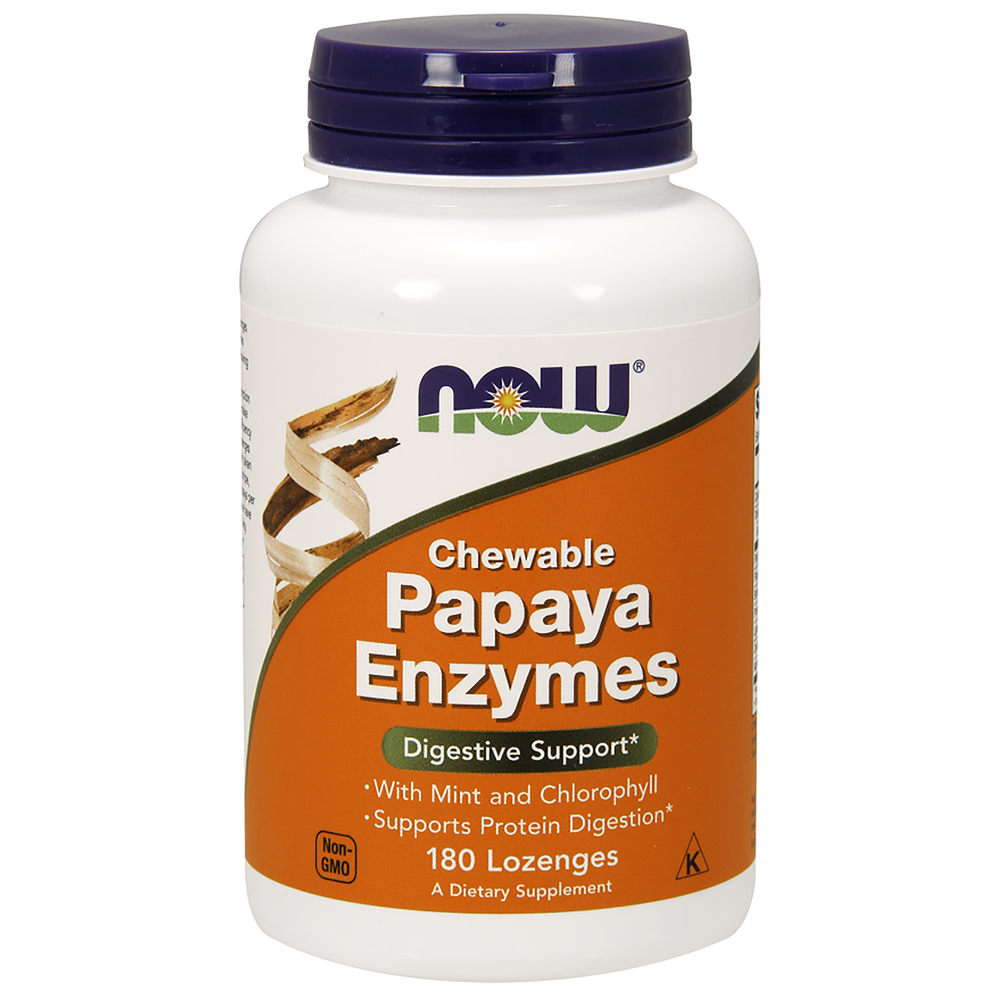 SKU: NOW-2970
Digestive enzymes are essential to the body's absorption and full use of food.* The capacity of the body to make enzymes diminishes with age, and therefore the efficiency of digestion declines.* NOW® Papaya Enzyme Lozenges have a refreshing taste and support digestion when taken after meals.* Our lozenges are made with whole, unripe, spray dried papaya powder, and have 40 mg of papaya per lozenge. In addition, protease, lipase and cellulase have been included for a full spectrum of enzymatic activity. This tablet is also useful as a mint breath freshener.*
Chewable
With Mint and Chlorophyll
Supports Protein Digestion*
Suggested Use:
Adults chew or dissolve 2 lozenges in mouth following meals or as needed. For children (over 4), chew or dissolve 1 lozenge in mouth following meals or as needed.
Amount per Serving
Calories … 5
Total Carbohydrate … 2g*
Sugar Alcohols (Sorbitol and Mannitol) ... 1g†
Papain (2000 USP/mg) … 100mg†
(from Papaya)
Papaya Fruit Powder … 80mg†
Bromelain (2400 GDU/g) … 20mg†
(from Pineapple)
Protease (5000 FCC/g) … 20mg†
Lipase (10,000 USP/g) … 2 mg†
Cellulase (4000 FCC/g) … 0.6mg†
Alpha-Amylase (25,000 SKB/g) … 2mg†
Other Ingredients: Stearic Acid (vegetable source), Magnesium Stearate (vegetable source), Silicon Dioxide, Peppermint Leaf Powder, Peppermint Oil and Sodium Copper Chlorophyllin (Chlorophyll).
Not manufactured with wheat, gluten, soy, milk, egg, fish, shellfish or tree nut ingredients. Produced in a GMP facility that processes other ingredients containing these allergens.
Caution: Consult physician if pregnant/nursing, taking medication, or have a medical condition (including allergy to papaya, pineapple). Keep out of reach of children.
Natural color variation may occur in this product.