Para-X (formerly Paracid-X)
BioMatrix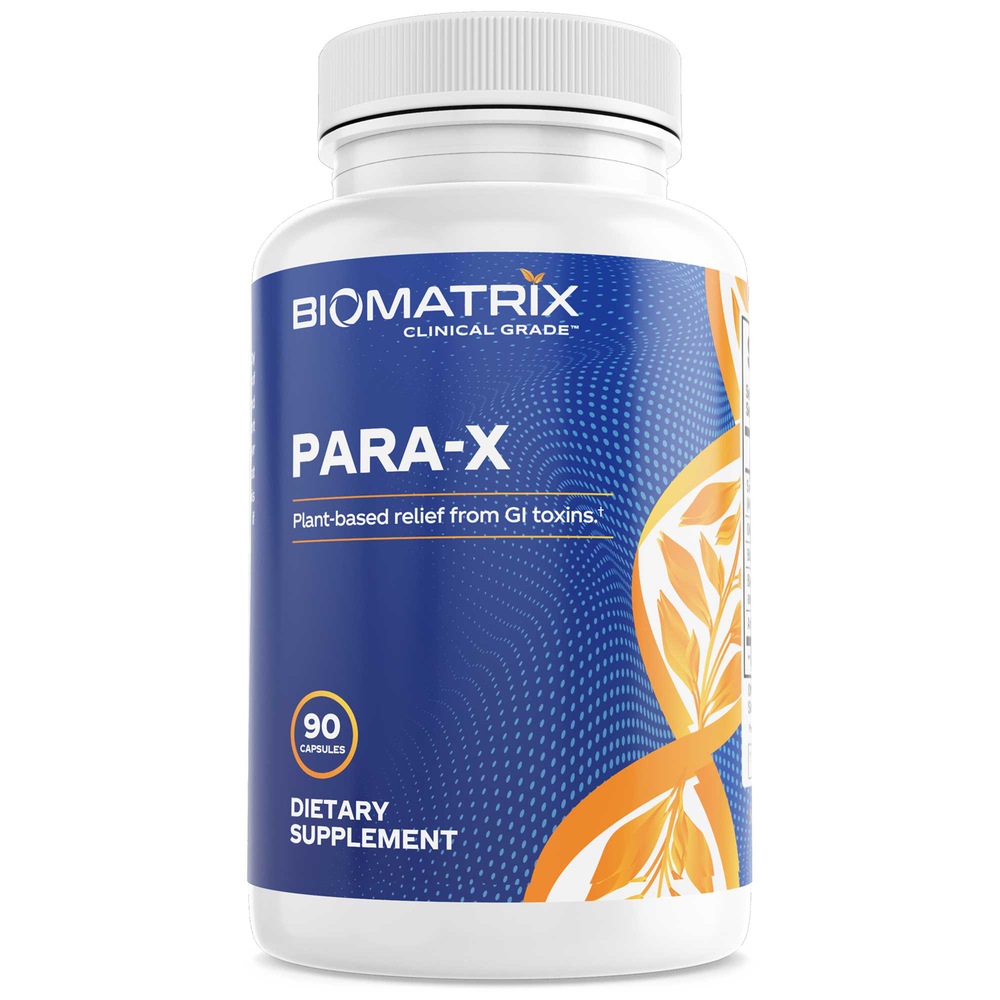 SKU: BMX-70901
Para-X (formerly Paracid-X) is a comprehensive formula designed to assist traditional therapies in removing a broad range of unfriendly organisms from the body. Sweet wormwood (Artemisia annua) contains a potent compound called artemisinin, extracts of which have been used to assist in therapies against infection. Research is ongoing on its effectiveness against other unfriendly organisms.
This traditionally-used herb is combined with additional plant extracts including olive leaf, black walnut hull and berberine, derived from plants known in traditional and modern medicine to support microbial balance within the body.
Botanical support which address GI infections.
Provides a broad combination of potent botanicals.
Helpful in suppressing a wide array of organisms.
Anti-inflammatory activity to reduce tissue damage and support repair.
Immune-modulating properties to support the innate immune response.
The leaves of the wormwood plant, olive leaves, and the hull or shell of the black walnut contain substances which support a healthy gut.
Purified plant-derived substances with anti-inflammatory and immune-modulating properties.
Combines traditional herbal approaches with the latest ingredients to provide the best of the old and the new.
Can be used to support therapies intended to eliminate intestinal parasites and prevent new infections.
Suggested Use:
Take 1 capsule three times per day or as recommended by your health care professional.
Serving Size: 1 Capsules
Amount Per Serving
Sweet Wormwood … 150 mg
(Aerial Portion)
Olive Leaf Extract … 100 mg
(20% Oleuropein)
Black Walnut Hull … 85 mg
Berberine Hydrochloride Hydrate … 75 mg
Artemisinin … 25 mg
Other Ingredients: Microcrystalline Cellulose, Vegetable Stearate, Silicon Dioxide, Hypromellose (Vegetable Capsule Shell)
Formulated to be free of allergens derived from: Gluten, yeast, artificial colors and flavors.
Warning: Do not consume this product if you are pregnant or nursing. KEEP CONTAINER TIGHTLY CLOSED. STORE AT ROOM TEMPERATURE. KEEP OUT OF REACH OF CHILDREN. This product was sealed for your protection. Do not use if outer or inner seal is missing or damaged.