Parasites
Newton Laboratories Inc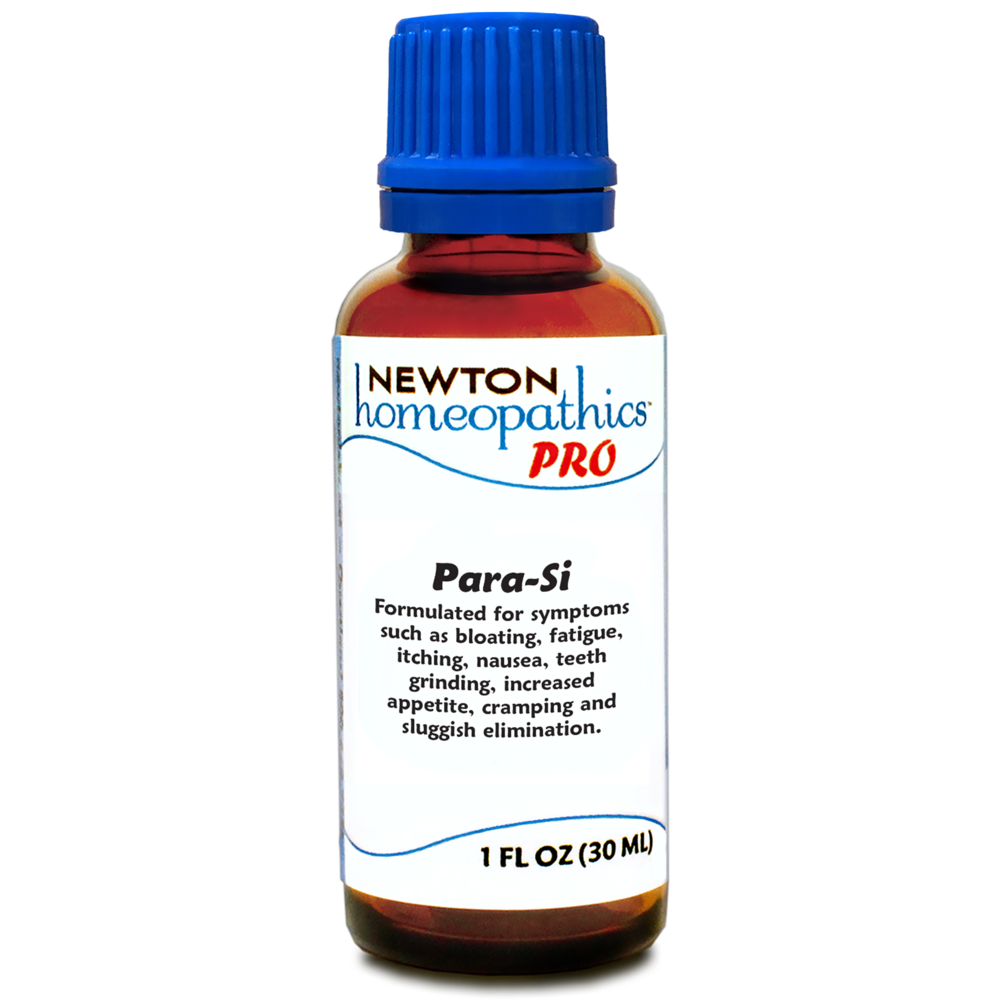 SKU: NE2-R042L01
PRO Parasites
Formulated for associated symptoms such as bloating, fatigue, itching, nausea, teeth grinding, increased appetite, cramping, sluggish elimination and other related symptoms.


Suggested Use:
Ages 12 and up, take 6 drops by mouth (ages 0 to 11, give 3 drops) one to four times daily or as directed by a health professional.


Active Ingredients:
Equal parts of Juglans regia 3x, Juglans regia 8x, Abrotanum 20x, Aesculus hippocastanum 20x, Allium sativum 20x, Arsenicum album 20x, Artemisia vulgaris 20x, Baptisia tinctoria 20x, Cina 20x, Cuprum metallicum 20x, Filix mas 20x, Granatum 20x, Ipecacuanha 20x, Lachesis mutus 20x, Lycopodium clavatum 20x, Mercurius vivus 20x, Naphthalinum 20x, Natrum muriaticum 20x, Nux vomica 20x, Pulsatilla 20x, Ratanhia 20x, Ruta graveolens 20x, Sabadilla 20x, Santoninum 20x, Silicea 20x, Spigelia anthelmia 20x, Terebinthina 20x, Teucrium marum 20x, Thymolum 20x, Zingiber officinale 20x.

Inactive Ingredients:
USP Purified water; USP Gluten-free, non-GMO, organic cane alcohol 20%.


PRO Parasites Active Ingredient's Use:
Abrotanum HPUS: Diarrhea.
Aesculus hippocastanum HPUS: Constipation.
Allium sativum HPUS: Diarrhea.
Arsenicum album HPUS: Vomiting.
Artemisia vulgaris HPUS: Diarrhea.
Baptisia tinctorial HPUS: Diarrhea.
Cina HPUS: Vomiting.
Cuprum metallicum HPUS: Nausea.
Filix mas HPUS: Constipation.
Granatum HPUS: Itching.
Ipecacuanha HPUS: Vomiting.
Juglans regia HPUS: Itching.
Lachesis mutus HPUS: Constipated.
Lycopodium clavatum HPUS: Bloating; Gas.
Mercurius vivus HPUS: Itching.
Naphthalinum HPUS: Diarrhea.
Natrum muriaticum HPUS: Nausea.
Nux vomica HPUS: Constipation.
Pulsatilla HPUS: Vomiting.
Ratanhia HPUS: Itching.
Ruta graveolens HPUS: Diarrhea.
Sabadilla HPUS: Itching.
Santoninum HPUS: Itching.
Spigelia anthelmia HPUS: Itching.
Terebinthina HPUS: Nausea; Vomiting.
Teucrium marum HPUS: Itching.
Thymolum HPUS: Vomiting.
Zingiber officinale HPUS: Diarrhea.

"HPUS" indicates that the ingredient is in the official Homeopathic Pharmacopeia of the United States.

Disclaimer: NEWTON product uses are based on traditional homeopathic practice. These products have not been evaluated by the FDA, and have not been evaluated for medical evidence.

Warnings: Keep out of reach of children. Do not use if tamper-evident seal is broken or missing. If symptoms worsen or persist for more than a few days, consult a doctor. If pregnant or breast feeding, ask a doctor before use.

It looks like there are no similar
products available