Pea Protein Isolate
Biotics Research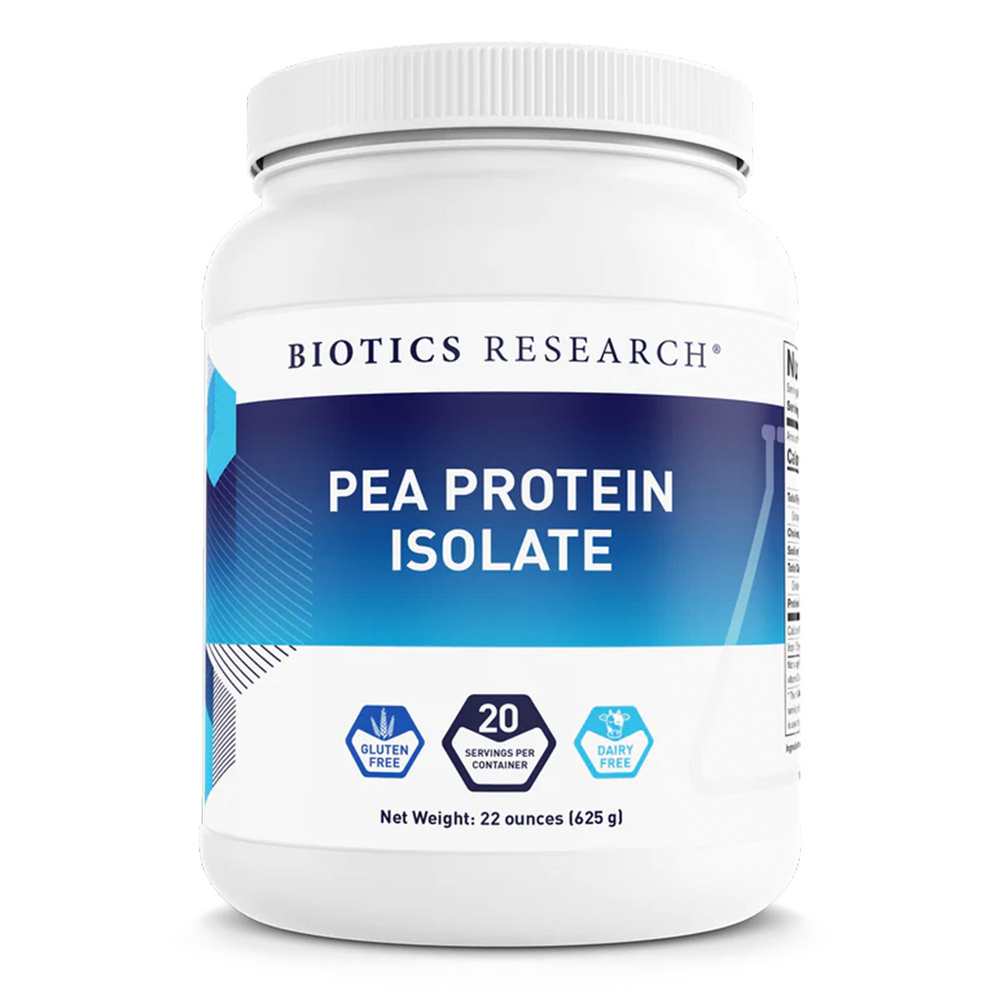 SKU: BRC-6430
The Pea Protein Isolate is a non-GM, gluten-free source of protein with an excellent amino acid profile. It may be used as a supplemental source of protein, or along with our Bio-Detoxification Program.*
Suggested Use:
Three (3) scoops of Pea Protein Isolate mixed with either (8) ounces of cool water (or the beverage of your choice). Add product to the liquid for ease of mixing.


Serving Size: 31.25g (appx 3 scoops)

Amount Per Serving
Calories ... 135
Total Fat ... 3g
Cholesterol ... 0mg
Sodium ... 340mg
Total Carbohydrates ... 2g
Dietary Fiber ... 1g
Protein ... 25g
Calcium ... 30mg
Iron ... 7.5mg

Ingredient: Organic Pea Protein.

This product is gluten and dairy free.

Typical Amino Acid Profile Per Serving:
Alanine ... 1,044mg
Arginine ... 2,075mg
Aspartic acid ... 2,922mg
Cystine ... 172mg
Glutamic acid ... 4,328mg
Glycine ... 967mg
Histidine ... 584mg
Isoleucine† ... 1,084mg
Leucine† ... 2,059mg
Lysine ... 1,947mg
Methionine ... 266mg
Phenylalanine ... 1,303mg
Proline ... 1,015mg
Serine ... 1,303mg
Threonine ... 878mg
Tryptophan ... 219mg
Tyrosine ... 884mg
Valine† ... 1,172mg
†Branch Chain amino acids

All values are typical and representative but should not be considered exact.
Keep out of reach of children.

Storage: Store in a cool, dry area. Sealed with an imprinted safety seal for your protection.