PectaSol-C Modified Citrus Pectin Lime Infusion
EcoNugenics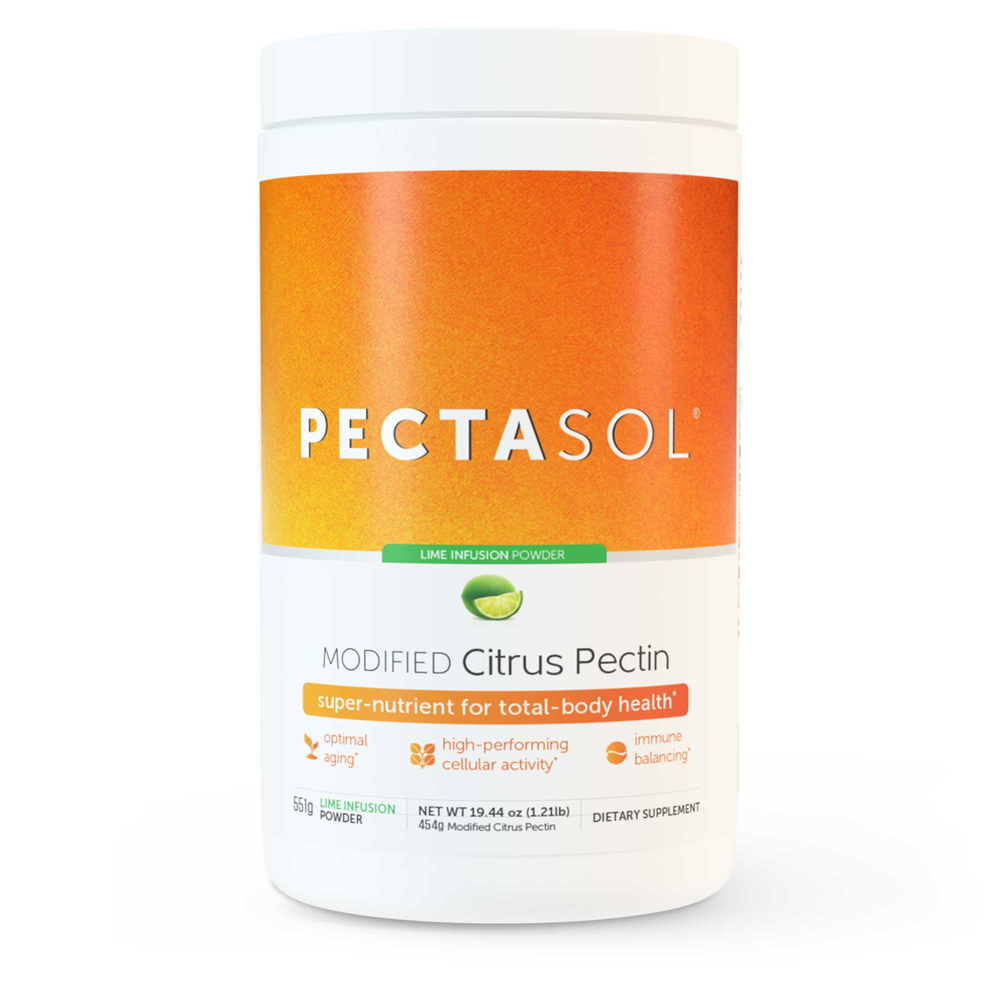 SKU: EC2-PECTFLAVPD
Now you can get all the important benefits of the only clinically proven Modified Citrus Pectin, in a delightful natural lime flavor. Also available in individual packets for on-the-go convenience.
Savor long lasting health with Lime Infusion PectaSol-C®!
PectaSol-C® is scientifically recognized for its ability to maintain healthy cell growth and proliferation, safely remove heavy metals, support immunity and promote healthy galectin-3 levels. Natural lime flavor and just a touch of stevia gives this beverage a delicious, refreshing flavor. Delight your taste buds while taking care of your cellular health!
-Supports Cellular Health*
-Supports Healthy Immune Response*
-Supports Healthy Detoxification*
What is PectaSol-C Modified Citrus Pectin?
This natural product is derived from the pith of citrus fruit peels, including lemons, limes, oranges and grapefruits, and is modified using a proprietary enzymatic and pH process. This unique modification process guarantees that PectaSol-C® MCP has the correct molecular weight necessary to promote optimal cellular health of the breasts, prostate, lungs and more.*
Supports Healthy Cells & Blocks Galectin-3*
Ongoing scientific research demonstrates PectaSol-C®s natural ability to support healthy cell growth and behavior by binding Galectin-3. MCP is a natural ligand for Galectin-3, a molecule present in large numbers on the surface of unhealthy cells.*
Removes Toxic Heavy Metals*
Published in 2006, a clinical trial demonstrated PectaSol-C® MCPs ability to bind and remove toxic heavy metals from the body, without affecting essential minerals. Heavy metal removal with PectaSol-C® MCP has been shown in multiple case studies to play a role in ongoing health maintenance. A hospital study in 2008 reported that PectaSol-C® significantly decreased toxic lead levels.*
Unique Modification Process
The pectin found in many fruits cannot be absorbed into the bloodstream due to its large molecular size. Only PectaSol-C® MCP is produced using a proprietary process that carefully controls the weight and structure of the pectin molecules. The result is Modified Citrus Pectin with a specific low molecular weight range less than 15 kilodaltons and a low degree of esterification. This means that it is readily and effectively absorbed into the bloodstream, where it can actively promote cellular health.*
As a dietary supplement for maximum support, take 1 packet or 1 scoop (6.125 grams) 3 times daily with liquid on an empty stomach. For long term maintenance, take 1 packet or 1 scoop (6.125 grams) per day with liquid on an empty stomach or as recommended by your healthcare practitioner.
Serving Size: 1 packet (6.125 grams) or 1 scoop (6.125 grams)
Amount Per Serving
Total Carbohydrates ... 4g
Dietary Fiber ... 3g
Sodium ... 180mg
Potassium ... 420mg
PectaSol-C® Modified Citrus Pectin ... 5g
Other Ingredients: Citric Acid, Natural Lime Flavor and Stevia Leaf Extract
PectaSol-C® does not contain any Vitamin C, the "C" stands for cellular health.*
PectaSol-C® Modified Citrus Pectin is 100% vegetarian, allergen and gluten free, and contains no artificial flavors, preservatives or colors. All of ecoNugenics supplements are manufactured in a manner that meets or exceeds the current Good Manufacturing Practices (GMP) guidelines, as outlined by the Food and Drug Administration (FDA).
PectaSol-C can be stored in a cool, dry place; it is not necessary to store it in the refrigerator. Pectasol-C is a very stable material, and can withstand temperatures in excess of 120+ degrees F.
Research has shown no toxicity in short or long term use. Since PectaSol-C MCP is a dietary fiber, some individuals may experience loose stools at the start of use. Although there are no known drug interactions with PectaSol-C MCP, it is recommended that it be taken separately from other medications. In the production of PectaSol-C MCP, the ratio of sodium to potassium is carefully controlled to resemble the ratio naturally present. People with a health condition requiring the restriction of potassium or sodium should consult their health care provider before using this product. If you are nursing, pregnant or considering pregnancy, you should consult your healthcare professional prior to using this product.*
*These statements have not been evaluated by the Food and Drug Administration. These products are not intended to diagnose, treat, cure or prevent any disease.