Pediatric Custom Multi-Vitamin Base Powder
Metabolic Maintenance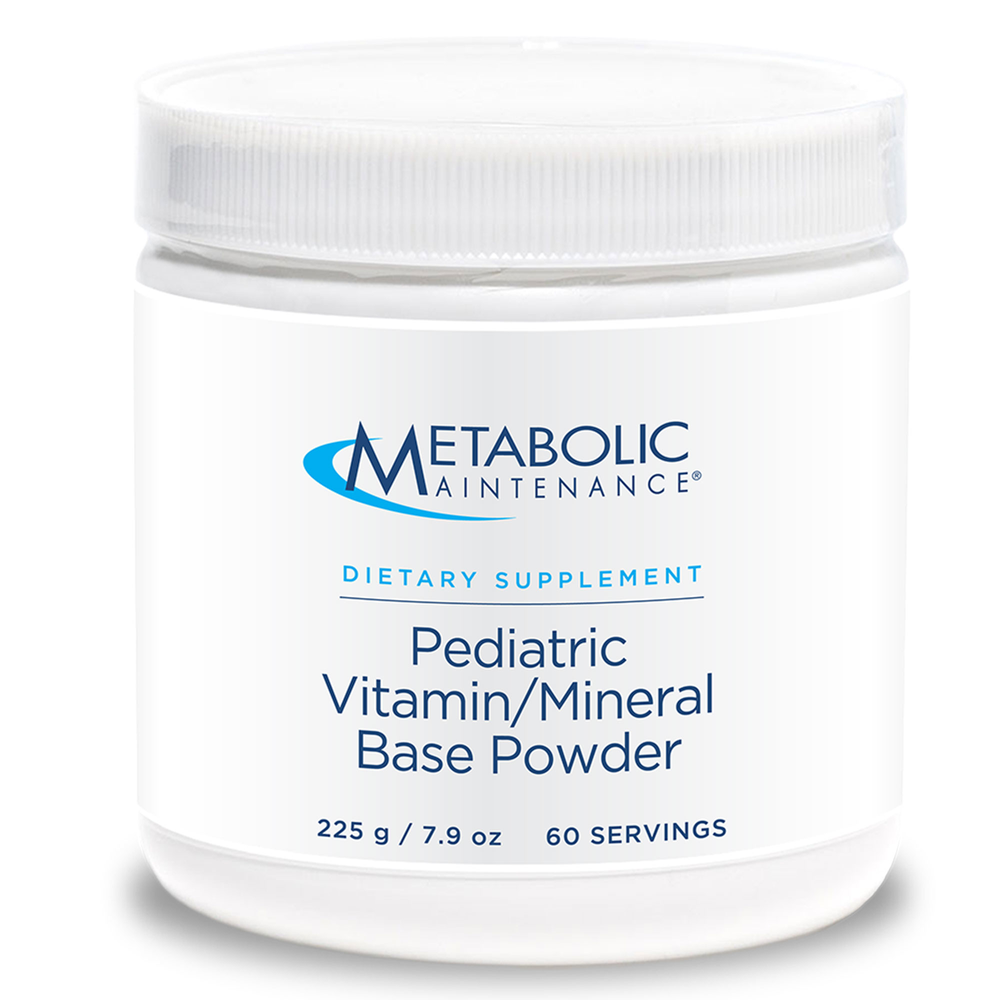 SKU: ME3-00530
Pediatric Custom Multi-Vitamin Base Powder
-Children require unique nutritional support.This Pediatric MultiVitamin Powder
is specifically formulated to meet childrens growing needs at this important
time of life. Nutritional support is important to help children reach their
full health potential.
.
3 level scoops (3.8g daily) as a dietary supplement. Stir into juice or
favorite beverage. best to be taken with a meal or as directed by a Doctor.
Serving Size: 3 Scoops (3.8g)
Amount Per Serving
Vitamin A ...1500IU
(1000 IU as Palmitate and 500 IU as Beta Carotene)
Vitamin C ...125mg
(as Ascorbic Acid)
Vitamin D-3 ...400IU
(as Cholecalciferol)
Vitamin E ...50IU
(as d-Alpha Tocopherol Acetate and Mixed Tocopherols)
Vitamin K-1 ...50mcg
Thiamine ...2mg
(as Thiamine Mononitrate)
Riboflavin ...2mg
(as Riboflavin 5 Phosphate)
Niacin ...6mg
(as Niacinamide)
Vitamin B-6 ...7mg
(as Pyridoxal 5 Phosphate)
Folate ... 333mcg
(200mcg as L-5-Methylfolate, glucosamine salt)
Vitamin B-12 ...10mcg
(as Methylcobalamin)
Biotin ...100mcg
Pantothenic Acid ...5mg
(as d-Calcium Pantothenate)
Calcium ...500mg
(as Calcium Pantothenate)
Iodine ...70mcg
(as Potassium Iodide)
Magnesium ...120mg
(as Magnesium Glycinate)
Zinc ...5mg
(as Zinc Glycinate)
Selenium ...25mcg
(as Selenomethionine)
Copper ...0.5mg
(as Copper AA Chelate)
Manganese ...1.5mg
(as Manganese Glycinate)
Chromium ...25mcg
(as Chromium Niacinate)
Molybdenum ...25mcg
(as Molybdenum AA Chelate)
Boron ...1mg*
(as Boron Citrate)
Other ingredients: Glycine. Natural Vitamin E is derived from soy oil.
No excepients, preservatives, binders, or fillers. Nothing but pure active
ingredients.
*This statement has not been evaluated by the Food and Drug Administration.
This product is not intended to diagnose, treat, cure or prevent any diseases.