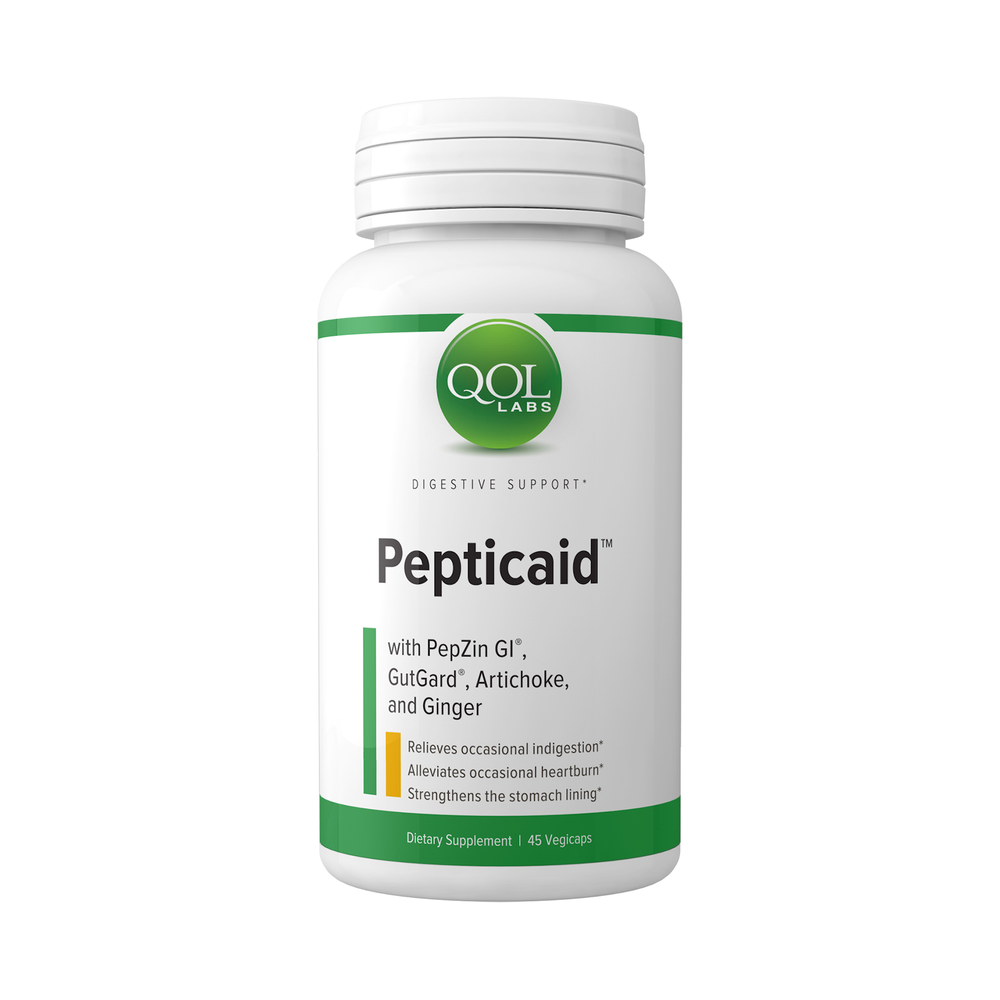 SKU: QUA-PEPTICADE
Relieves symptoms of occasional indigestion— including pain, bloating, fullness, and nausea —with artichoke leaf, GutGard, and ginger.*
Alleviates occasional heartburn, with GutGard, which slashes symptoms of occasional heartburn by more than half.* Strengthens the stomach lining, with PepZin GI, which supports the growth and health of the stomach lining.* Promotes daily regularity, with artichoke leaf, helping alleviate occasional constipation andoccasional diarrhea.*
As you get older, you're more likely to suffer from occasional indigestion. In fact, four out of ten older adults experience digestive distress each year. Why? Because your production of stomach acid declines with age, affecting your ability to break down food. Other factors that can impair digestion include stress, sedentary lifestyles, and diets high in processed foods.
In a double-blind, placebo-controlled human study, GutGard® DGL slashed symptoms of occasional heartburn by more than half.* Likewise, PepZin GI® (patented zinc carnosine) was effective for relieving occasional heartburn in human subjects.* Importantly, Pepticaid does not suppress the production of stomach acid, which is needed for healthy digestion.
Another important part of digestive health and comfort is maintaining a healthy intestinal environment. The subject of 38 human clinical trials, PepZin GI has been shown to support the growth and health of the stomach lining.* A recent human study found that artichoke leaf extract helped normalize bowel patterns in people with occasional constipation and occasional diarrhea.*
Take 1 vegicap three times daily with a meal.
Serving Size: 1 vegicap
Amount Per Serving
Zinc ... 2.7mg
(from zinc carnosine)
L-carnosine ... 25mg
(from zinc carnosine) (PepZin GI®)
Artichoke leaf extract ... 213.3mg
Ginger root extract ... 333.3mg
GutGard® DGL licorice root extract ... 50mg
(Glycyrrhiza glabra)
Other Ingredients: vegetable cellulose, maltodextrin, leucine, colloidal silicon dioxide.
GutGard® is a registered trademark of Natural Remedies, Pvt.
PepZin GI® is a registered trademark of Hamari Chemicals Ltd.
WARNING: DO NOT USE IF SEAL IS BROKEN OR MISSING.
Keep out of reach of children. Store at room temperature. Consult a doctor before use if you are pregnant or lactating, have or had a medical condidition, or taking prescription drugs.