Perfect Amino Powder, Mixed Berry
BodyHealth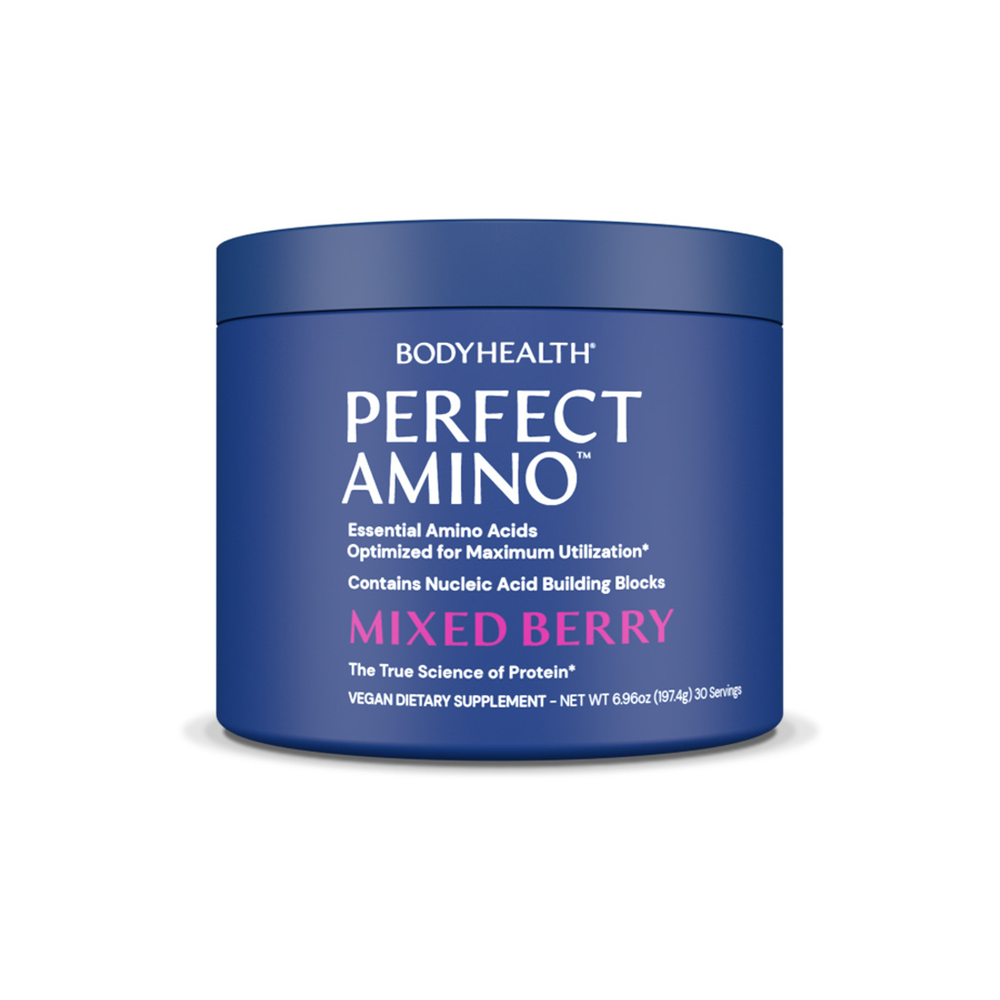 SKU: BOD727-XPMB301
Pure essential amino acids in a form that is both 99% utilized (3-6x the protein of other sources with almost no calories) and fully absorbed within 20-30 minutes! 100% vegan and non-GMO.

WHAT IS PERFECT AMINO POWDER?
Perfect Amino Powder is the powdered version of our Flagship product Perfect Amino. One scoop of this powder gives you the equivalence of 5 tablets, in a delicious flavored drink, which is great for those of us who have a hard time taking lots of tablets. Just mix with ice water and enjoy!

AMINO ACIDS – THE BUILDING BLOCKS OF PROTEIN
Many people know that protein is essential for optimum health, but most assume they consume enough protein from the food they eat. So why the need for an amino acid supplement? The simple answer is that – yes, you do get good quality from foods such as eggs, meat, fish, and nuts, but much of the protein in food is not converted into body protein. Sadly, much of the protein from common dietary sources is turned into waste, burned as calories, or converted into sugars and fats.

Almost everyone is protein deficient without realizing it. It plays out as a nagging injury that won't heal in athletes, brittle bones in menopausal women, or constant colds in children. Protein deficiency is often something you are aware of but can't quite identify. So what's the solution? Perfect Amino is an amino acid supplement that is 99% utilized by the body to make protein. No other form of protein comes close!*

Suggested Use:
As a dietary supplement, take 1 scoop in 8-12 oz of cold water or juice daily, either 30 minutes before, or 1 hour after eating other proteins or fats. Use more water if needed to satisfy your taste buds. As an exercise aid, take an additional 1-2 scoops prior to physical activity or as described by a health professional.

Serving Size: 1 Scoop/6.541g

Amount Per Serving
Proprietary Blend ... 5 g
(L-Leucine, L-Valine, L-Isoleucine, L-Lysine HCI, L-Phenylalanine, L-Threonine, L-Methionine, L-Tryptophan)

Other Ingredients: Malic Acid, Mixed Berries Flavor (Natural), Citric Acid, Stevia Extract, Sunflower Lecithin.

Does not contain: Fat, yeast, gluten, soy, corn, wheat, rice, GMO, preservatives, dairy or animal products.
Maximum daily intake should not exceed 6 scoops.

For best taste, refrigerate after opening and shake before use.