Omega-3 Pet (Cats and small dogs)
Nordic Naturals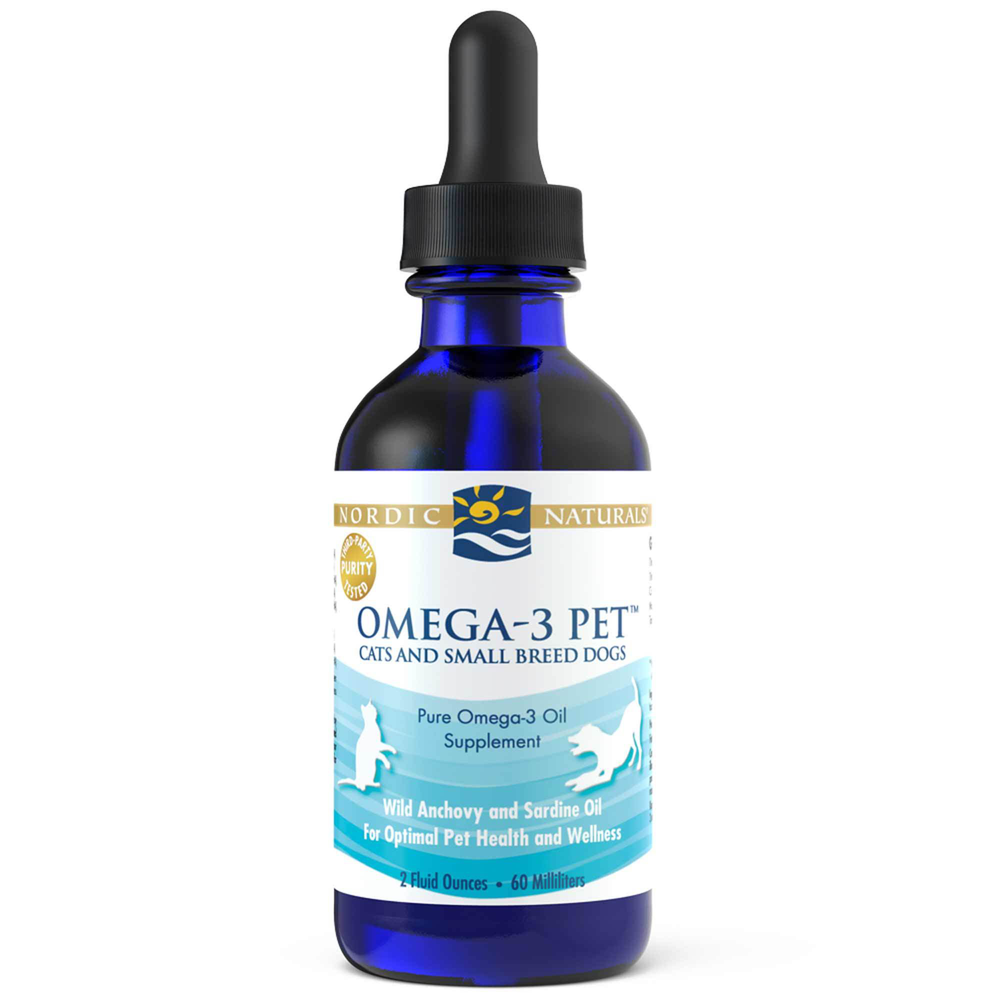 SKU: NORD-50505
Cellular health
Immune system health
Skin and coat health
Joint health
Heart health
Brain development and maintenance
Eye development and maintenance
Nordic Naturals was inspired to launch the Nordic Pet® Collection to provide dog and cat companions with the same exceptional quality oils we produce for humans, so they too can experience the benefits of our fish oils.
Nordic Naturals Omega-3 Pet for Cats and Small Breed Dogs is an excellent source of the omega-3 essential fatty acids EPA and DHA. It is an essential supplement to promote optimal pet health and wellness at home. Our Omega-3 Pet Soft Gels oil is derived exclusively from wild anchovies and sardines sustainably sourced from the South Pacific and Atlantic oceans.
Nordic Naturals Omega-3 Pet for Cats and Small Breed Dogs does not include rosemary oil or flavorings, which are contained in our human products, in order to ensure safety for pets. Please use only our pet products for dogs and cats.
Suggested daily use for cats 2 to over 20 lbs:
2–4 lbs: 0.25 mL (39 mg EPA/23 mg DHA)
5–9 lbs: 0.5 mL (78 mg EPA/46 mg DHA)
10–14 lbs: 0.75 mL (117 mg EPA/69 mg DHA)
15–20 lbs: 1.0 mL (156 mg EPA/92 mg DHA)
over 20 lbs: 1.25 mL (196 mg EPA/115 mg DHA
Suggested daily use for dogs 2–19 lbs:
2–4 lbs: 0.5 mL (78 mg EPA/46 mg DHA)
5–9 lbs: 1.0 mL (156 mg EPA/92 mg DHA)
10–19 lbs: 2.0 mL (313 mg EPA/184 mg DHA)
Apply oil onto food, or serve by itself.
Do not exceed the suggested daily use without consulting your veterinarian.
Serving Size: 1 teaspoon 5.0ml (4600mg)
Amount Per Serving
Crude fat ... 99.4%
(min)
Moisture ... 0.1%
(max)
Total Omega-3 Fatty Acids ... 31%
Eicosapentaenoic Acid ... 17%
(EPA)
Docosahexanoic Acid ... 10%
(DHA)
Ingredients: anchovy oil, sardine oil, d-alpha tocopherol (a preservative)
Dropper Use Directions:
Do not use dropper for delivering oil to the mouth of your dog or cat. To preserve freshness, do not depress bulb with pipette in oil. Clean pipette thoroughly between each use.
Attention:
Consult your veterinarian if your pet has a chronic illness or is on any medication before using this product.
Inform your veterinarian that your pet is receiving this product before any anticipated surgery.
Consult your veterinarian in cases of accidental ingestion.
Keep out of the reach of children and pets.
Storage:
Store in a cool, dry place, away from sunlight.
Store bottle with original cap in refrigerator once opened.
REFRIGERATE AFTER OPENING
Note:
Do not use if tamper-evident seal is broken or missing.
Use within 3 months of opening.