SeraBella (Phosphatidyl Serine SF)
Klaire Labs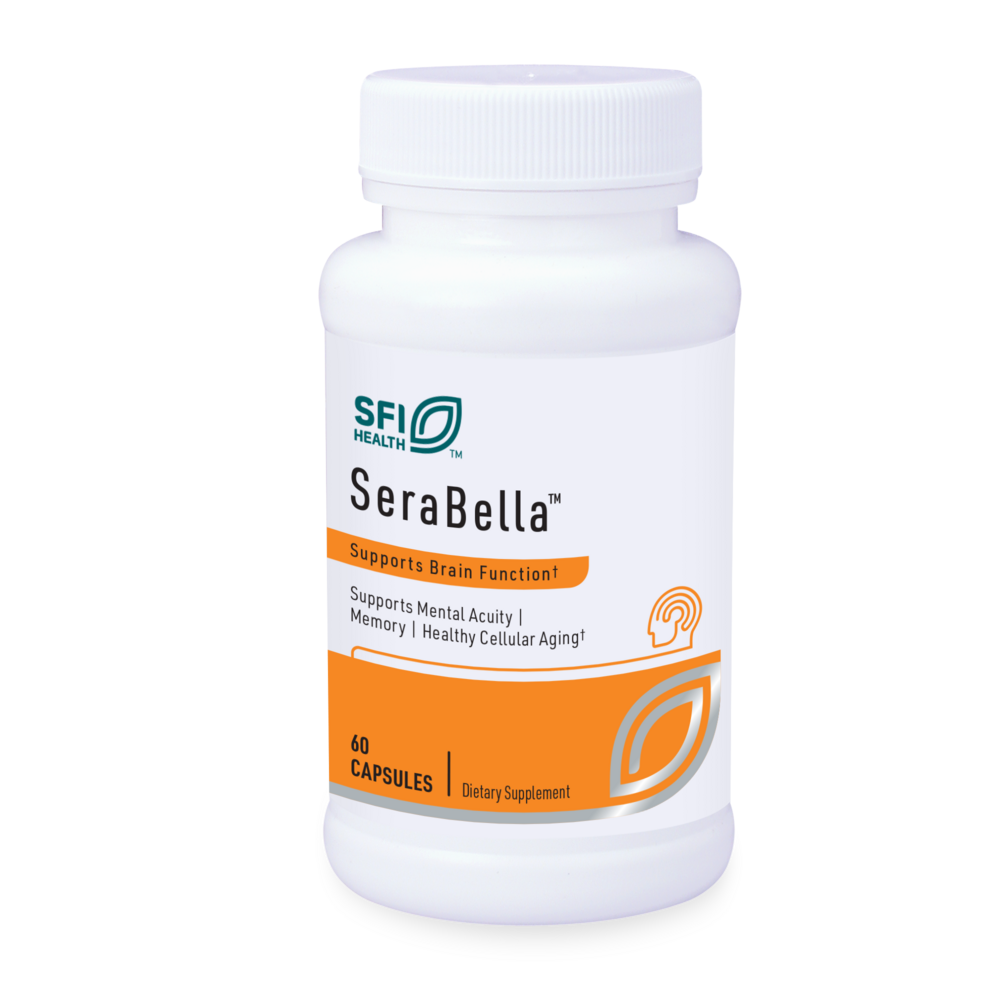 SKU: KLP-PSF
Supports mental acuity, working memory, and healthy phospholipid balance in cell membranes†
Benefits and Features
Supports cognitive function and emotional wellbeing†
Supports working memory†
Promotes healthy aging and behavioral performance including tasks of daily life†
Detail Overview
Phosphatidylserine is a phospholipid that can be found in all cells but is most abundant in brain cells. This "brain nutrient" promotes cognitive function, emotional well-being, and behavioral performance.† It has also been shown to support effective memory.† In a six-month double-blind, placebo-controlled multi-center study of 425 people, daily phosphatidylserine supplementation resulted in statistically significant support of behavioral and cognitive parameters.† In a placebo-controlled study of 149 subjects, the group receiving phosphatidylserine outperformed the placebo group in performance tests related to daily memory tasks.† This sunflower-derived phosphatidylserine is provided in vegetarian capsules and is a good option for those who wish to avoid soy.


Suggested Use:
Take 1 capsule, 1 to 2 times daily with food or as directed by a healthcare professional.


Serving Size:  1 Capsule


Amount Per Capsule              
Phosphatidylserine  … 100mg*
(from sunflower lecithin)‡


Other Ingredients: Microcrystalline cellulose, vegetarian capsule (hydroxypropyl methylcellulose, water), maltodextrin, ascorbyl palmitate, silicon dioxide, and mixed tocopherols.


Made without common allergens: milk/casein, eggs, fish, shellfish, tree nuts, peanuts, wheat, gluten, soybeans, corn, and yeast. Contains no synthetic colors or flavors. Non-GMO.
‡Sharp-PS® is a registered trademark of Enzymotec Ltd.


Warning: If you are pregnant, nursing, have a medical condition, or taking prescription drugs, consult your physician before using this product.
KEEP OUT OF REACH OF CHILDREN.