PhosphOmega 1000mg
Jarrow Formulas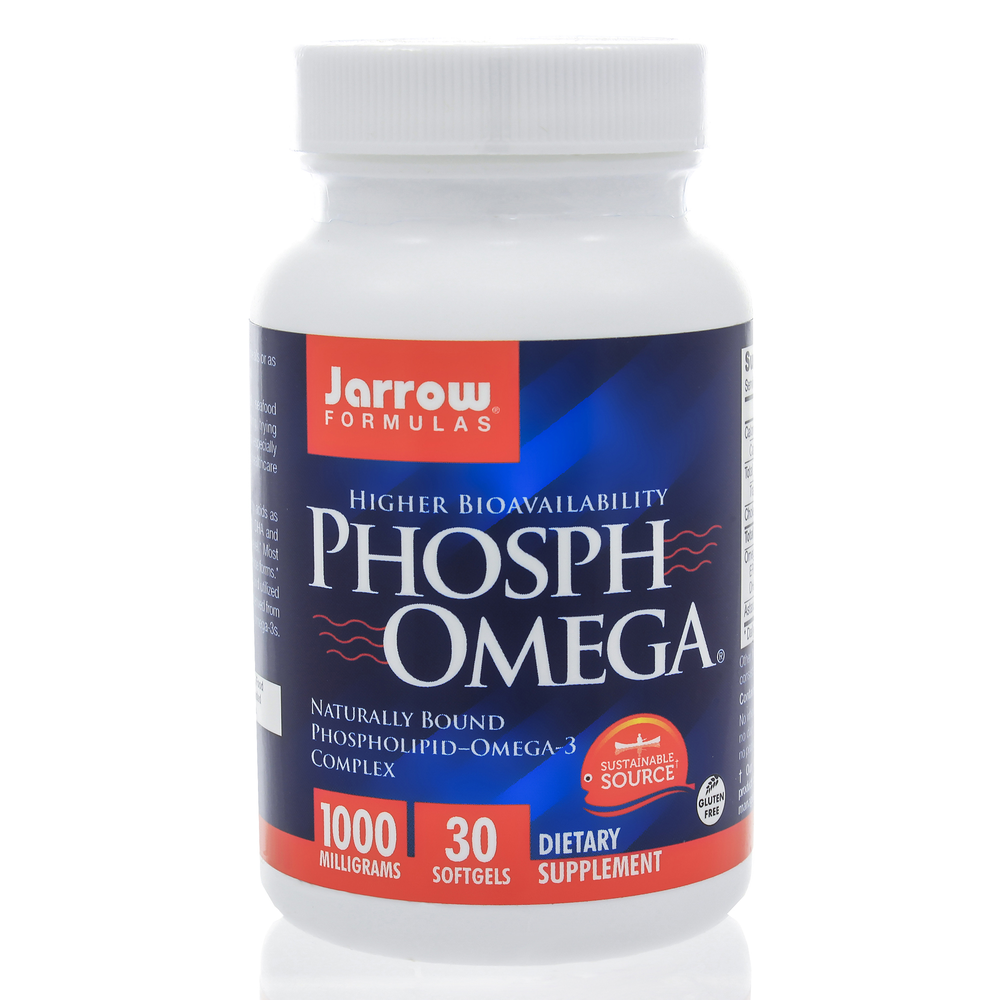 SKU: JAR-PHMEG30
PhosphOmega
Phospholipid-Omega-3 Fish Oil Complex
-Higher Bioavailability Than Ordinary Fish Oils
PhosphOmega® provides long chain omega-3 fatty acids as nature intended, a complex of phospholipids with DHA and EPA acting synergistically on the cell membrane level.* Most fish oil products consist of ethyl ester (EE) or triglyceride forms.* Phospholipid-bound omega-3s are better absorbed and utilized than the EE or triglyceride forms. PhosphOmega® is derived from fish meal and is a sustainable source of long chain omega-3s.
Take 1 softgel 1 to 2 times per day with meals or as directed by your qualified healthcare professional.
Serving Size: One Softgel (1000 mg)

Amount Per Serving
Calories ... 10
Calories from fat ... 10
Total Fat ... 1 g
Trans Fat ... 0 g
Cholesterol ... 30 mg
Total Phospholipids ... 400 mg
Omega-3 Fatty Acids ... 223 mg
EPA ... 84 mg
(Eicosapentaenoic Acid)
DHA ... 111 mg
(Docosahexaenoic Acid)
Astaxanthin ... 100 mcg
Other Ingredients: Sunflower lecithin and rosmarinic acid.
Softgel consists of gelatin, glycerin, water and annatto.

Contains: Fish (sandeel).

No wheat, no gluten, no soybeans, no dairy, no egg, no shellfish, no peanuts/tree nuts.
If you have a medical condition (especially seafood allergies or coagulopathy), are pregnant, lactating, trying to conceive, under the age of 18, taking medications (especially anticoagulants), or facing surgery, consult your healthcare professional before using this product.
† Our IFFO RS compliant product comes from responsibly managed fisheries.
KEEP OUT OF REACH OF CHILDREN.
These statements have not been evaluated by the Food and Drug Administration. This product is not intended to diagnose, treat, cure, or prevent any disease.
It looks like there are no similar
products available