PhysiciansProtein-Whey Vanilla
Integrative Therapeutics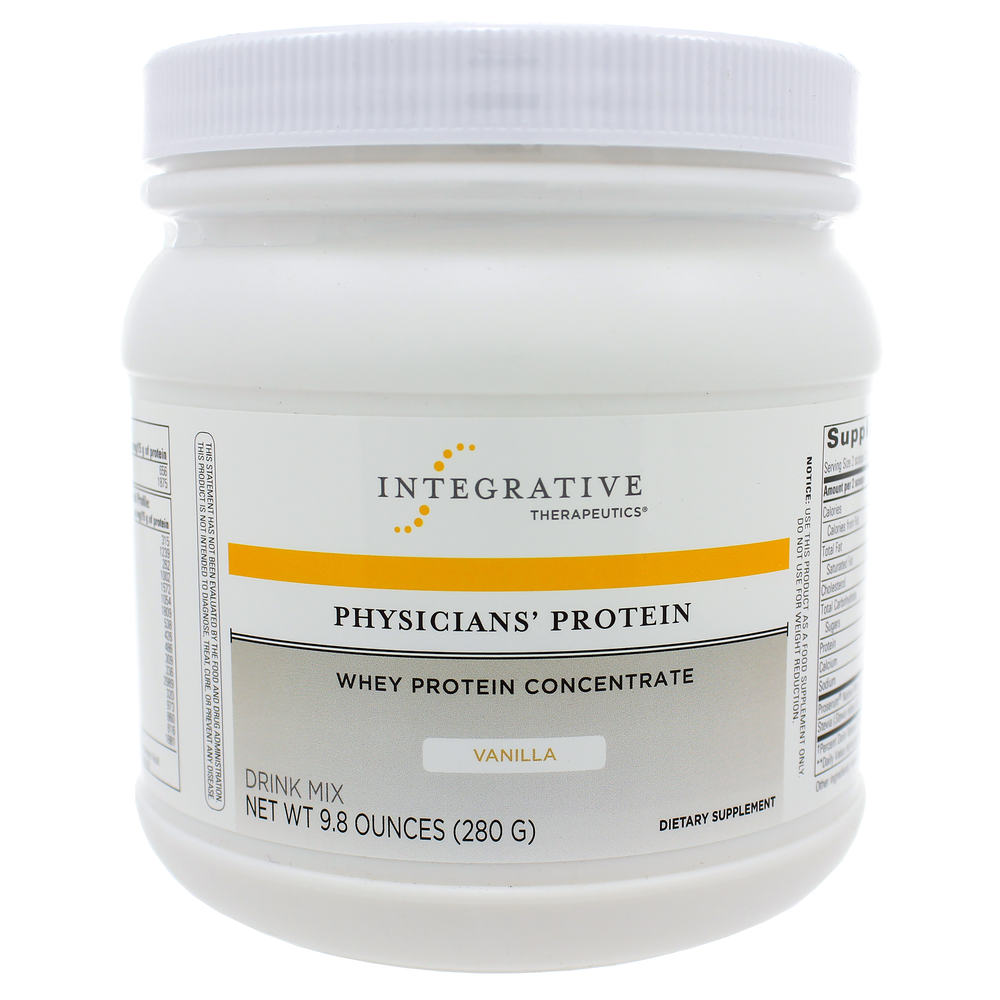 SKU: ITI-316020
Physicians' Protein contains a pure, native whey protein concentrate known as Proserum®. Produced using proprietary purification methods, Proserum is minimally processed to maintain the full range of immune-modulating components naturally present in fresh raw milk.
Proserum® is derived from cows that are grass-fed and not treated with growth hormones.*
Take 2 scoops mixed in cold water or juice once daily, or as recommended by your healthcare professional. Do not heat or mix with hot food or drinks.
Serving Size: 2 scoops (20 g) Drink Mix
Amount Per Serving
Calories ... 85
Calories from fat ... 10
Total Fat ... 1g
Saturated Fat ... <1g
Cholesterol ... 20mg
Total Carbohydrate ... 2g
Sugars ... 2g
Protein ... 16g
Calcium ... 80mg
Sodium ... 30mg
Proserum® Native Whey Protein Concentrate ... 20g
(milk)
Stevia Leaf Extract ... 25mg
(Stevia rebaudiana)
Other Ingredients: natural vanilla flavor, silicon dioxide
Physicians Protein Premium Quality Whey Does Not Contain
artificial coloring
artificial flavoring
corn
gluten
preservatives
soy
wheat
yeast
Typical Amino Acid Profile: Amino Acid as mg/15 g of protein
Methionine(1) 315 mg; Threonine(1) 1239 mg; Tryptophan(1) 262 mg; Valine(1)(3) 1002 mg; Lysine(1) 1572 mg; Isoleucine(1)(3) 1054 mg; Leucine(1)(3) 1809 mg; Phenylalanine(1) 538 mg; Arginine(2) 426 mg; Tyrosine(2) 486 mg; Histidine(2) 309 mg; Cysteine(2) 336 mg; Glutamic Acid 2989 mg; Glycine 320 mg; Proline 973 mg; Serine 860 mg; Alanine 816 mg; Aspartic Acid 1881 mg;
(1)Essential Amino Acid
(2)Conditionally Essential Amino Acid
(3)Branched Chain Amino Acid
The Finest Proserum® Native Whey Protein. A registered trademark of Wisdom Proteins, Inc.
Notice: Use this product as a food supplement only. Do not use for weight reduction.
Caution: Do not use if you have a known dairy allergy or are lactose intolerant. If pregnant, nursing, or taking prescription drugs, consult your healthcare professional prior to use.
Keep out of reach of children.