Phyto D 2000
D'Adamo Personalized Nutrition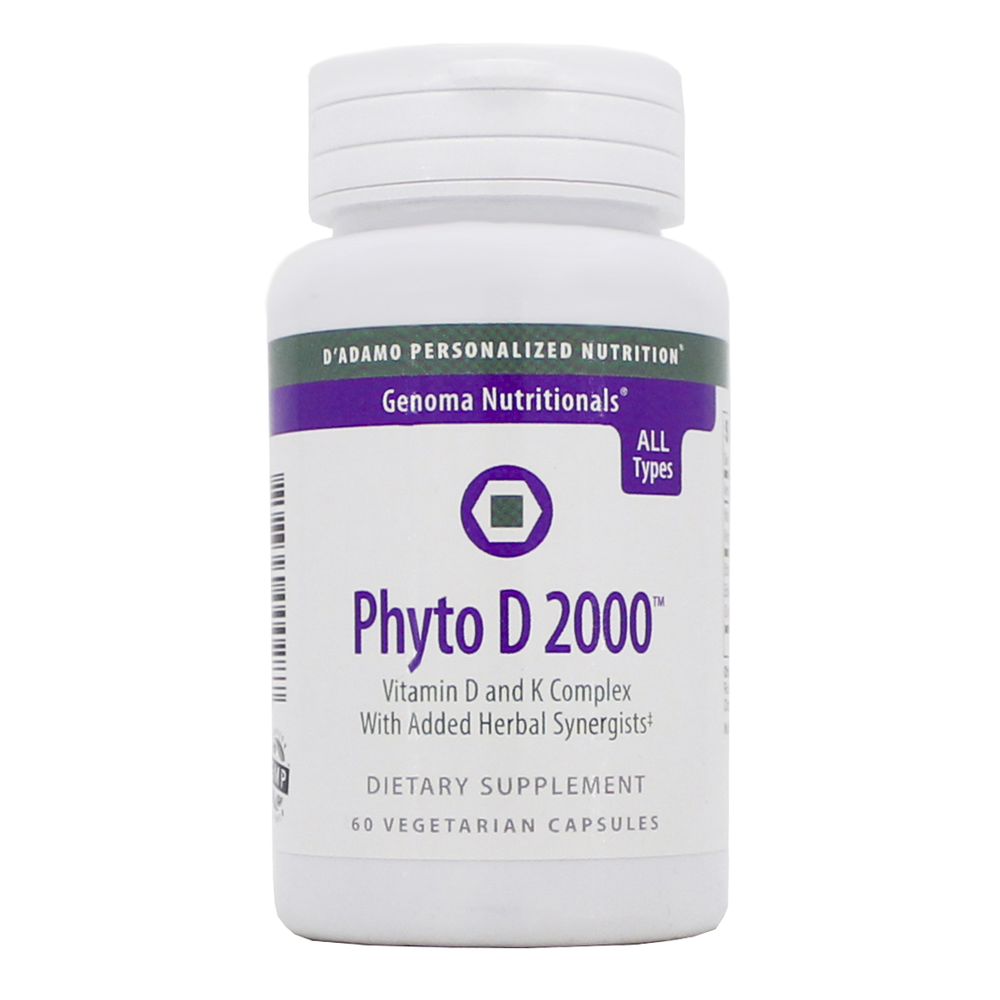 SKU: NAP-NP066
Dr. Peter D'Adamo, author of Eat Right 4 Your Type, created Phyto D 2000 by blending together Vitamins D3 and K with herbal remedies Epimedium sagittatum and Drynaria fortunei. These two herbs along with the included Vitamin K2 and mineral strontium may help support already healthy bone and connective tissue health as well as joint flexibility.
Vitamin D has essential, wide-ranging effects throughout the body, including aiding in the absorption of calcium, iron, magnesium, phosphate and zinc.
While many vitamin D supplements use the D2 form, the recommended form of vitamin D is vitamin D3 or cholecalciferol — found in Phyto D 2000. This is the natural form of vitamin D that your body makes from sunlight. However, many people avoid excessive exposure to the sun, or live in low-sunlight areas of the world. They may not receive enough sunlight to manufacture sufficient quantities of vitamin D3. Studies have shown that low vitamin D levels in the general population are not uncommon.
Help support your body in maintaining both healthy bones and a healthy immune system along with promoting normal energy levels with Phyto D 2000.
Suggested Use:
Take 1 capsule, twice daily with meals.


Serving Size: 1 Capsule

Amount Per Serving
Vitamin D3 ... 2,000 IU
(Cholecalciferol)
Vitamin K ... 25mcg
(Menaquinone 7)
Strontium ... 100mg
(Citrate)
Epimedium sagittatum Herb Extract ... 75mg
Drynaria fortunei Root Extract ... 50mg

Other Ingredients: Vegetable Cellulose, Organic Rice Extract, Organic Rice Concentrate, Magnesium Citrate and Silicon Dioxide.


This product contains no corn, soy, salt, yeast, milk & egg products, sugar, starch or preservatives.