Phytocal Multimineral (Blood Type A)
D'Adamo Personalized Nutrition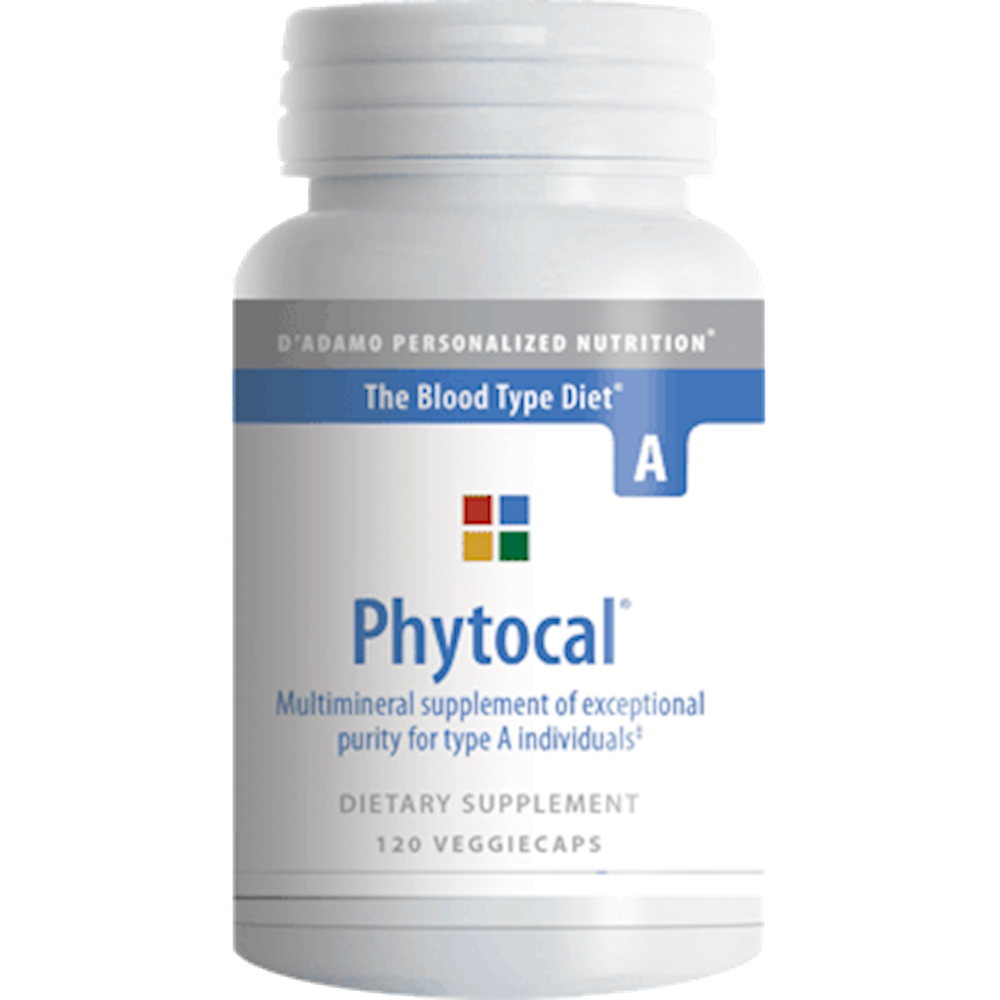 SKU: NAP-BT008A
Designed by Dr. Peter DAdamo, Phytocal A features a unique natural source of highly absorbable calcium: The small red seaweed called Maerl, found only in the isolated areas off the pristine coast of southwest Ireland. All Phytocal multi-mineral formulas feature Maerl-based sea calcium, the only natural source of calcium with a broad enough buffering range to work effectively amid the widely differing digestive capabilities of each blood type.
Maerl is composed of a wide variety of essential nutrients including calcium, and trace amounts of magnesium, boron, and zinc. Maerls unique structure gives it great versatility and insures a phenomenal rate of bioavailability and utilization.
Because each blood type possesses variable assimilation capabilities and requires differing cofactor and trace mineral necessities, Dr. DAdamo designed four different mineral formulas using unique cofactors and micro-mineral ratios specific to each blood type.
Phytocal A
Phytocal A features important levels of the important antioxidant selenium, the gastric activating cofactors betaine hydrochloride, renett and gentian root (Gentiana lutea) plus the mineral-rich herb horsetail (Equisetum arvense). Phytocal A also features significant levels of the important calcium absorption enhancer ipriflavone, and a small dose of vitamin A to enhance healthy performance of the calcium absorbing enzyme intestinal alkaline phosphatase.
Suggested Use:
Take 2 capsules, 2-3 times daily with meals.



Serving Size: 2 Capsules
Amount Per Serving
Vitamin A … 4.98 mcg RAE
(Acetate)
Vitamin D … 3.33 mcg
(Cholecalciferol)
Calcium … 333.3 mg
(Seaweed Extract, Derived from Lithothamnium coralliodes and Lithothamnium calcereum)
Magnesium Citrate … 66.6 mg
Zinc Picolinate … 8 mg
Selenium Picolinate … 33 mcg
Molybdenum Citrate … 33.3 mcg
Ipriflavones … 46.6 mg
Betain HCI … 33.3 mg
Horsetail herb … 33.3 mg
Lipase (1,000 IU/g) … 20 mg
Gentian Root … 6.6 mg
Boron Citrate … 1.3 mg
Vanadium Citrate … 16.6 mcg
Other Ingredients: Vegetable Cellulose, Organic Rice Extract, Organic Rice Concentrate, Magnesium Citrate and Silicon Dioxide.
Does not contain: sugar, salt, gluten, wheat, yeast, corn, soy, eggs, dairy, preservatives, color, flavors or artificial ingredients.
Note: Store in a cool dry place . Best refrigerate upon opening.
It looks like there are no similar
products available