Polyvite Pro Multi-Vitamin (Type B)
D'Adamo Personalized Nutrition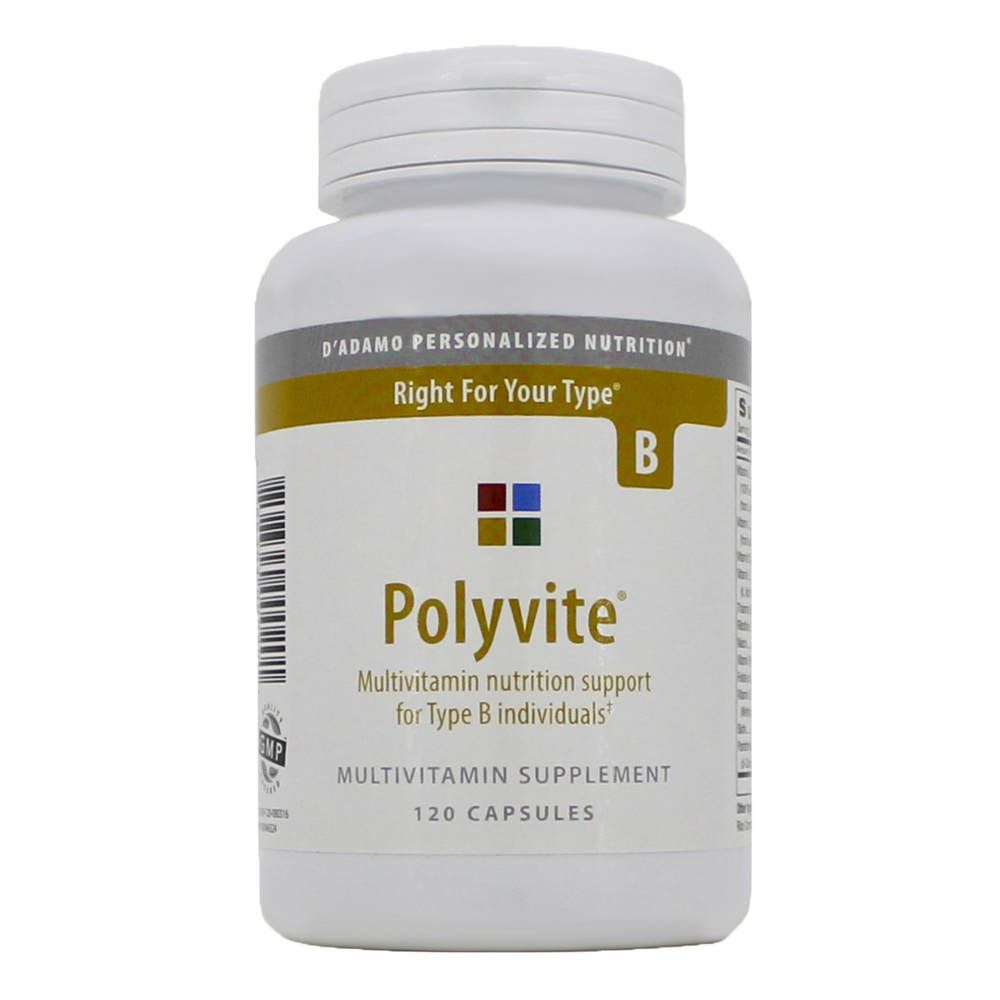 SKU: NAP-BT006B
If you are taking a daily multivitamin, make sure it is Right For Your Type® Polyvite B blood type specific multivitamin formula has been carefully designed by Dr. DAdamo to reflect the individual health concerns and precise nutritional needs of individuals with blood type B. Polyvite B provides the bodys nutritional requirements when under occasional daily stress or during conditions of high biological demand, and when this nutrient need cannot be provided by diet or food derived forms of vitamins alone. This formula was designed as a neurovascular activator for type B individuals, providing anti-stress protection, polyamine sequestration, enhancement of cell membrane activity, immune support and cardiovascular tonification.
Special notes:
With over 15 synergistic ingredients, Polyvite B provides personalized nutritional support for individuals with blood type B.
Featured ingredients include:
Citrulline, a precursor to efficient nitric oxide production
Eleutherococcus, which strengthens and protects the immune system to prevent infections and speeds up convalescent processes
Nutritional Yeast, which is one of only a few good sources of RNA and DNA in the diet
Carob, which contains 5% pinitol, a natural compound studied for its ability to prevent the negative effects of hypoglycemia and which reduces fatigue
Suggested Use:
Take 2 capsules twice daily.


Serving Size: 2 Capsules
Amount Per Serving
Vitamin A … 337.5 mcg RAE
(100% as Beta-Carotene) (from Dunaliella salina)
Vitamin C …45 mg
(Ascorbic Acid and from Acerola Berries)
Vitamin D … 0.125 mcg
(Cholecalciferol)
Vitamin E … 67 mg
(d, Alpha Tocopherol Succinate)
Thiamine … 12.5 mg
(HCI)
Riboflavin … 12.5 mg
Niacin … 20 mg NE
Vitamin B6 … 17.5 mg
(Pyridoxine HCI)
Folate …340 mcg DFE
(as Calcium Folinate)
Vitamin B12 … 17.5 mcg
(Methylcobalamin)
Biotin … 75 mcg
Pantothenic Acid … 35 mg
(d-Calcium Pantothenate)
Kelp … 50 mg
(Nori spp. Whole Plant)
Anthocyanidin Berry Concentrate … 42 mg
(Contains 4:1 Fruit Extracts of Elderberry and Blueberry, and 20:1 Extract of Black Cherry)
Ashwagandha Root ... 25 mg
Bacopa Leaf … 25 mg
Carob Seed ... 25 mg
Eleuthero Root ... 25 mg
Cordyceps ... 25 mg
L-Lysine ... 25 mg
Rutin … 25 mg
Slippery Elm Bark … 25 mg
Nutritive Yeast … 25 mg
Larch Arabinogalactan … 12.5 mg
Inositol … 12.5 mg
Bilberry Fruit 5:1 Extract ... 10 mg
Anise Seed ... 5 mg

Coenzyme Q10 ... 2.5 mg
Other Ingredients: Vegetable Cellulose, Organic Rice Extract, Organic Rice Concentrate, Magnesium Citrate, and Silicon Dioxide.
Does not contain: sugar, salt, gluten, wheat, yeast, corn, soy, eggs, dairy, preservatives, color, flavors or artificial ingredients.
Store in a cool dry place . Best refrigerate upon opening.