Power Adapt® - Liquid
Natura Health Products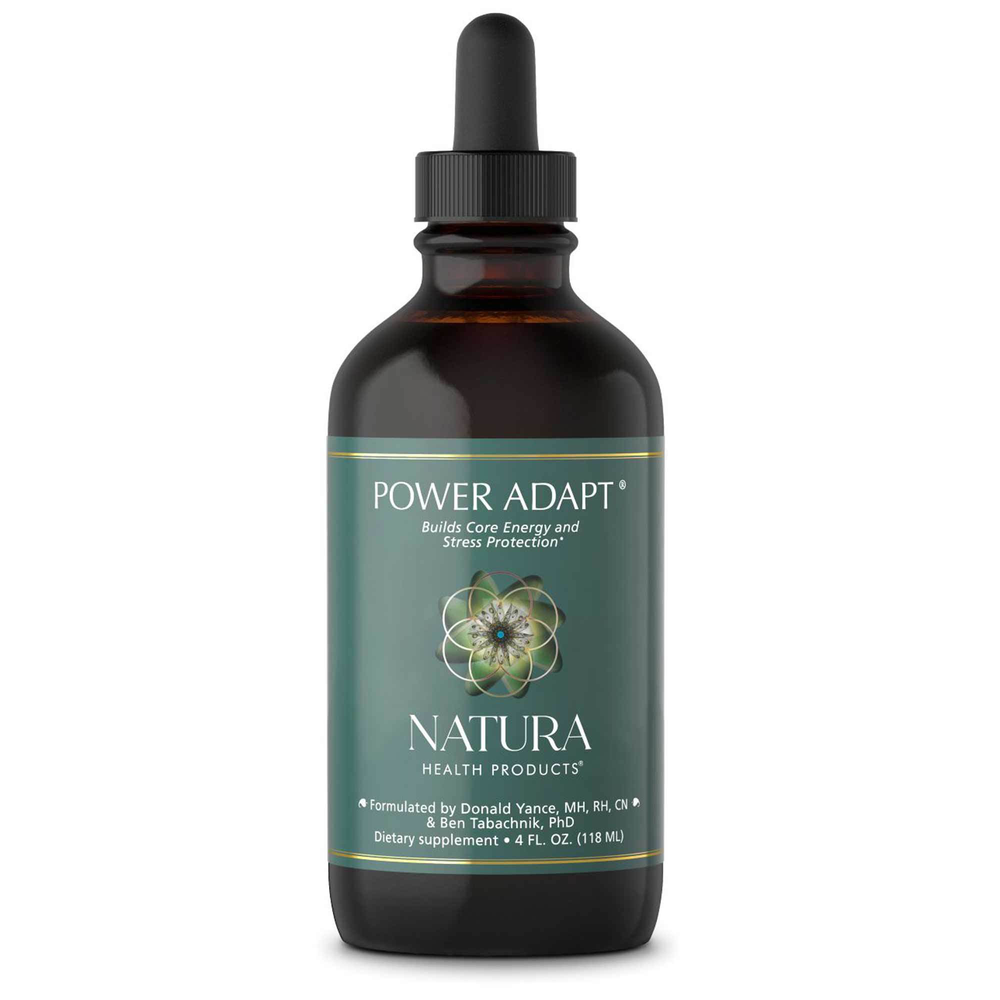 SKU: NTH-PA32304
Power Adapt® is a dynamic, deep-acting adaptogenic tonic with a strong focus on restoration and recovery. The unique combination of herbal extracts improves energy, stamina and endurance while enhancing both mental and physical performance. It is beneficial in conditions of endocrine depletion and exhaustion due to prolonged stress or physical over-exertion. Power Adapt® maximizes the benefits of physical exercise and is the perfect choice for athletes and individuals that demand peak performance.
Suggested Use:
Take 2 ml (2.5 dropperfuls) two times daily or as directed by your healthcare practitioner. Liquid can be added to water or juice. Shake well before using.


Serving Size: 2 ml

Amount Per Serving
Calories ... 10
Total Carbohydrate ... 1g
Proprietary Formula* ... 1184 mg Herb Weight Equivalent
Eleutherococcus senticosus Root 1:1 Ext.
Schisandra chinensis Berry 1:3 Ext.
Rhodiola rosea Root 1:1 Ext.
Panax ginseng Root 1:10 Ext.
Rhaponticum carthamoides Root 1:1 Ext.
Fresh Ashwagandha (Withania somnifera) Root 1:1.5 Ext.
Pantocrine (Cervus elaphus) 1:10 Ext.
American Ginseng (Panax quinquefolius) Root 1:3 Ext.
Cordyceps (Cordyceps sinensis) Mycelium 1:2 Ext.
Fresh Wild Oat (Avena fatua) Seed 1:2 Ext.
Licorice (Glycyrrhiza glabra) Root 1:1 Ext.

Other Ingredients: Deionized Water, Vegetable Glycerin, Grain Alcohol (20-30% by Volume), Luo Han Guo Fruit, fennel essential oil.

Does Not Contain: Wheat, soy, milk, eggs, fish, crustacean shellfish, tree nuts, peanuts.
Warning: If pregnant or nursing, consult a qualified healthcare practitioner before use. Keep out of reach of children. Protect from heat, light, and moisture.