Premiere Greens Multi
Nutra BioGenesis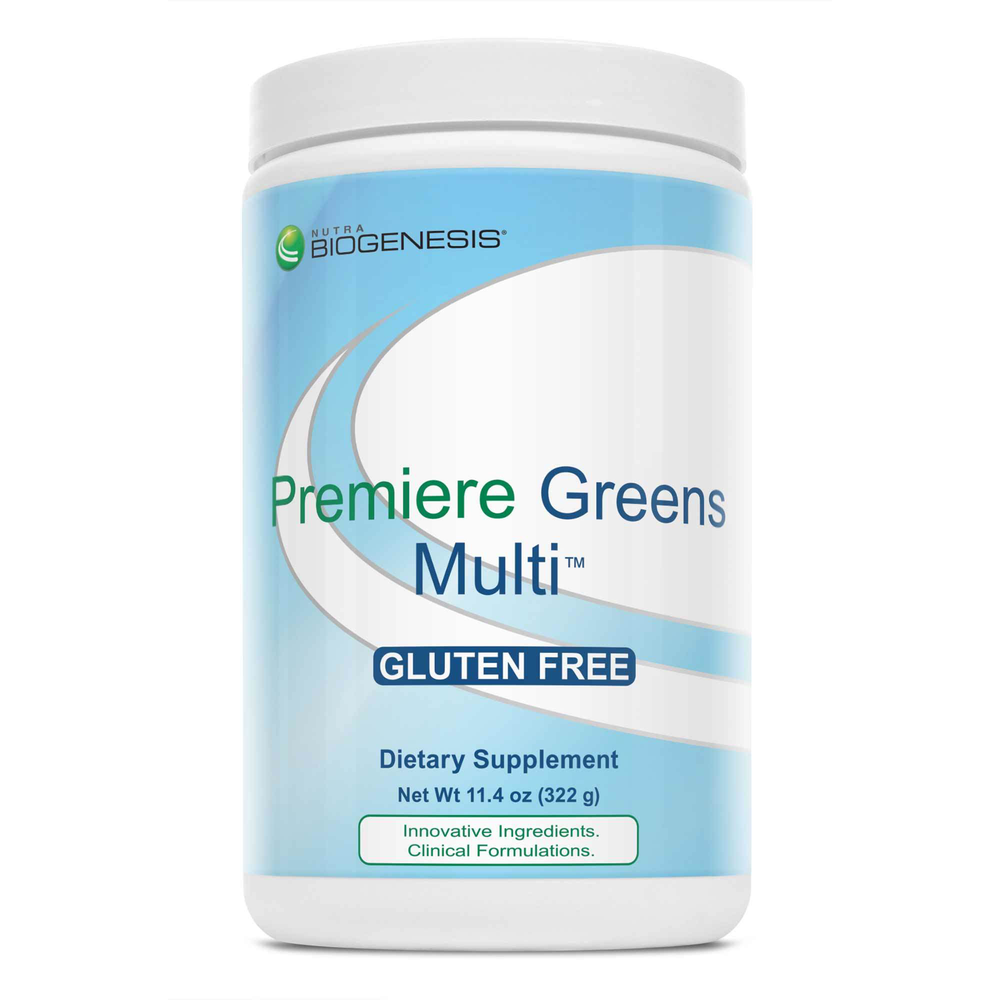 SKU: BI5-84727
Premiere Greens Multi™ is a great-tasting, nutrient rich superfood powder. Packed with phytonutrients, Premiere Greens Multi™ provides vitamins, minerals, enzymes, and other specialty nutrients, along with a high-quality hypoallergenic protein.
Use only as directed. Mix 1 serving (23g) into 8 ouces of water or desired beverage once daily or as directed by your healthcare practitioner. Keep tightly capped and store in a cool, dry place.
Serving Size: 1 scoop (23.0g)
Amount Per Serving
Calories ... 50
Total Carbohydrate ... 10g
Dietary Fiber ... 8g
Sugars ... 1g
Protein ... 10g
Vitamin A ... 2, 500IU
(from beta carotene)
Vitamin C ... 30mg
(from ascorbic acid)
Vitamin D-3 ... 200IU
(cholecalciferol)(from yeast)
Vitamin E ... 15IU
(from d-alpha-tocopheryl acetate)
Thiamin ... 0.75mg
(B-1)(from thiamine mononitrate)
Riboflavin ... 0.85mg
(B-2)(from riboflavin-5-phosphate)
Niacinamide ... 10mg
(B-3)
Vitamin B-6 ... 3mg
(from pyridoxine HCl)
Folate ... 200mcg
(from (6S)-5-methyltetrahydrofolate, glucosamine salt)
Vitamin B-12 ... 3mcg
(from methylcobalmin)
Biotin ... 150mcg
Pantothenic acid ... 5mg
(from calcium D-pantothenate)
Calcium ... 21mg
(from calcium D-pantothenate)
Potassium ... 25mg
(from potassium chloride)
Greens Blend ... 40mg
Aloe gel, organic barley grass, organic wheat grass juice, organic dulse, green tea (leaf extract), organic alfalfa, kelp, nori, wakame
Prebiotic and Fiber Blend ... 7, 786mg
Acacia gum, guar gum, oat fiber, xanthan gum, apple blend (apple fiber, dried apple solids, dried apple pulp)
Fruit Blend ... 205mg
cranberry (fruit extract), blueberry, elderberry, red raspberry (fruit extract), sour cherry (fruit concentrate), orange juice, bilberry (fruit extract)
Vegetable Blend ... 175mg
Broccoli, carrot, tomato, Brussels sprout, cauliflower, beet, kale, spinach, parsley, organic, daikon radish sprout, onion, cabbage, green bell pepper, garlic
Plant-based Enzyme Blend ... 1mg
Amylase, beta-glucanase, cellulase, glucoamylase, hemicellulase, invertase, lactase, lipase, phytase, protease 3.0, protease 4.5, protease 6
Bacillus coagulans ... 20mg
Other Ingredients: Pea protein isolate, natural mixed berry flavor with other natural flavors, organic spirulina, luo han guo (juice concetrate), citric acid, malic acid, stevia (leaf extract), broken cell chlorella.
Warning: Do not use if safety seal is broken or missing. Keep out of reach of children. Keep your licensed healthcare practitioner informed when using this product, especially if pregnant or nursing.