Prenatal Multiple
Progressive Labs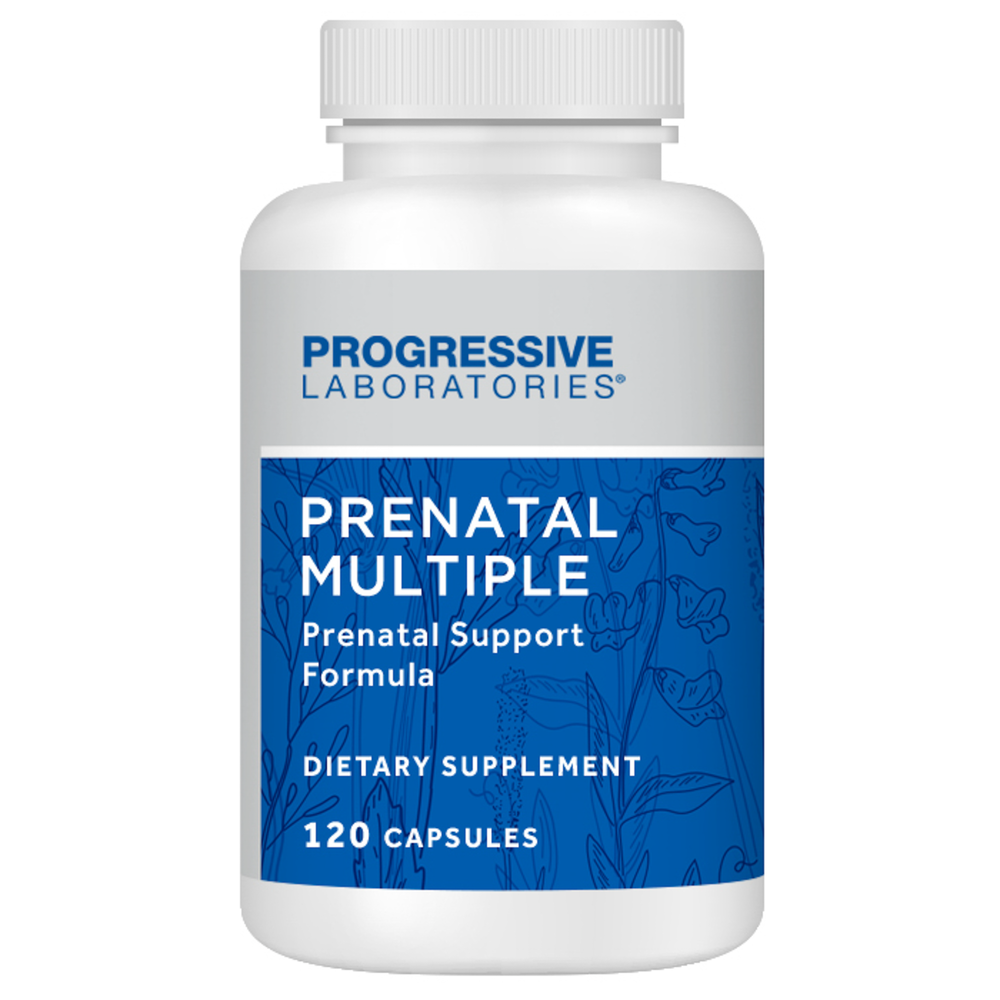 SKU: PGV-877
Prenatal Multiple 120c is available by Progressive Labs.

Prenatal influence, aside from any genetic factors, determines the health and mental acuity of any individual. In addition to optimum natural diet given to the mother during pregnancy, supplementaion with concentrated nutrients is most desirable. Prenatal Multiple provides the vitamins and minerals necessary to support a healty pregnancy.
Accidental overdose of iron-containing products is a leading cause of fatal poisoning in children under 6. Keep this product out of reach of children. In case of accidental overdose call a doctor or poison control center immediately.
Four (4) capsules daily, or more as directed by a doctor.
Vitamin A ...8, 000 IU
(from beta carotene)
Vitamin C ...150mg
(as ascorbic acid)
Vitamin D-3 ...400 IU
(as cholecalciferol)
Vitamin E ...50 IU
(as d-alpha tocopheryl succinate)
Thiamine (B-1) ...5mg
Riboflavin (B-2) ...5mg
Niacinamide (B-3) ...30mg
Vitamin B-6 ...15mg
(pyridoxine HCL)
Folate (folic acid) ...800mcg
Vitamin B-12 ...500mcg
(as cyanocobalamin)
Biotin ...200mcg
Pantothenic Acid ...20mg
(as calcium pantothenate)
Calcium ...250mg
(from calcium citrate and microcrystalline hydroxyappatite)
Iron (as iron peptonate) ...30mg
Iodine (from sea kelp) ...150mcg
Magnesium ...75mg
(as magnesium amino acid chelate)
Zinc ...20mg
(as zinc amino acid chelate)
Selenium ...12mcg
(as seleno-L-methionine)
Copper ...1mg
(as copper amino acid chelate)
Manganese ...3mg
(as manganese ascorbate)
Chromium ...25mcg
(as chromium nicotinate)
Molybdenum ...25mcg
(as molybdenum amino acid chelate)
Potassium ...15mg
(as potassium aspartate)
Choline (as choline bitartrate) ...16mg
Quercitin ...25mg
Contains - Rice Flour, Magnesium Stearate, Gelatin
Keep out of reach of children.
Tear tab/band around cap. Imprinted seal on bottle. Do not use if either seal is broken or missing.