Prima Una de Gato II
Allergy Research Group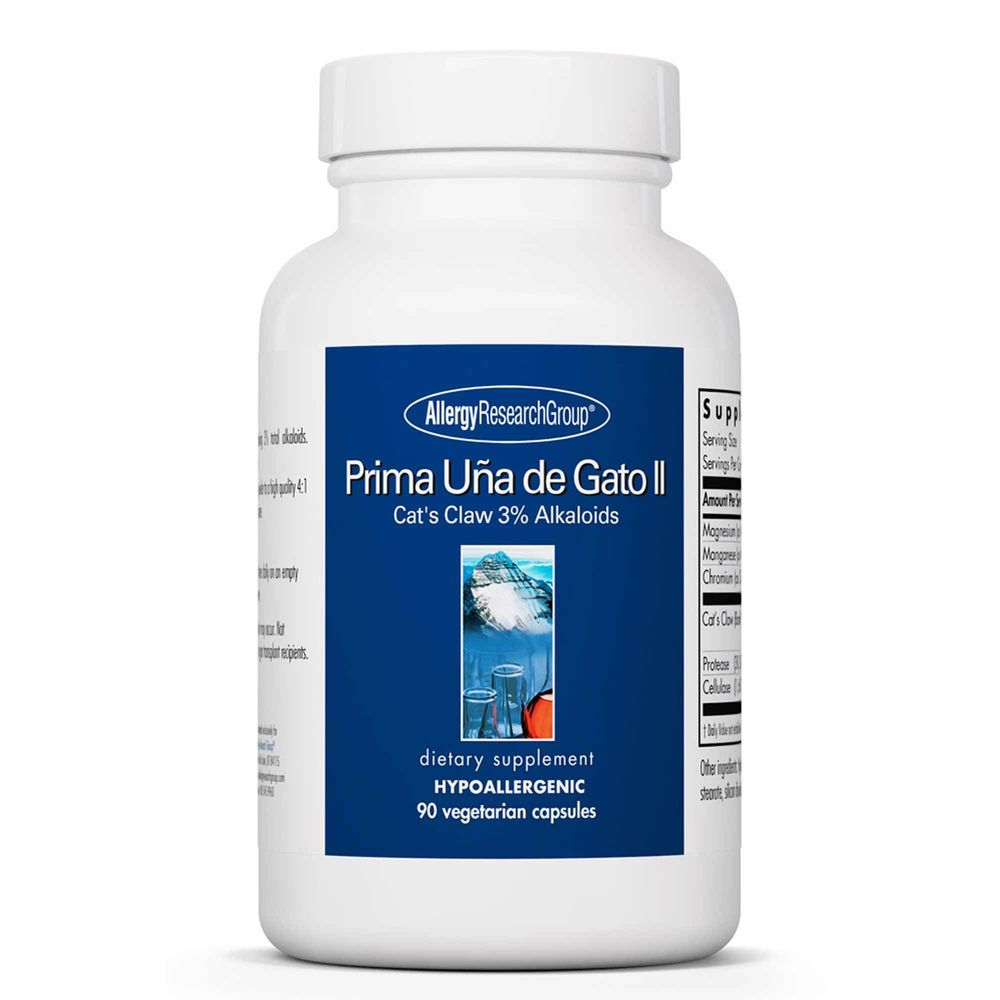 SKU: ARG-75041
Prima Uña de Gato II contains cats claw (Uncaria tomentosa) extract containing 3% total alkaloids. Minerals and enzymes are added to the formula.
Prima Uña de Gato II #75041 replaces Prima Uña de Gato #75040, with one significant change: the cat's claw ingredient is changed from a powder to a high quality 4:1 extract, which has increased total alkaloid content. The other active ingredients remain the same.
As a dietary supplement, 1 capsule one to three times daily, on an empty stomach, or as directed by a healthcare practitioner.
Serving Size: 1 Capsule
Amount Per Serving
Magnesium ... 19mg
(as Magnesium Malate)
Manganese ... 30µg
(as Manganese Citrate)
Chromium ... 5µg
(as Chromium Polynicotinate)
Cats Claw Extract 4:1 ... 93.75mg
(Bark) (3% total alkaloids)
Protease ... 60mg
(30, 000 HUT)
Cellulase ... 20mg
(1, 600 CU)
Other ingredients: Microcrystalline cellulose, magnesium stearate, silicon dioxide, hydroxypropyl methylcellulose.
Note: Use under medical supervision. Herxheimer reaction may occur. Not recommended for pregnant or nursing women or organ transplant recipients.
Keep in a cool, dry place, tightly capped.
*This statement has not been evaluated by the U.S. Food and Drug administration. The product is not intended to diagnose, treat, cure, or prevent any disease.