Primadophilus® Reuteri Probiotic Powder
Nature's Way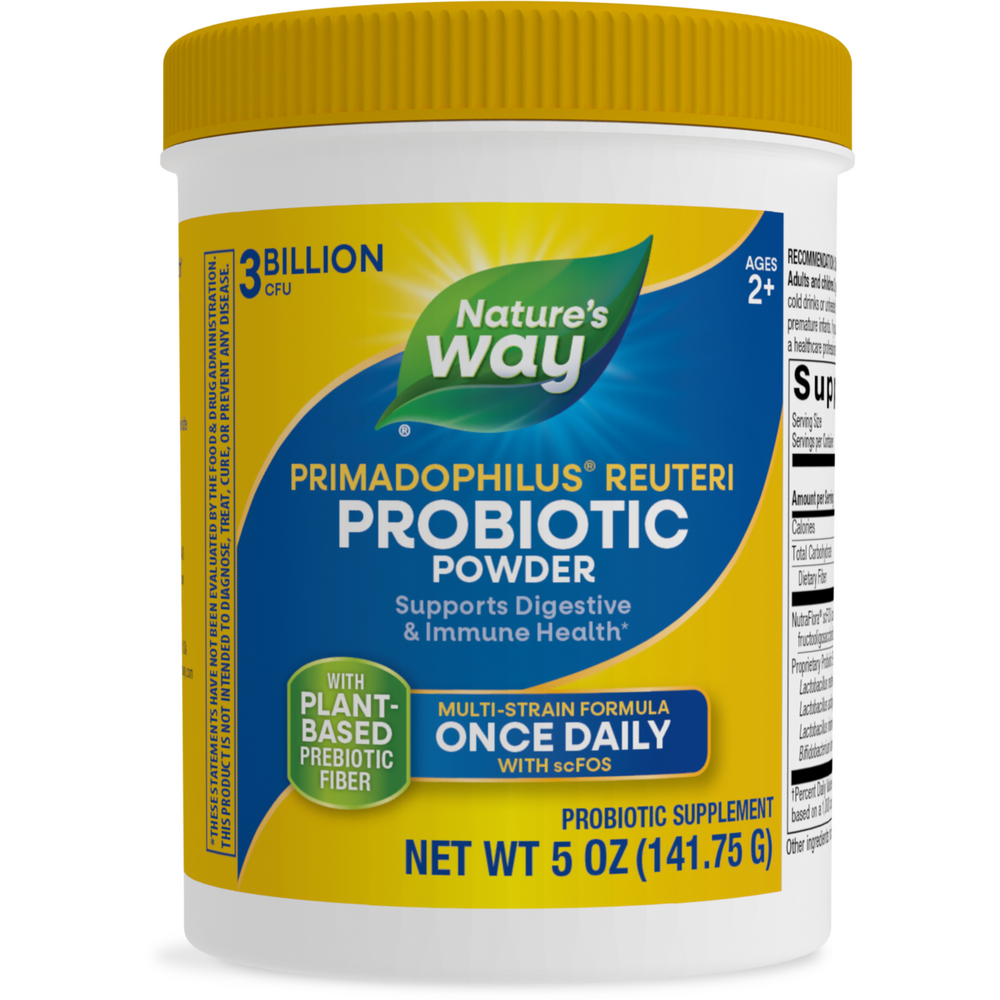 SKU: NW-14241
What is Reuteri?
Pronounced roy-tur-eye, this unique lactobacillus is naturally found in human breast milk, and is one of the first defenses a nursing mother passes to her child. When taken as a supplement, reuteri colonizes in the intestine and provides healthy benefits.
Why take Primadophilus Reuteri?
Multi-Strain Formula with lactobacillus and bifidobacterium to fortify both the large and small intestine microflora
Prebiotic Support with NutraFlora scFOS (short-chain fructo-oligosaccharides) optimal food source for intestinal microflora
True Potency - a guaranteed potency of at least 3 billion CFU through to its expiration date. Most other probiotic brands claim potency at time of manufacture.
Under 2 years of age: give 1/2 teaspoon (1.5 grams) daily between meals.
Ages 2 years and older: give 1 teaspoon (3 grams) daily between meals.
May be added to liquid or infant formula.
Keep refrigerated to maintain maximum potency.
Keep out of reach of children.
Serving Size: 1 teaspoon (3g)
Amount Per Serving:
Calories ... 5
Total Carbohydrate ... 3g
Dietary Fiber ... 2g
Vitamin C ... 4mg
(ascorbic acid)
NutraFlora scFOS ... 1.8g
(short-chain fructooligosaccharides)
Proprietary Probiotic Blend ... 1.1g
providing 3 Billion CFU
(Bifidobacterium longum; Lactobacillus rhamnosus; Bifidobacterium infantis; Lactobacillus acidophilus; Lactobacillus reuteri HA-188)
Other Ingredients:
Potato starch, Silica
May contain a minimal residual amount of milk or soy protein.
NutraFlora