Primary Care Womens Daily
Patient One MediNutritionals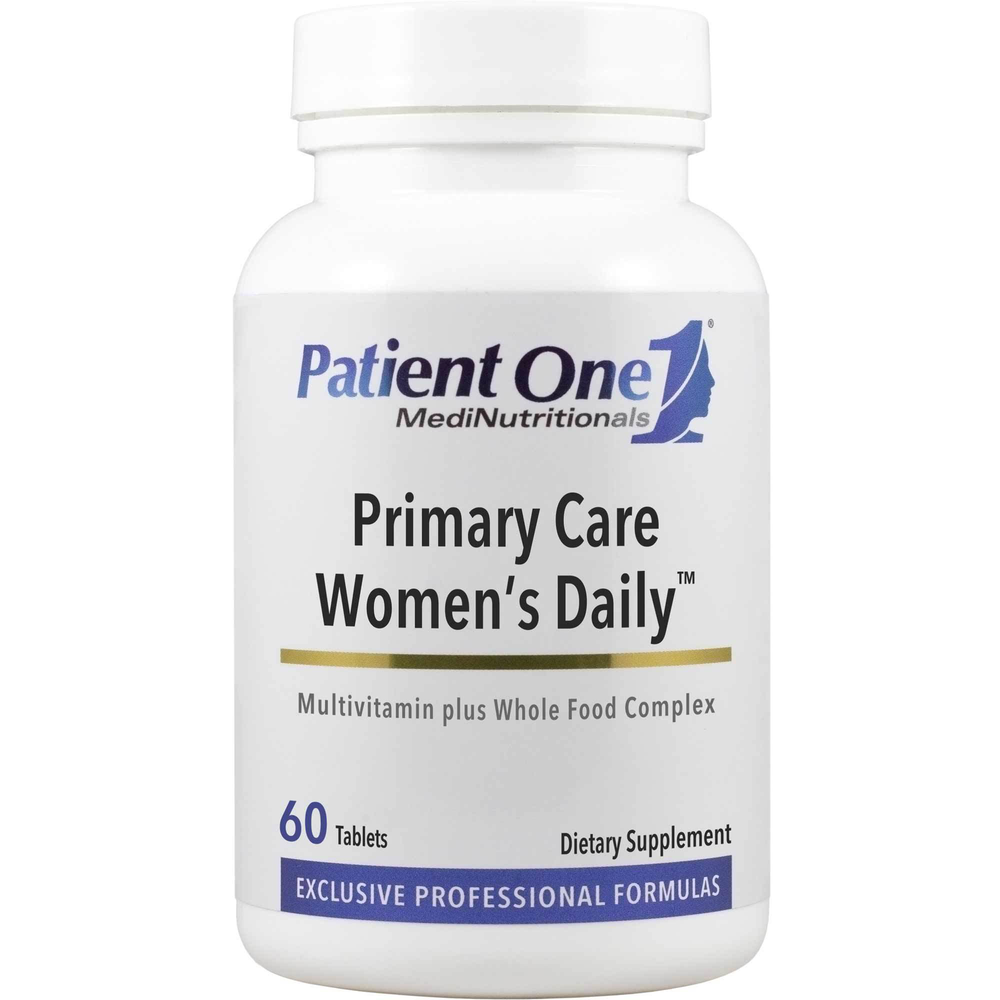 SKU: ONE631-P101760
Patient One Primary Care Womens Daily is a foundation multi-vitamin supplement supplying broad-range vitamins, minerals, antioxidants and botanical compounds for overall health and well-being. Unlike typical multi-vitamins on the market that are made from synthetic chemical isolates, our Primary Care Dailys feature organic, non-GMO ingredients made from nutrient-dense raw, whole foods that are cultured in live probiotics with organic fruits, vegetables, and herbs, providing nutrition in a format your body understands and easily absorbs.
The superior, more efficient absorbability of our formulas maximizes effectiveness with lower potency levels, allowing us to pack our tablet with added nutrients plus unique, proprietary herbal blends targeted for important health needs of women. Because they are whole-food complexes, Patient One Primary Care Dailys are gentle, easy to digest and can be taken any time of day–even on an empty stomach. The one-a-day dose promotes patient compliance.
Vitamins are essential to a variety of biological processes, including growth, digestion, and nerve function. Primary Care Daily multi-vitamins supply a full spectrum of nutrients that support optimal wellness and can help fill the gaps in essential vitamins and minerals when lacking from the daily diet. According to the FDAs Dietary Guidelines for Americans, many people consume more calories than they need without taking in recommended amounts of a number of nutrients. The Guidelines warn that there are numerous nutrients— including vitamins—for which low dietary intake may be a cause of concern.


Suggested Use:
Take 1 tablet daily, with or between meals, as a dietary supplement or as directed by a qualified health care professional.
Serving Size: 1 Tablet
Amount Per Serving:
Vitamin A ... 5000IU
Vitamin C ... 60mg
Vitamin D ... 1600IU
Vitamin E ... 30IU
Vitamin K ... 75mcg
Vitamin K2 ... 10mcg
Thiamin ... 1.70mg
(Vitamin B-1)
Riboflavin ... 1.70mg
(Vitamin B-2)
Niacin ... 20mg
(Vitamin B-3)
Vitamin B-6 ... 2mg
Folate ... 400mcg
Vitamin B-12 ... 50mcg
Biotin ... 150mcg
Pantothenic acid ... 10mg
Calcium ... 50mg
(as Calcium Lithothamnion)
Iron ... 3mg
Iodine ... 75mcg
Magnesium ... 5mg
Zinc ... 7.50mg
Selenium ... 50mcg
Copper ... 0.70mg
Manganese ... 2mg
Chromium ... 60mcg
Molybdenum ... 10mcg
Mixed Carotenoids ... 500mcg
Organic Stress/Energy Support Blend ... 40mg
(Organic Schisandra chinensis powder (fruit/seeds), Organic Maca powder (Lepidium meyenii) (root), Organic Chamomile powder (Matricaria chamomilla) (flowers))
Organic Hormone Support Blend ... 25mg
Organic Chasteberry powder (Vitex agnus castus) (fruit), Organic Red clover powder (Trifolium pratense) (flowers), Organic Raspberry leaf powder (Rubus idaeus))
Immune Support Blend ... 15mg
(Elderberry extract (Sambucus nigra L.) (fruit/flower), Organic Eleuthero powder (Eleutherococcus senticosus) (rhizome), Organic Astragalus root powder (Astragalus membranaceus L.)
Organic Turmeric powder ... 20mg
(Curcuma longa) (rhizome)
Organic Ginger root powder ... 20mg
(Zingiber officinale)
Other Ingredients: Organic gum acacia, silicon dioxide, aqueous film coating (purified water, hydroxypropyl methylcellulose, vegetable glycerin).
Contains: soybeans and trace amounts of milk.

This product contains NO egg, fish, peanuts, crustacean shellfish (lobster, crab or shrimp), tree nuts, wheat, beef, or pork. Contains NO sugar and no artificial sweeteners, flavors, or colors.

(Nutrients and herbs are cultured in organic media that may contain: Saccharomyces cerevisiae (organic yeast: active and inactive), Lactobacilli (L. acidophilus, L. bifidus, L. rhamnosus) and enzymes (deactivated).
If you are pregnant, nursing, or taking any medications, consult your doctor before use. Discontinue use and consult doctor if any adverse reactions occur.
The statements on this page have not been evaluated by the Food and Drug Administration. These products are not intended to diagnose, treat, cure or prevent disease.