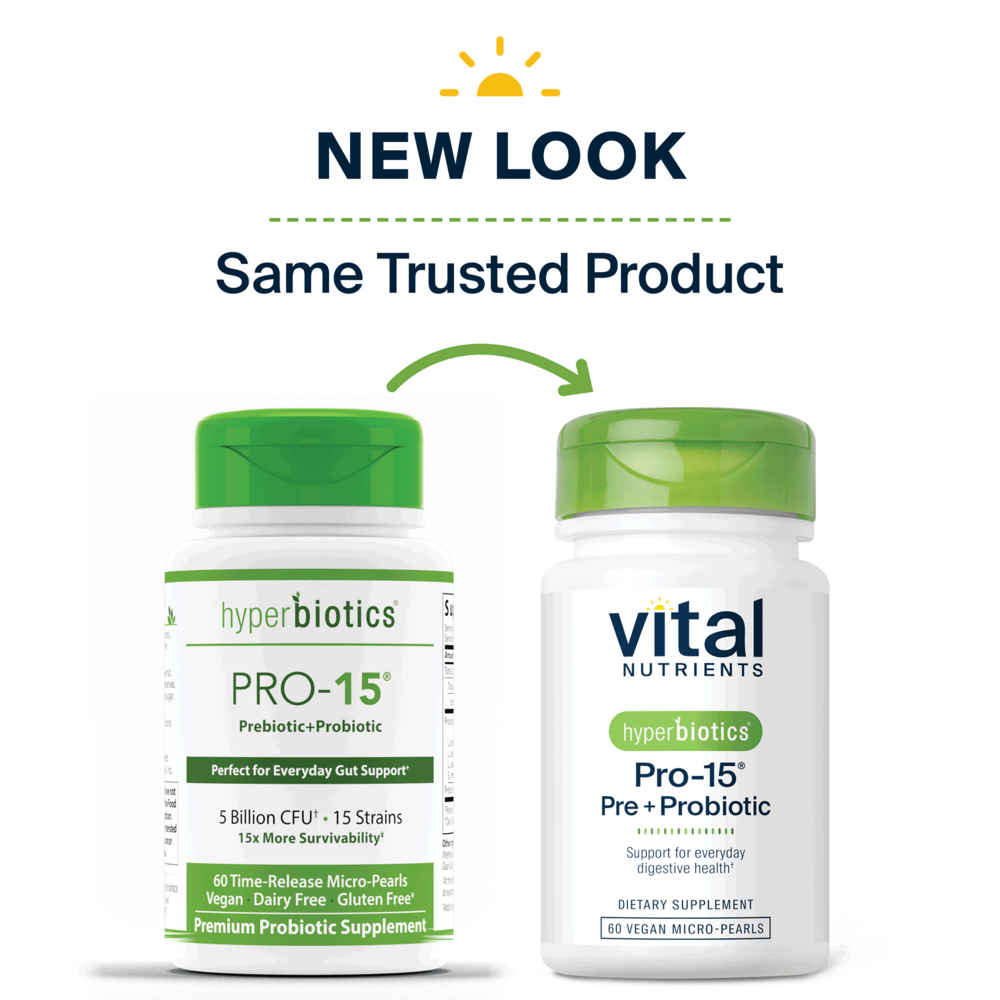 SKU: HYP592-HBP1560
Hyperbiotics' best selling Pro-15 Probiotic For Women and Men contains 15 Targeted Probiotic Strains plus Prebiotic to help support your gut, digestive, and immune health, as well as supporting energy levels and healthy weight management.* With a patented delivery method, the probiotic organisms in this formula are released over an 8-10 hour period so they bypass your stomach acids and reach deep into your intestinal tract alive (where they are needed most) so you can experience the benefits that probiotics have to offer, with 15X more survivavility than typical capsules.**
Hyperbiotics PRO-15 Probiotic is vegetarian, non-GMO, and free of dairy, gluten, yeast, soy, sugar, iron, nuts, artificial flavors, artificial colors, and preservatives.
**BIO-tract® vs instant release formulations under in vitro test conditions.
Suggested Use:
Take 1 pearl tablet once per day.
Serving Size: 1 Pearl
Amount Per Serving
Total Carbohydrates … 0g
Total Sugars … 0g
Includes … 0g Added Sugars
Proprietary Probiotic Blend … 5 Billion CFU
L plantarum, L fermentum, L acidophilus, B infantis, L casei, B longum, L rhamnosus, B lactis, L reuteri, L salivarius, L paracasei, L gasseri, , B bifidum, B breve, S. thermophilus
Probiotic Fructooligosaccharides (FOS) … 25mg
Other Ingredients: Microcrystalline Cellulose, Hydroypropyl Methylcellulose, Pectin, Sodium Carbonate, Stearic Acid, Guar Gum. Turmeric.

Contains trace amounts of the milk protein casein from the fermentation process.

Does not contain: Non-GMO, yeast free, no lactose, no soy, no iron, no gluten, no wheat, no nuts, no preservatives, no sugar, no artificial colors or flavors.



Warning: As with any dietary supplement consult your health care professional. Do not use if tamper- evident seal is broken or missing. Keep out of reach of children.