Appetite-Craving Control
Newton Laboratories Inc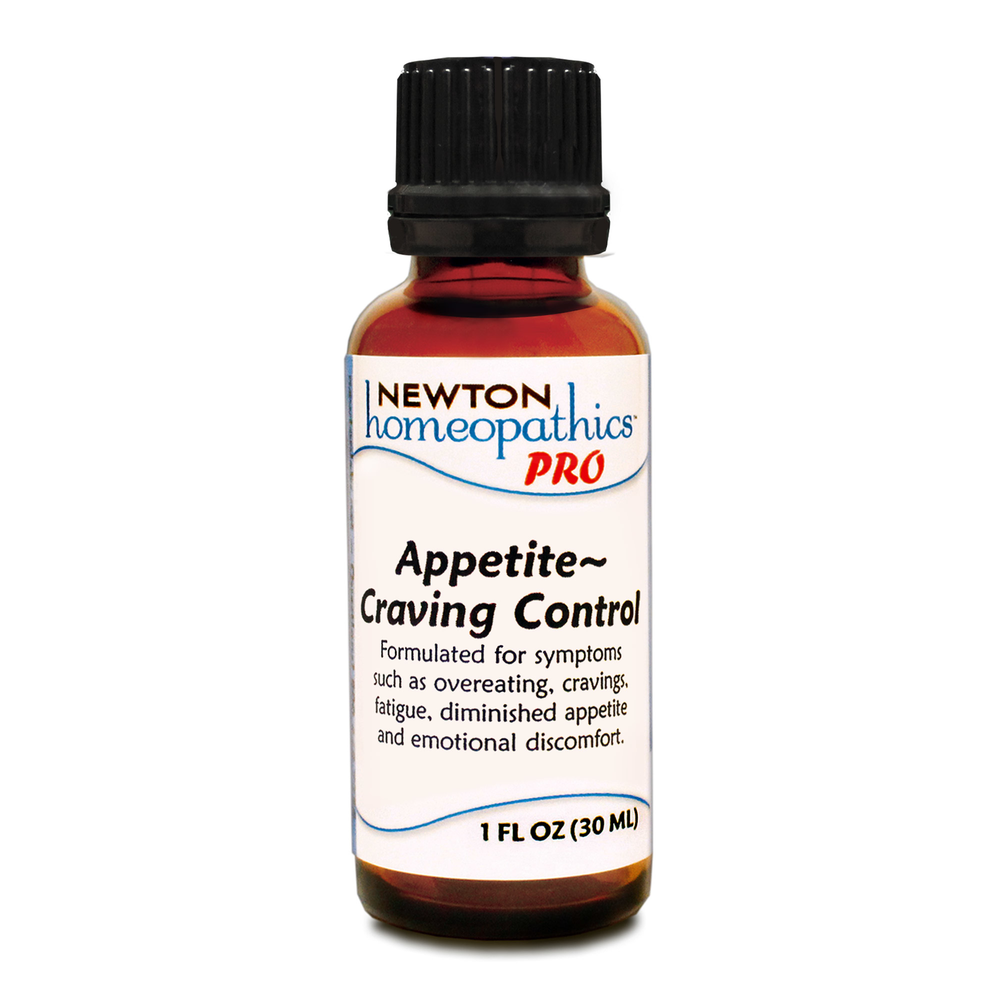 SKU: NE2-R069L01
PRO Appetite~Craving Control 1oz

Homeopathic Remedy
Formulated for symptoms associated with compromised glucose metabolism such as overeating, cravings, fatigue and emotional discomfort.
Suggested Use:
Ages 12 and up, take 6 drops or pellets by mouth (ages 6 to 11, give 3 drops or pellets) as needed or as directed by a health professional. Sensitive persons begin with 1 drop or pellet and gradually increase to full dose.


Active Ingredients: Equal parts of Chamomilla 6x, Passiflora incarnata 6x, Valeriana officinalis 6x, Anacardium orientale 15x, Antimonium crudum 15x, Argentum nitricum 15x, Berberis vulgaris 15x, Bryonia 15x, Chelidonium majus 15x, Digitalis purpurea 15x, Graphites 15x, Humulus lupulus 15x, Iris versicolor 15x, Kali carbonicum 15x, Lycopodium clavatum 15x, Natrum carbonicum 15x, Natrum sulphuricum 15x, Nux vomica 15x, Pulsatilla 15x, Rhus tox 15x, Scutellaria lateriflora 15x, Sepia 15x, Stramonium 15x.

Liquid Inactive Ingredients: USP Purified water; USP Gluten-free, non-GMO, organic cane alcohol 20%.



Appetite~Craving Control Active Ingredient's Use:
Anacardium orientale HPUS: At times hunger, at others no appetite.
Antimonium crudum HPUS: Eating beyond the capacity of digestion or without discrimination; Excessive irritability and fretfulness.
Argentum nitricum HPUS: Irresistible desire for sugar which at the same time aggravates; Desire for sweets; Worse from emotions, anticipation, apprehension, fear or fright.
Berberis vulgaris HPUS: Excessive appetite.
Bryonia HPUS: Drinks hastily and eagerly; Great desire for coffee, wine and acid drinks; Crave what he cannot relish.
Chamomilla HPUS: Irritability; Sweats after eating and drinking; Temperamental and oversensitive.
Chelidonium majus HPUS: Craves milk, sharp or hot food and drinks; Loss of appetite; Eating relieves temporarily.
Digitalis purpurea HPUS: Desire for bitter things.
Graphites HPUS: Obesity; Excessive appetite; Suited for persons who have tendency to put on unhealthy, excessive fat.
Humulus lupulus HPUS: Nervous tremors; Appetite lost.
Iris versicolor HPUS: Sick headaches.
Kali carbonicum HPUS: When hungry, feels anxious, nauseated, nervous, etc.; Desire for sweets and acids; Wants to eat frequently.
Lycopodium clavatum HPUS: Desire for sweets; Canine hunger, the more eaten, the more craved; Craves everything warm.
Natrum carbonicum HPUS: Oversensitive; Extreme, voracious hunger.
Natrum sulphuricum HPUS: Sadness; Inclined to weep.
Nux vomica HPUS: Craves spicy food, beer, fat food, chalk, tobacco; Loves fats.
Passiflora incarnata HPUS: Sleeplessness.
Pulsatilla HPUS: Craves ice cream, pork, fats, pastry, desserts, and other rich foods; Hunger but, does not know for what; Mild, timid, emotional and tearful.
Rhus tox HPUS: Desire for milk; Desire for sweets, oysters; Craves cold drinks; Drowsy after eating.
Scutellaria lateriflora HPUS: Irritability.
Sepia HPUS: Voracious appetite or no appetite; Desires chocolate, vinegar, acids and pickles.
Stramonium HPUS: Great desire for acids, citric acid better.
Valeriana officinalis HPUS: Over-sensitiveness; Nausea.

"HPUS" indicates that the ingredient is in the official Homeopathic Pharmacopeia of the United States.
Disclaimer: NEWTON product uses are based on traditional homeopathic practice. These products have not been evaluated by the FDA, and have not been evaluated for medical evidence.

Warnings: Keep out of reach of children. Do not use if tamper-evident seal is broken or missing. If symptoms worsen or persist for more than a few days, consult a doctor. If pregnant or breast feeding, ask a doctor before use.
It looks like there are no similar
products available