Pro GAD Enhancer
Neurobiologix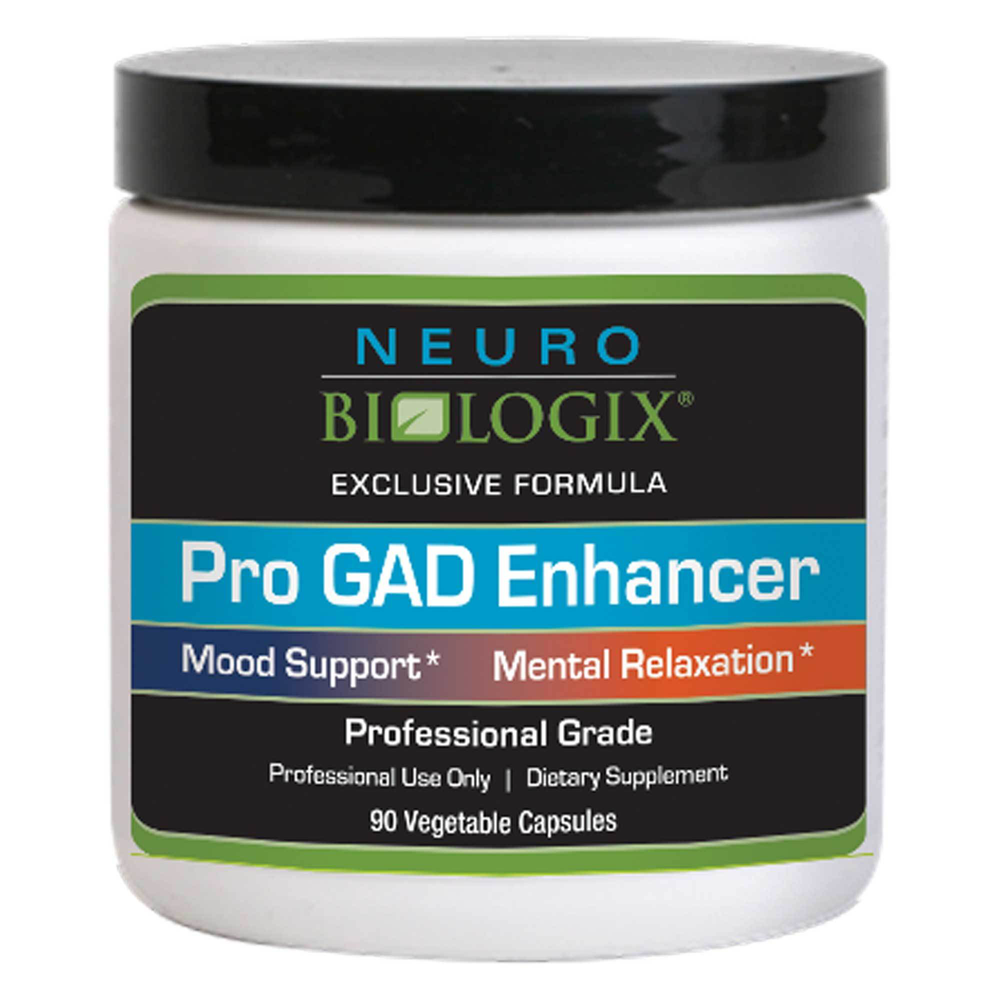 SKU: NEU866-705
Pro GAD Enhancer, created by a leading neuro-immune/genomic specialist , Kendal Stewart, MD, was created to assist patients who have difficulty producing adequate amounts of GABA, an important brain neurotransmitter. GABA plays the principal role of reducing excitability throughout the nervous system, as well as, regulation of muscle relaxation. Many patients possess a genetic mutation of GAD (Glutamic Acid Decarboxylase), the primary enzyme that creates GABA. A weakness in the GAD enzyme creates an increased amount of Glutamate, the primary excitatory neurotransmitter of the nervous system, and a relative deficiency of GABA. This imbalance creates an overly stimulated nervous system and traditional GABA should not be used.*. The 5 key ingredients are designed to assist with: Patients with GAD gene mutations, those who are anxious or cannot relax, inability to sleep or stay asleep, poor mood.*. Other nutritional cofactors are essential to the success of Pro GAD Enhancer

L-Glycine is an essential amino acid, making it versatile for use in a wide range of functions. Glycine is necessary for the production of glutathione, DNA, creatine, bile, hemoglobin, and most proteins. Glycine also functions as a calming neurotransmitter in the brain, where it facilitates nerve impulses and is important for the maintenance of healthy sleep patterns.*

Kava Kava (Piper methysticum) is a natural herb that helps to reduce nervousness and stress symptoms and has been shown to promote restful sleep, can curb cravings, improve digestive health, and reduce stress on the nervous system. Kava Kava contain kavalactones, that can decrease stress and has been shown to potentially reduce headaches as well as promote relexation.*

Another important ingredient in our Pro GAD Enhancer is L-Theanine. L-theanine is an uncommon amino acid, primarily found in the green tea plant (Camellia sinensis), plus two other Camellia species. As L-theanine is concentrated in the leaves, it is present in preparations of green tea consumed as a beverage around the world. Therapeutically, L-theanine has been used as a natural relaxant, but it also has potential in easing nervousness and mood support.*

Magnesium in general is essential for the survival of our cells but takes on further importance in the age of toxicity where our bodies are being bombarded on a daily basis with heavy metals. Glutathione requires magnesium for its synthesis. Without the cleaning of glutathione (magnesium) cells may begin to decay as filth and heavy metals accumulates.*

Suggested Use:
Adults take 2 capsules in the AM 30 minutes before or after a meal and if needed 2 capsules in the evening. Children take 1 capsule once daily or as recommended by your healthcare practitioner.


Serving Size: 2 Capsules

Amount Per Serving
Magnesium ... 35mg
(as Magnesium Orotate)
Zinc ... 10mg
(as Zinc Picolinate)
L-Glycine ... 500mg
L-Theanine ... 300mg
Kava Kava Root ... 500mg
(Piper methysticum)

Other Ingredients: Vegetable Cellulose (Capsule), Ascorbyl Palmitate, Silicon Dioxide, Microcrystalline Cellulose.


Gluten Free, Soy Free, Dairy Free.

Caution: US FDA advises that a potential risk of rare, but severe, liver injury may be associated with high dose kava-containing dietary supplements. Ask a healthcare professional before use if you have or have had liver problems, frequently use alcoholic beverages, or are taking any medication. Stop use and see a doctor if you develop symptoms that may signal liver problems (e.g., abdominal pain, loss of appetite, fever, vomiting, dark urine, pale stools, yellow eyes or skin). Do not use if you are pregnant or breast feeding. Not for use with alcoholic beverages. Excessive use or use with products that cause drowsiness may impair your ability to operate a vehicle or heavy equipment.