Pro-Resolving Mediators
Thorne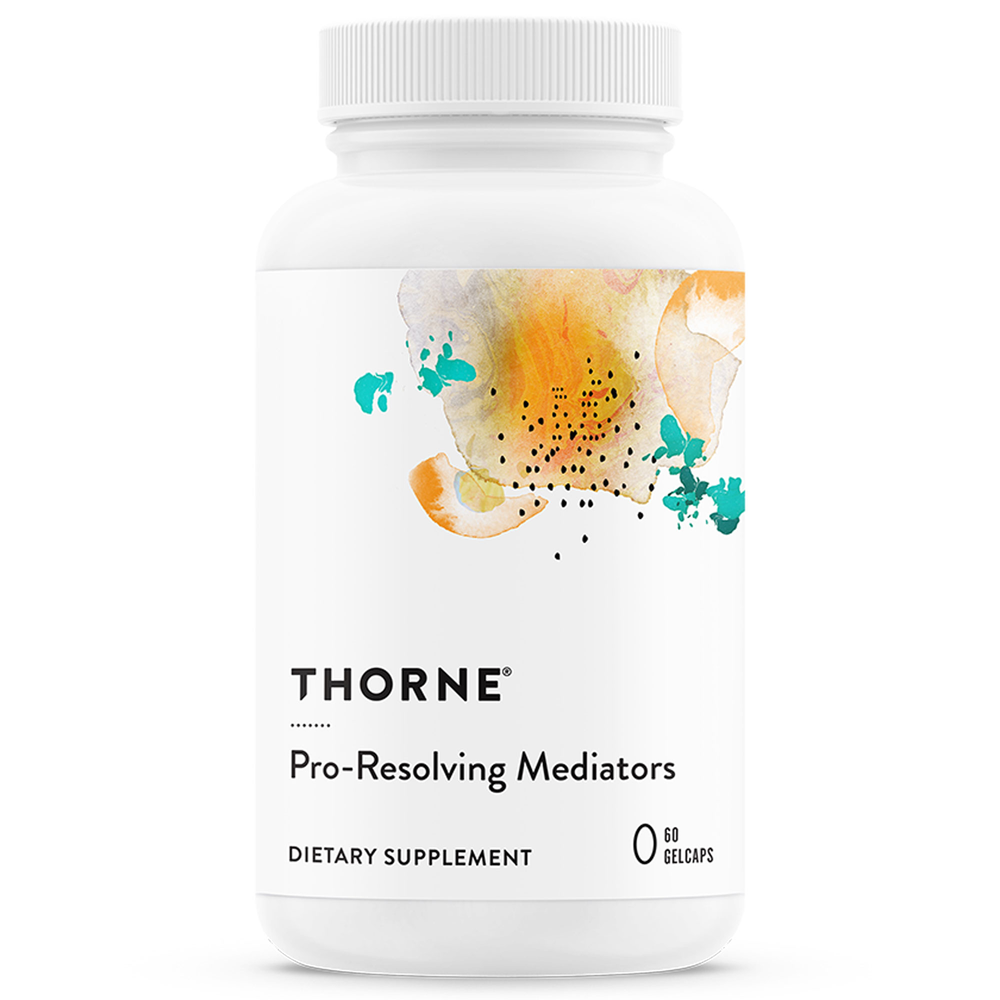 SKU: THO-SP630
Pro-Resolving mediators (PRMs) are the end products of the body's metabolism of EPA and DHA. Thorne's Pro-Resolving Mediators supplement includes the precursors the body needs to create pro-resolving mediators – two pre-resolving mediators 17-HDHA and 14-HDHA from DHA and one pre-resolving mediator 18-HEPE from EPA, as well as their parents EPA and DHA, to deliver a one-two punch in support of a balanced inflammatory response.* A balanced inflammatory response helps bring the body back into homeostasis after an injury or other insult – essentially helping to "resolve" the problem.* In fact, groups of PRMs produced in the body are called resolvins and protectins – basically members of the body's "cleanup crew.
Benefits of Thorne's Pro-Resolving Mediators formula:
Provides support for healthy brain structure and cognitive function*

Helps maintain a balanced immune/inflammatory response throughout the body*

Provides relief from the discomfort of a tissue injury*

Promotes clearance of cellular debris – the dead cells and byproducts of the inflammatory process*

Supports exercise recovery*
Suggested Use:
Take 1 gelcap daily or as recommended by your health-care practitioner.


Serving Size: 1 Gelcap
Amount Per Serving
DHA (Docosahexaenoic Acid) … 250mg
EPA (Eicosapentaenoic Acid) … 160mg
Marine Lipid Concentrate
(from Fish Oil) … 650mg
Omega-3 Fatty Acids (EPA/DHA) … 500mg
Other Ingredients: Gelatin (Bovine), Glycerin (Vegetable Source), Highly Refined Concentrated Marine Oil, Mixed Tocopherols, Purified Water Gelcap.
Gluten Free, Dairy Free and Soy Free.
ALLERGY WARNING
This product is contraindicated in an individual with a history of hypersensitivity to any of its ingredients.
The omega-3 fatty acids in Pro-Resolving Mediators are derived from fish.
PREGNANCY
If pregnant, consult your health professional before using this product.
INTERACTIONS
There are no known adverse interactions or contraindications at publication date.
The omega-3 fatty acids in Prenatal DHA are derived from fish and/or shellfish.