Tinnitus
Newton Laboratories Inc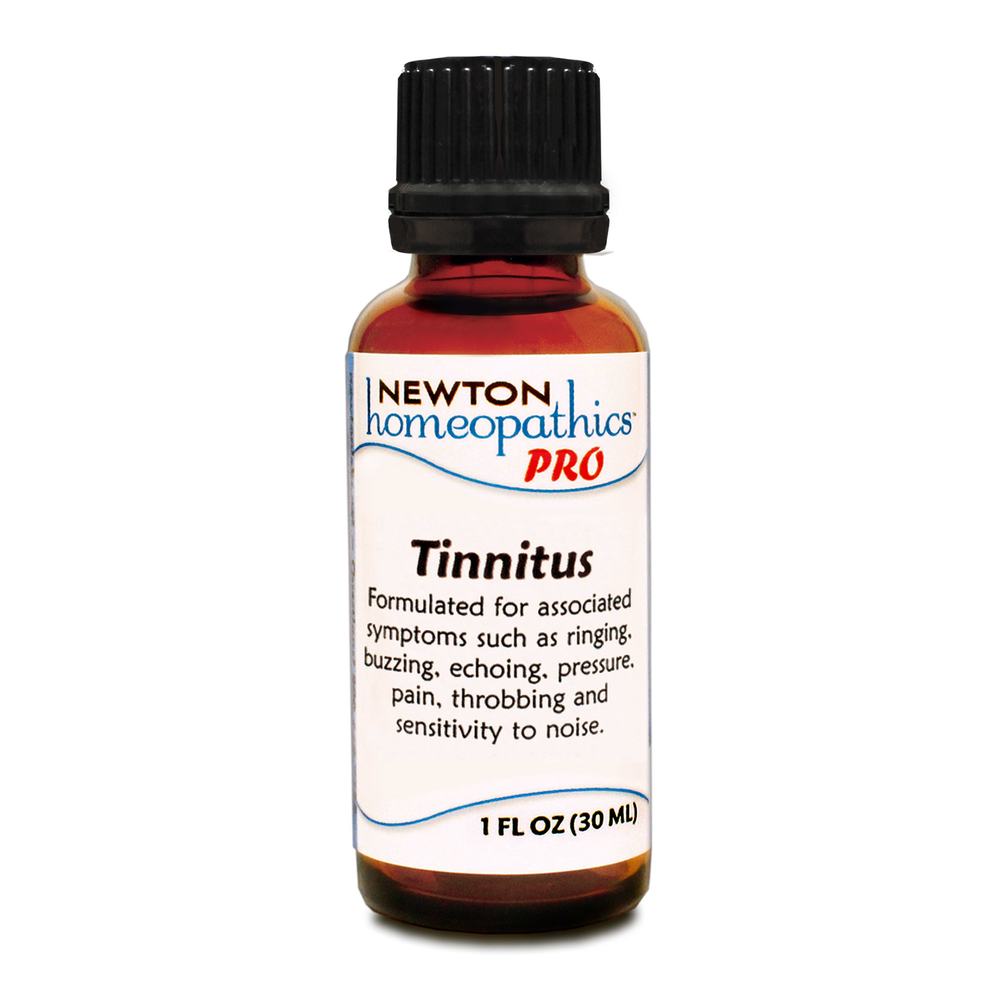 SKU: NE2-R103L01
Dispensed by health professionals only. Not for over-the-counter sale.

Formulated for associated symptoms such as ringing, buzzing, echoing, pressure, pain, throbbing and sensitivity to noise.

Suggested Use:
Ages 12 and up, take 6 drops by mouth (ages 6 to 11, give 3 drops) as needed or as directed by a health professional.


Active Ingredients: Equal parts of Hydrastis canadensis 11x, Aconitum napellus 15x, Baryta carbonica 15x, Baryta muriatica 15x, Capsicum annuum 15x, Causticum 15x, Chenopodium anthelminticum 15x, Chininum sulphuricum 15x, Cinchona officinalis 15x, Glonoinum 15x, Graphites 15x, Hydrastis canadensis 15x, Kali bichromicum 15x, Kali muriaticum 15x, Lycopodium clavatum 15x, Phosphorus 15x, Pulsatilla 15x, Salicylicum acidum 15x, Tabacum 15x, Thiosinaminum 15x, Viola odorata 15x.

Liquid Inactive Ingredients: USP Purified water; USP Gluten-free, non-GMO, organic cane alcohol 20%.


PRO Tinnitus Active Ingredient's Use:
Aconitum napellus HPUS: Sensitive to noises.
Baryta carbonica HPUS: Crackling noise in ears.
Baryta muriatica HPUS: Whizzing and buzzing in ear; Noises on chewing and swallowing or sneezing.
Capsicum annuum HPUS: Cough.
Causticum HPUS: Ear wax.
Chenopodium anthelminticum HPUS: Sensitivity to sounds.
Chininum sulphuricum HPUS: Ringing in ears.
Cinchona officinalis HPUS: Sensitive to noise.
Glonoinum HPUS: Ringing in ears.
Graphites HPUS: Cracking in ears when eating.
Hydrastis canadensis HPUS: Roaring in ears.
Kali bichromicum HPUS: Tickling in ears.
Kali muriaticum HPUS: Snapping or itching in the ear.
Lycopodium clavatum HPUS: Loss of appetite.
Phosphorus HPUS: Congestion.
Pulsatilla HPUS: Ears feel stuffed.
Salicylicum acidum HPUS: Roaring and ringing in ears.
Tabacum HPUS: Sensitivity to music and loud talking.
Thiosinaminum HPUS: Noises in ears.
Viola odorata HPUS: Roaring and tickling in ears.

"HPUS" indicates that the ingredient is in the official Homeopathic Pharmacopeia of the United States.

Disclaimer: NEWTON product uses are based on traditional homeopathic practice. These products have not been evaluated by the FDA, and have not been evaluated for medical evidence.

Warnings: Keep out of reach of children. Do not use if tamper-evident seal is broken or missing. If symptoms worsen or persist for more than a few days, consult a doctor. If pregnant or breast feeding, ask a doctor before use.