V-Fem Care
Newton Laboratories Inc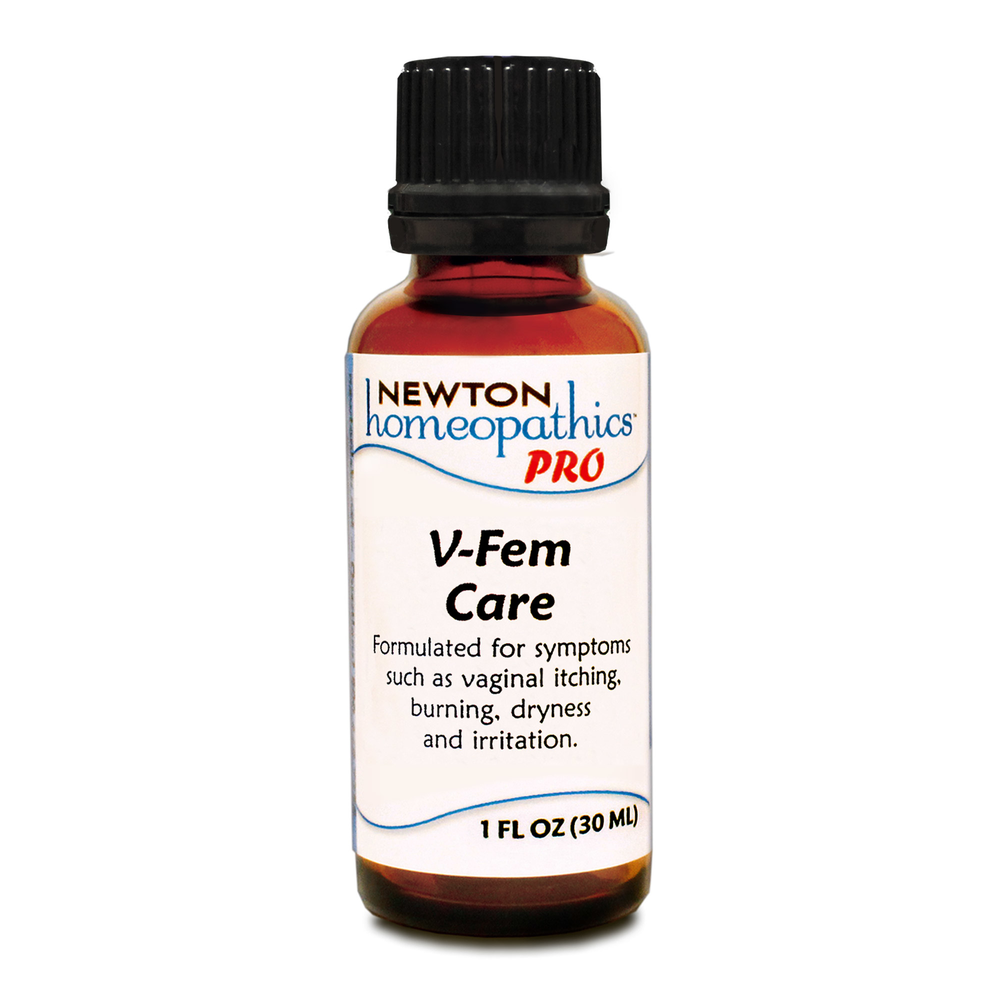 SKU: NE2-R044L01
Dispensed by health professionals only. Not for over-the-counter sale.

Formulated for symptoms such as vaginal itching, burning, dryness and irritation.
Suggested Use:
Ages 12 and up, take 6 drops by mouth (ages 6 to 11, give 3 drops) as needed or as directed by a health professional.


Active Ingredients: Equal parts of Apis mellifica 11x, Hamamelis virginiana 11x, Hydrastis canadensis 11x, Agaricus muscarius 20x, Arsenicum album 20x, Aurum metallicum 20x, Berberis aquifolium 20x, Caladium seguinum 20x, Candida albicans 20x, Cantharis 20x, Conium maculatum 20x, Graphites 20x, Helonias dioica 20x, Hydrastis canadensis 20x, Kali carbonicum 20x, Kreosotum 20x, Lycopodium clavatum 20x, Mercurius vivus 20x, Murex purpurea 20x, Natrum muriaticum 20x, Nitricum acidum 20x, Pulsatilla 20x, Rhus tox 20x, Sepia 20x, Sulphur 20x, Tarentula hispana 20x, Thuja occidentalis 20x, Zincum metallicum 20x.

Liquid Inactive Ingredients: USP Purified water; USP Gluten-free, non-GMO, organic cane alcohol 20%.


PRO V-Fem Care Active Ingredient's Use:
Agaricus muscarius HPUS: Cramps.
Apis mellifica HPUS: Flow of tears with headache.
Arsenicum album HPUS: Headache.
Aurum metallicum HPUS: Headache, worse during the night.
Berberis aquifolium HPUS: Headache.
Caladium seguinum HPUS: Cramping pains at night.
Cantharis HPUS: Anxiousness and restlessness.
Conium maculatum HPUS: Rash before menses.
Graphites HPUS: Headache during menses.
Hamamelis virginiana HPUS: Restlessness at night.
Helonias dioica HPUS: Menses.
Hydrastis canadensis HPUS: Restless sleep.
Kali carbonicum HPUS: Pre-menstrual swollen breast and water retention.
Kreosotum HPUS: Menstrual headache.
Lycopodium clavatum HPUS: Cramps.
Mercurius vivus HPUS: Breast painful and full of milk at menses.
Murex purpurea HPUS: Menses irregular.
Natrum muriaticum HPUS: Menses irregular.
Nitricum acidum HPUS: Pain in back, neck, and thighs during menses.
Pulsatilla HPUS: Irregular menses.
Rhus tox HPUS: Menses early.
Sepia HPUS: Sudden flashes of heat.
Sulphur HPUS: Menses preceded by headache.
Tarentula hispana HPUS: Menses early.
Thuja occidentalis HPUS: Headache.
Zincum metallicum HPUS: Menses flow more at night.

"HPUS" indicates that the ingredient is in the official Homeopathic Pharmacopeia of the United States.

Disclaimer: NEWTON product uses are based on traditional homeopathic practice. These products have not been evaluated by the FDA, and have not been evaluated for medical evidence.

Warnings: Keep out of reach of children. Do not use if tamper-evident seal is broken or missing. If symptoms worsen or persist for more than a few days, consult a doctor. If pregnant or breast feeding, ask a doctor before use.

It looks like there are no similar
products available