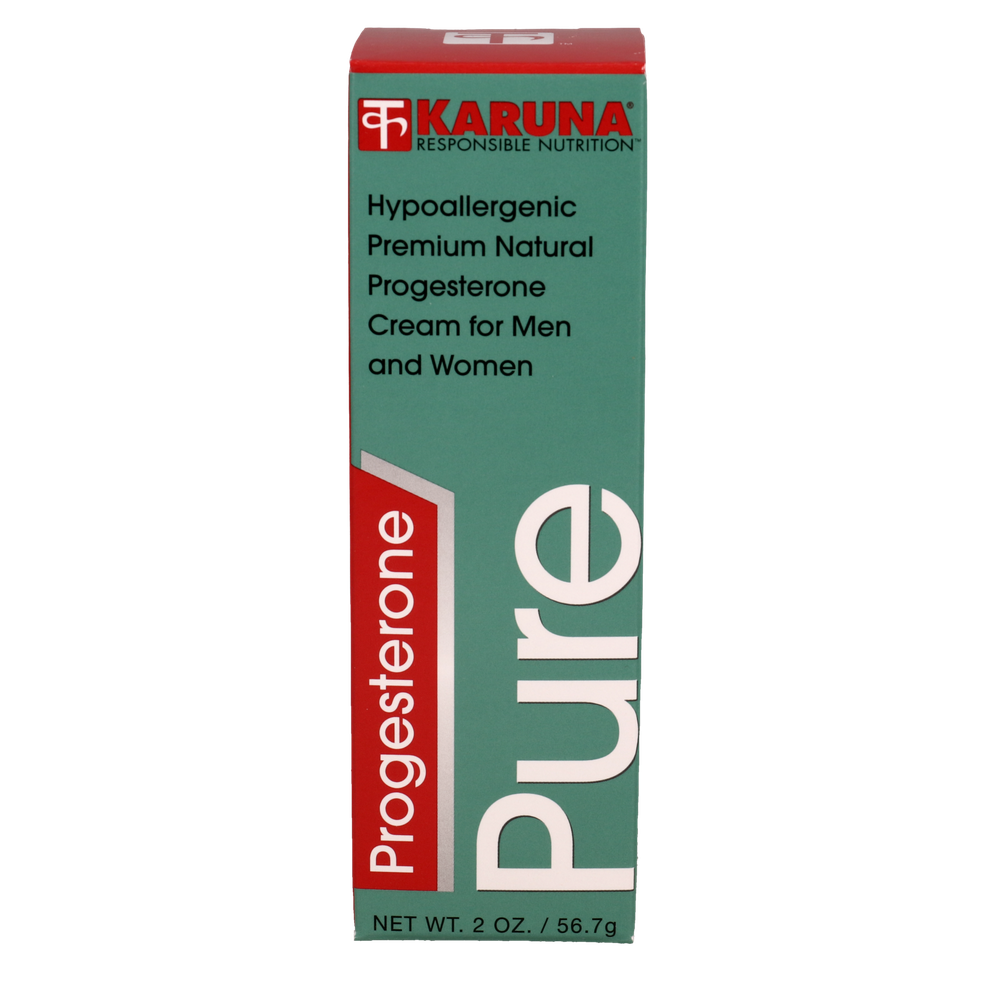 SKU: KAR-7115
Progesterone, a hormone derived primarily from the corpus luteum and secondarily from the adrenal gland and the male testes, is a precursor hormone which can be converted, as required, into other steroid hormones such as DHEA, estrogen, androstenedione, testosterone, and cortisol. Karunas Progesterone Pure is specifically designed for two populations: (1) male patients who may benefit from the supportive actions of progesterone and (2) all people suffering with skin sensitivities or allergies. Progesterone may play a critical role in mens health, opposing the effects of naturally-produced and environmental estrogens on tissues such as the prostate. In addition, Progesterone Pure is a hypoallergenic formula free of chemicals found in cosmetic skin creams, particularly synthetic fragrances and preservatives that can be agents for triggering skin sensitivities and allergies.
-Progesterone Pure is a pure, hypoallergenic formula free from all synthetic fragrances, emulsifiers, emollients, fillers, alcohol and preservatives.
-Karuna Progesterone Pure is free of alcohol, parabens and urea. Each 2 oz. tube is standardized, quality-controlled and safety-sealed to prevent oxidation and bacterial contamination.
-Each 2 oz. tube contains natural progesterone USP (25mg per ¼ tsp.), which applies easily and absorbs rapidly into the skin, leaving no sticky or oily residue. Each tube is accompanied by an educational brochure that contains complete dosing instructions and other valuable information.
Suggested Use:
Progesterone, being a small, fat-soluble molecule, is easily absorbed through the skin. For general application, skin sites recommended include the inner areas of the thighs and arms, neck, upper chest and abdomen. The site should be rotated daily for maximum absorption. Allow 2-3 months for maximum effect.
Ingredients: Per 2oz tube
Purified Water, Jojoba Oil, Aloe Vera (Aloe Barbadensis), Shea Butter, Cetyl Alcohol (coconut oil derived), 1440 mg Micronised USP Progesterone (Wild Yam derived), Stearic Acid (palm kernel derived thickener), Monosodium Salt, Disodium Edetate (plant derived preservative), Grapefruit Seed Extract, Potassium Sorbate, Xanthan Gum (seaweed derived thickener), Natural Vitamin E (Tocopheryl Acetate).

Each tube contains 48 servings (1/4 teaspoon) with 25mg of Progesterone per serving.
The statements herein have not been evaluated by the FDA. These products are not intended to diagnose, treat, cure or prevent any disease.