ProOmega® in Fish Gelatin
Nordic Naturals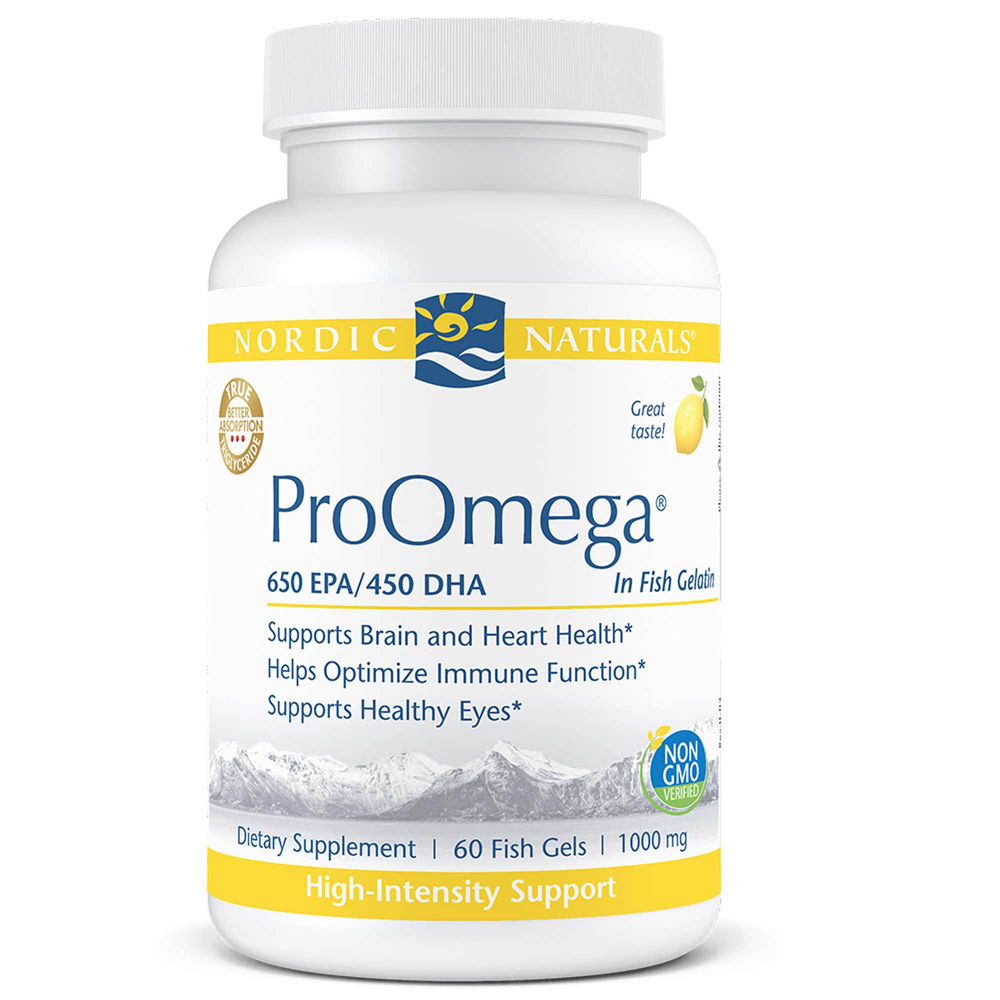 SKU: NORD-12121
Ideal for pesco-vegetarians, ProOmega® in fish gelatin soft gels is a double strength EPA+DHA formula for more omega-3 benefits in fewer servings. For high intensity, therapeutic support for both body and mind, ProOmega is an excellent choice, containing 1100 mg EPA+DHA per serving.
Supports cardiovascular and circulatory health*
Promotes a healthy immune response*
Supports a healthy metabolism and blood sugar levels*
Supports a positive mood and emotional well-being*
Promotes improved joint flexibility and mobility*
Fish gelatin soft gels are ideal for pesco-vegetarians
Two fish gels daily, with food, or as directed by your health care professional or pharmacist. For intense support, take two soft gels with food twice daily.
Serving Size:
2 Fish Gels
Amount Per ServingCalories
... 18
Calories from fat
... 18
Total Fat
... 2.0g
Saturated Fat
... 0.1g
Trans Fat
... 0g
Total Omega-3s
... 1280mg
EPA
... 650mg
(Eicosapentaenoic Acid)
DHA
... 450mg
(Docosahexaenoic Acid)
Other Omega-3s
... 180mg
Ingredients:
purified deep sea fish oil (from anchovies and sardines), soft gel capsule (fish gelatin from tilapia, water, glycerin, natural lemon flavor), natural lemon flavor, d-alpha tocopherol, rosemary extract (a natural preservative)
No gluten, milk derivatives, or artificial colors or flavors. Non-GMO