ProOmega® Blood Sugar
Nordic Naturals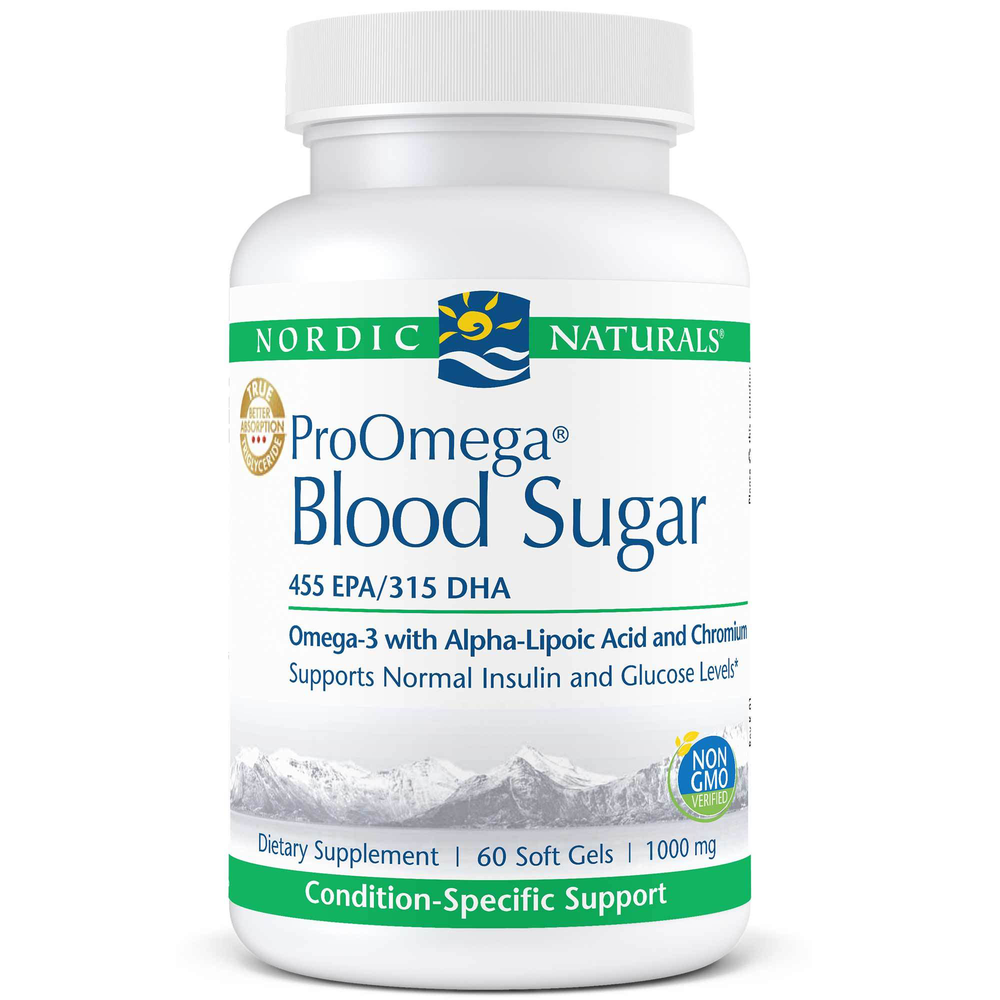 SKU: NORD-12170
Concentrated omega-3s with alpha-lipoic acid and chromium*
Supports normal insulin and glucose levels*
This synergistic formula combines concentrated omega-3s EPA and DHA with two other important nutrients that play key roles in maintaining insulin action and glucose balance in one targeted formula.*
Two soft gels daily, with food, or as directed by your health care professional or pharmacist.
Serving Size: Two Softgels
Amount Per Serving
Calories ... 15
Calories from Fat ... 10
Total Fat ... 1.4g
Saturated Fat ... 0g
Trans Fat ... 0g
Chromium ... 200µg
(as Chromium Nicotinate Glycinate)
Alpha-Lipoic Acid ... 300mg
Total Omega-3 ... 896mg
EPA ... 455mg
(Eicosapentaenoic Acid)
DHA ... 315mg
(Docosahexaenoic Acid)
Other Omega-3s ... 126mg
Other Ingredients: purified deep sea fish oil (from anchovies and sardines), soft gel capsule (gelatin, glycerin, purified water, carob color, natural lemon flavor) alpha-lipoic acid, beeswax, d-alpha tocopherol, chromium, rosemary extract (a natural preservative).
This product does not contain
gluten
milk derivatives
artificial colors
artificial flavors
Warning: Consult with your physician before using this product if you are allergic to iodine, use blood thinners, or anticipate surgery.
Store in a cool, dry place, away from sunlight. Do not take if tamper-evident seal is broken or missing. Keep out of reach of children.