ProOmega® Joint Xtra
Nordic Naturals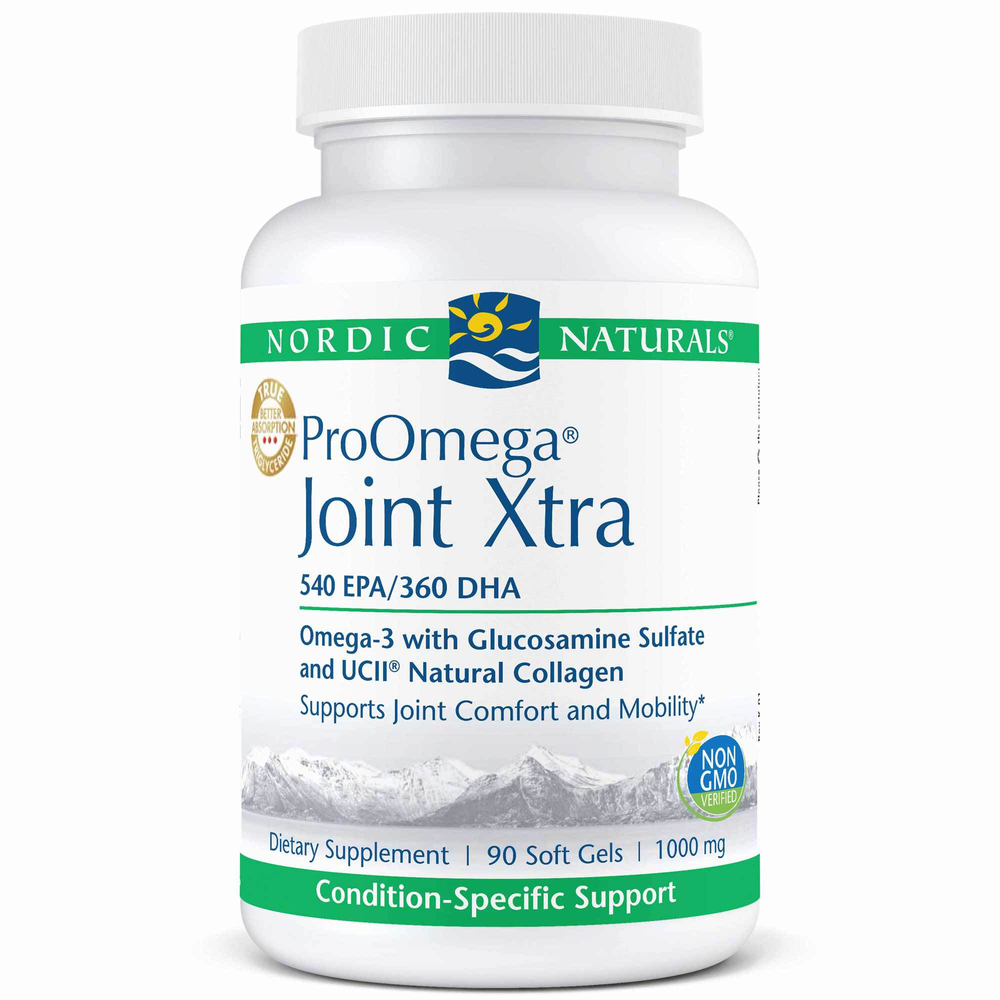 SKU: NORD-12141
Omega-3s plus shellfish-free glucosamine sulfate and UC-11® collagen
Promotes joint mobility and comfort*
Supports the repair of cartilage and the rebuilding of healthy joints*
Nordic Naturals developed ProOmega® Joint Xtra based on the latest human clinical trials, which show that the combination of EPA+DHA from fish oil and glucosamine sulfate work better together than glucosamine sulfate alone. Weve also added UC-II® Undenatured Type II Collagen to accelerate benefits and effectiveness. UC-II Undenatured Type II Collagen is the primary form of collagen found in cartilage. And whereas many other available forms of Type II collagen are hydrolyzed, which alters the molecular configuration and renders it biologically inactive, the Type II collagen in ProOmega Joint Xtra is undenatured to preserve its native form and thus ensure efficacy. By combining this revolutionary ingredient with our industry-leading fish oil and shellfish-free glucosamine sulfate, ProOmega Joint Xtra delivers targeted and accelerated support for joint mobility and comfort in adults of all ages.*
Three soft gels daily, with food, or as directed by your health care professional or pharmacist.
Serving Size: Three Softgels
Amount Per Serving
Calories ... 25
Calories from Fat ... 20
Total Fat ... 2g
Saturated Fat ... 0g
Trans Fat ... 0g
Total Carbohydrate ... 2g
Glucosamine Sulfate ... 1500mg
UC-II® Standardized Cartilage ... 40mg
Total Collagen ... 10mg
Total Omega-3s ... 1065mg
EPA ... 540mg
(Eicosapentaenoic Acid)
DHA ... 360mg
(Docosahexaenoic Acid)
Other Omega-3s ... 165mg
Other Ingredients: purified deep sea fish oil (from anchovies and sardines), soft gel capsule (gelatin, glycerin, purified water, carob color, natural lemon flavor), glucosamine sulfate (from non-GMO, organic corn), beeswax, UC-II® standardized chicken cartilage, vitamin E (d-alpha tocopherol), rosemary extract (a natural preservative), potassium chloride (stabilizer).
This product does not contain
gluten
milk derivatives
artificial colors
artificial flavors
Warning: Consult with your physician before using this product you are allergic to iodine, use blood thinners, or acticipate surgery.
Store in a cool, dry place, away from sunlight. Do not take if tamper-evident seal is broken or missing. Keep out of reach of children.