Pros-Tech Ultra
Bio-Tech Pharmacal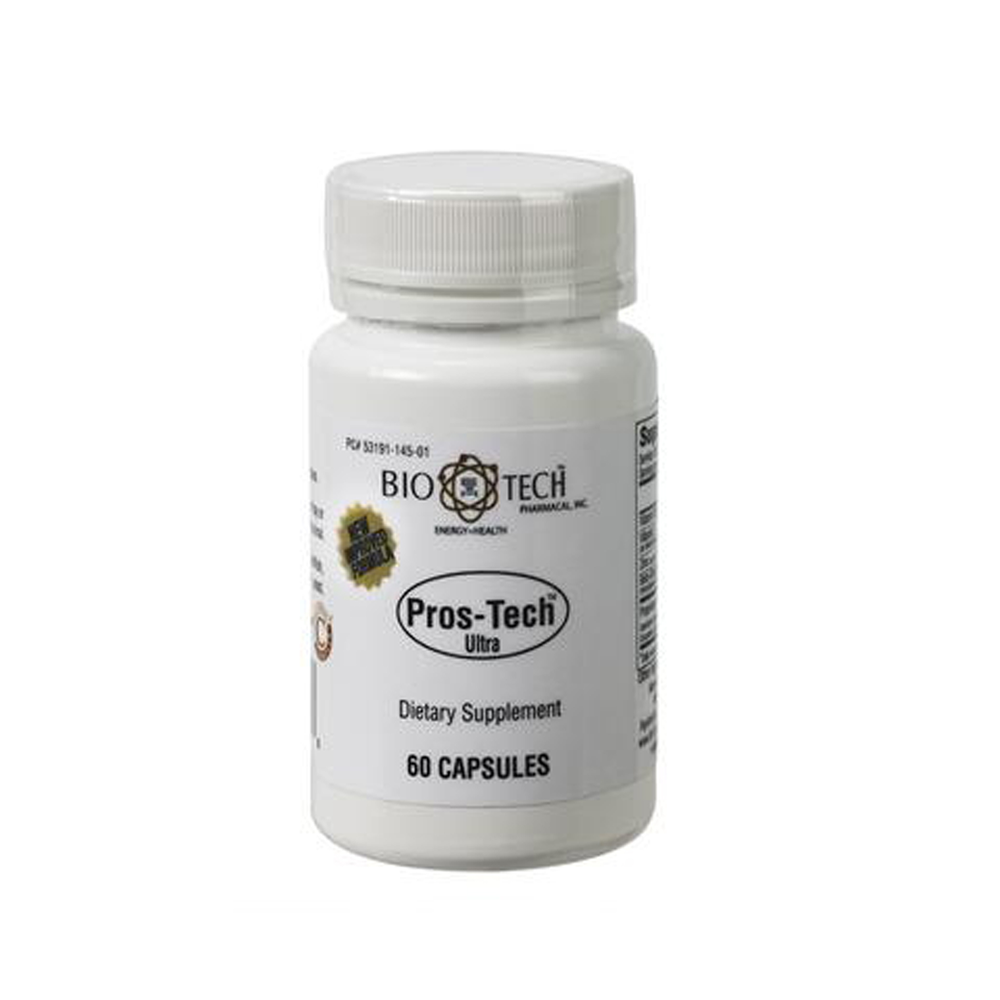 SKU: BI4-145A
Pros-Tech Ultra is a unique combination of ingredients formulated to support prostate, urinary, and male reproductive health.*
Zinc - An essential mineral that serves as a cofactor for over 100 enzymes and is found in high concentration in healthy prostate glands*
Green Tea Extract - A great source of bioavailable compounds, including polyphenols, that help protect against oxidative stress.*
Quercetin dihydrate – A natural flavonoid that is found in many plants and foods. It has antioxidant effects that support a variety of health benefits including cardiovascular and gastrointestinal health.* Not only does it act as an antioxidant, it also has anti-inflammatory effects.*
Cranberry Extract - Cranberries are known to contain polyphenols, tannins, and other phytonutrients. Research has shown that these nutrients play a role in urinary tract health.*
Tocotrienols - Tocotrienols reduce free radicals and may help to promote normal cardiovascular function and supports brain and liver health.*
Curcumin – A natural extract derived from turmeric root. Curcumin is a potent antioxidant that can protect against oxidative stress and regulate normal inflammatory responses.*
Beta-Sitosterol – Beta-Sitosterol is a phytosterol found naturally in plants such as vegetable oil, nuts, and avocados. Beta-Sitosterol supports healthy cholesterol levels and normal urinary function.*
Vitamin D3 - Vitamin D functions as a hormone, a chemical messenger that has widespread effects in the human body. In addition to its role in the development of strong bones, vitamin D is important for optimal cardiovascular, neuromuscular, and immune health.*
Two capsules per day or as directed by a healthcare professional.
Serving Size:
2 Capsules
Amount Per ServingVitamin D3
... 500IU
(as Cholecalciferol)
Vitamin E
... 6mg
(as mixed Tocotrienols/Tocopherols)
Zinc
... 3.75mg
(as zinc L-methionine)
Beta-Sitosterol
... 100mg
Proprietary Complex
... 285mg
Green Tea Extract, Quercetin Dihydrate, Cranberry Extract, and Curcumin C3 Complex
Other Ingredients:
Gelatin capsule
Contains NO:
Dairy, egg, fish, shellfish, nuts, wheat, gluten, soy, sugar, yeast, artificial preservatives or colors.
Keep out of the reach of children. Safety sealed for your protection. Store tightly closed in a cool, dry place.
It looks like there are no similar
products available