Prostate FA Plus
Patient One MediNutritionals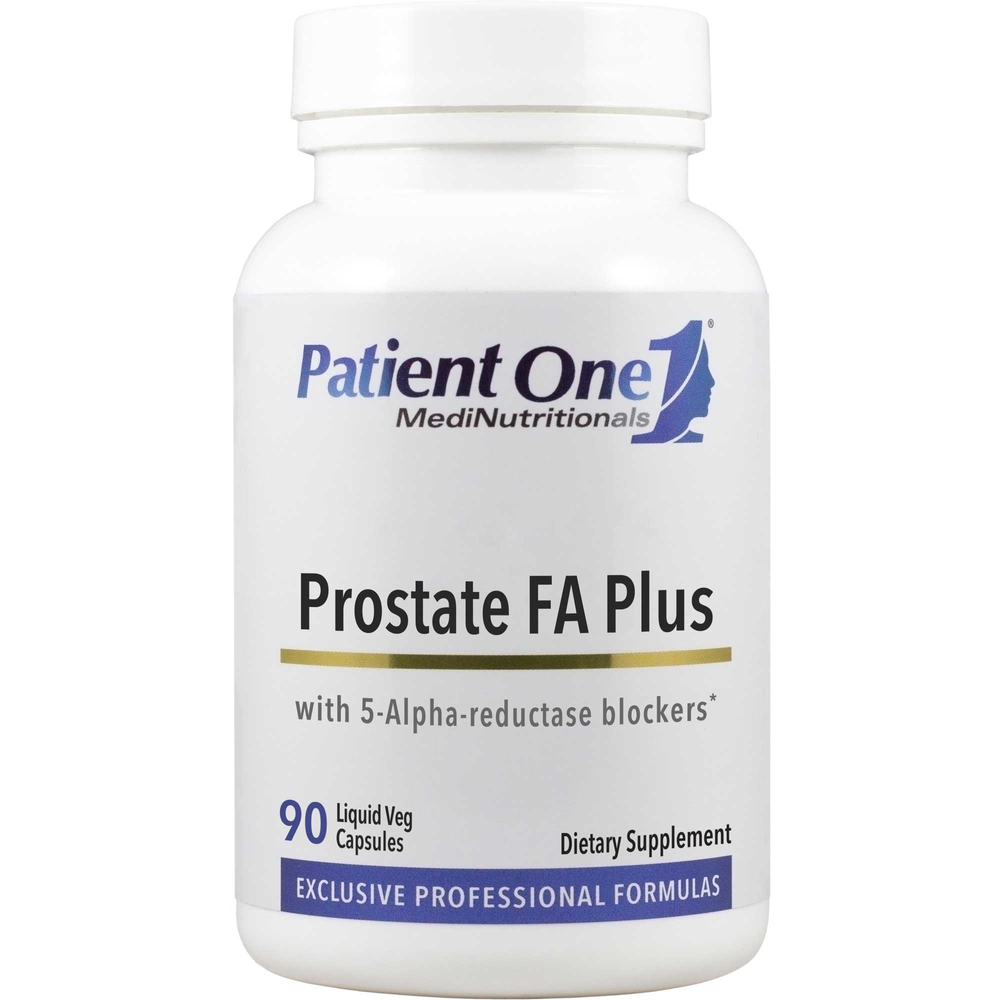 SKU: ONE631-P100190
Blend of herbal extracts, carotenoids, fatty acids, phytosterols and antioxidants promoting prostate health
Regulates high 5-alpha-reductase enzyme activity
Modulates prostate inflammation
Optimizes urinary tract health and reproductive wellness
Promotes urinary ease and comfort
Unique Properties
A comprehensive nutritional protocol for promoting prostate health, urinary tract health and reproductive wellness, Patient One Prostate FA Plus supplies evidence-backed fatty acids, phytosterols and carotenoid antioxidants in a liquid vegetable capsule. Prostate FA Plus features multiple natural compounds shown to regulate the high 5-alpha-reductase enzyme activity that has been associated with prostate issues.

In addition, the formula modulates prostate inflammation, inhibits growth factors, and optimizes cell-signaling pathways-–helping to ease prostate-related urinary nocturia and residual dribbling while encouraging healthy, comfortable urinary flow. Prostate FA Plus is an ideal all-in-one formula for supporting prostate, urinary and sexual health–-promoting peak quality of life for your male patients.


Suggested Use:
Take 3 capsules with a meal once daily or in divded doses as a dietary supplement, or as directed by a qualified health care professional.


Serving Size: 3 capsules

Amount Per Serving
Calories ... 12
Total Fat ... 1.4 g
Saturated Fat ... 0.5 g
Monounsaturated Fat ... 0.5 g
Vitamin E (as d-alpha tocopheryl acetate) ... 40 mg
Zinc (as OptiZinc® brand zinc monomethionine) ... 30 mg
Selenium (as L-selenomethionine) ... 200 mcg
Saw palmetto extract (Serenoa repens Small) (berries) ... 640 mg
[Std. for 85-95% fatty acids]
Pumpkin seed oil (Cucurbita pepo) ... 150 mg [Typically providing 50% Linoleic acid, 15% Oleic acid, 10% Palmitic acid, 3.5% Stearic acid and 2% Linolenic acid]
Phytosterols (from non-GMO vegetable oils) ... 400 mg
(Total phytosterols minimum 95% (380 mg), including Beta-Sitosterol min. 40% (160 mg), Campesterols 25% (100 mg), Stigmasterol 28% (112 mg), Brassicasterol 1-7% (4-28 mg))
Lycopene ... 10 mg
Pygeum africanum 4:1 extract (bark) ... 200 mg
Silica ... 6mt
(from Bamboo extract) (Bambusa vulgaris) (stems) ... 5 mg
Stinging nettles extract (Urtica diocia radix) (root) ... 1 mg
Other Ingredients: rice bran oil, gelatin, chlorophyll.


Does not contain: milk, egg, fish, peanuts, crustacean shellfish (lobster, crab, shrimp), soybeans, tree nuts, wheat, yeast, gluten, beef, pork, and artificial sweeteners, flavors, colors or preservatives. Free of ingredients derived from genetically modified organisms (GMOs).
OptiZinc® is a registered trademark of InterHealth N.I.
Warning: If you are taking any medications, consult your doctor before use. Discontinue use and consult doctor if any adverse reactions occur