Prostate Optimizer
Jarrow Formulas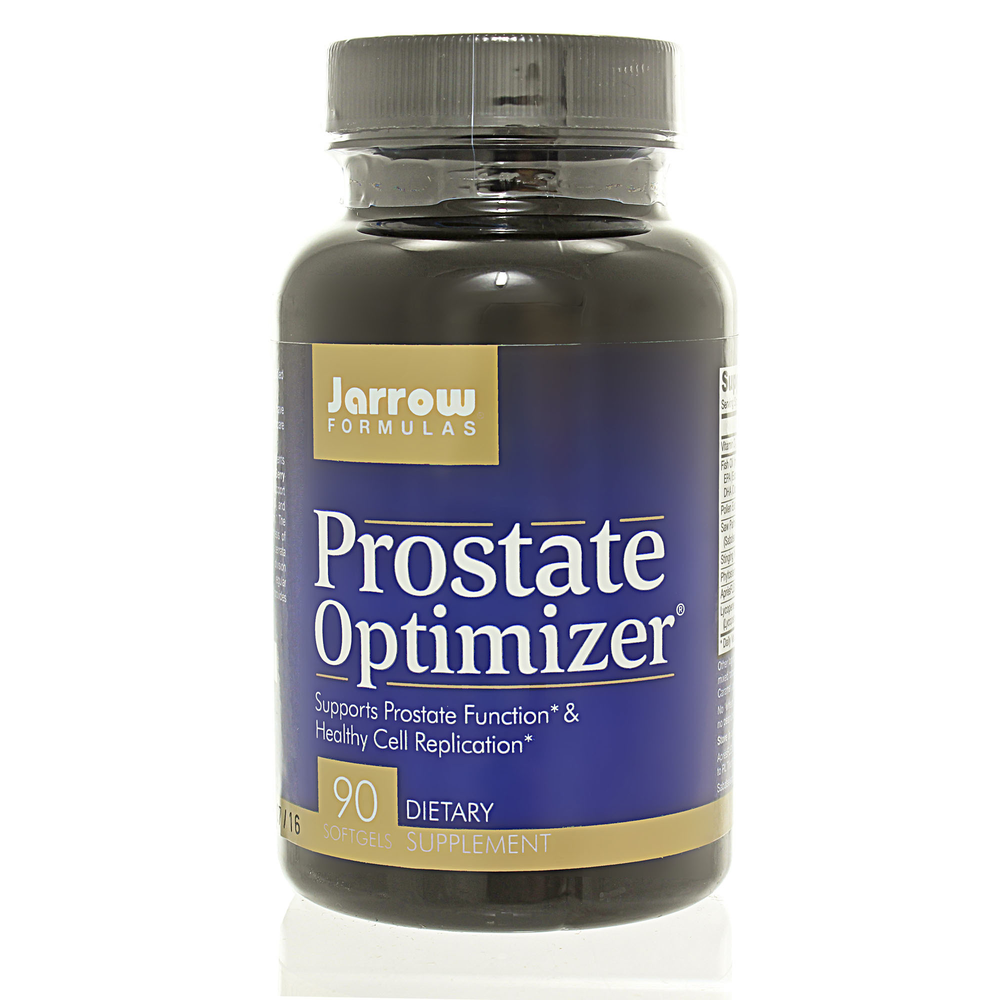 SKU: JAR-PROS
Prostate Optimizer®
-Supports Prostate Function* & Healthy Cell Replication*
-Prostate Support Formula in Softgels
-D3, lycopene, stinging nettle & SDG lignans
-Clinically-Studied Saw Palmetto Extract
-85-95% fatty acids and sterols
-250 mg Clinically-Tested Pollen Extract
-Graminex flower pollen extract promotes urinary flow*
-Includes EPA/DHA: Prostaglandin Precursors
Prostate Optimizer® combines traditional and cutting edge nutrients associated with prostate health.* Sabalselect® Saw Palmetto Berry Extract, Cernitin® Pollen Extract and Stinging Nettle Extract support bladder function and urinary flow.* Phytosterols, Vitamin D3 and Lyc-O-Mato® Lycopene aid healthy prostate cell replication.* The omega-3 fatty acids EPA and DHA contribute to the synthesis of healthful prostaglandins.* Additionally, AprèsFLEX® Boswellia serrata extract supports healthy inflammatory response and cell division and exhibits greater than 50% better bioavailability than regular boswellia extracts.* The combination of the above actives provides comprehensive and balanced support for the prostate.*
Take 3 softgels per day with food or as directed by your qualified healthcare professional.
Serving Size: Three Softgels

Amount Per Serving
Vitamin D3 ... 600 IU
(cholecalciferol)
Fish Oil ... 600 mg
(molecular distilled)
EPA ... 270 mg
(Eicosapentaenoic acid)
DHA ... 15 mg
(Docosahexaenoic acid)
Pollen Extract ... 375 mg
(Cerntin®) (Secale cereale L.)
Saw Palmetto Berry Extract ... 320 mg
(Sabalselect®- 85-95% from fatty acids and sterols)
Stinging Nettle Extract ... 100 mg
Phytosterols ... 100 mg
(Vegapure®) (40 mg beta-siterol)
ApresFlex ... 80 mg
(Boswella serrata extract) (resin)
Lycopene ... 10 mg
(Lyc-o-Mato® non-GMO tomato extract)
(Lycopersion lycopersicum L.) (fruit)
Other Ingredients: Beeswax, non-GMO lecithin (sunflower), ascorbyl palmitate and mixed tocopherols (60% gamma-).
Softgel consists of gelatin, glycerin and water. Caramel and carob are used as a light barrier.

No wheat, no gluten, no dairy, no soybeans, no dairy, no egg, no shellfish, no peanuts/tree nuts
This product is intended for use by adult males only. If you have a medical condition or are taking medications, consult your healthcare professional before using this product.
AprèsFLEX® is a registered trademark of Laila Nutraceuticals exclusively licensed to PL Thomas - Laila Nutra LLC. U.S.
Patent # 8, 551, 496 and other patents pending.

Sabalselect® is a registered trademark of Indena Science of Nature®.
KEEP OUT OF REACH OF CHILDREN.