ProThrivers™ Wellness Multivitamin
Integrative Therapeutics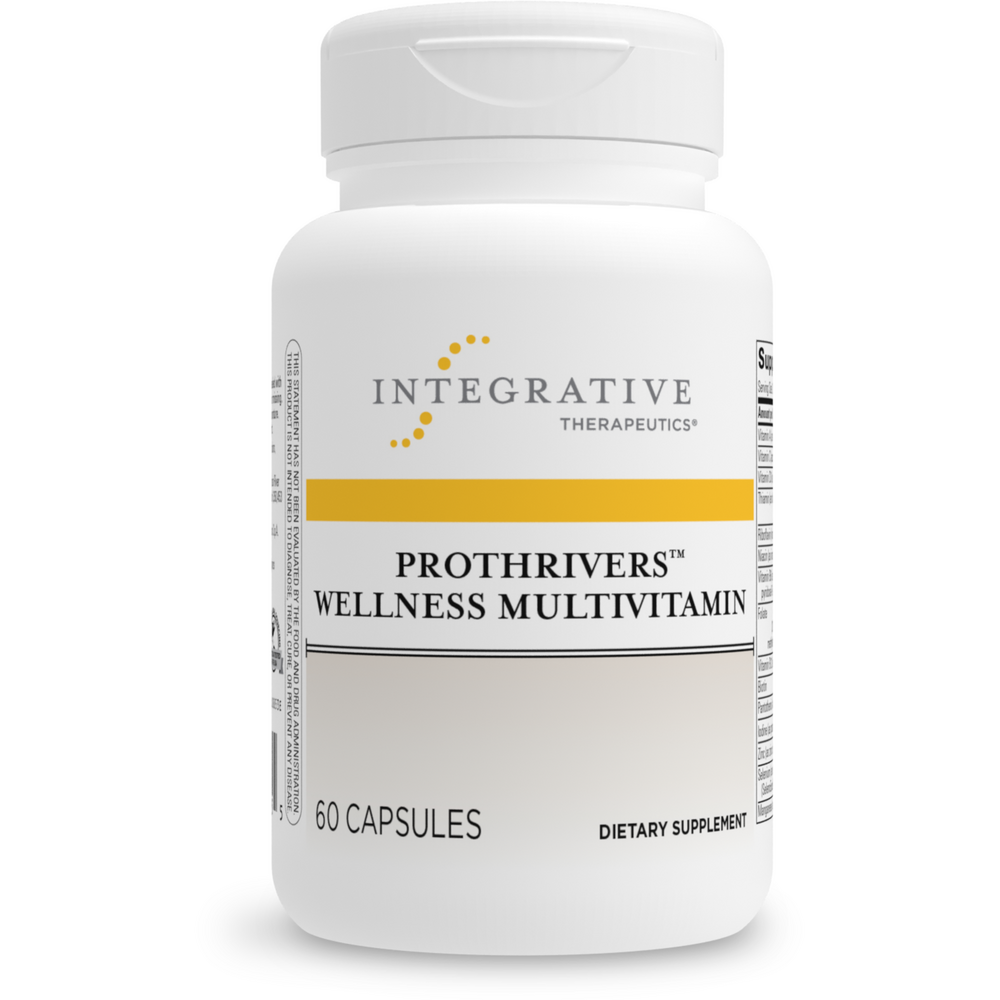 SKU: ITI-10465
Multivitamin Without Beta-Carotene or Alpha-Tocopherol
ProThrivers Wellness Multivitamin is a combination of nutrients that support the health of thrivers.* A unique and important aspect of this formula is what it does not contain. ProThrivers Wellness Multivitamin does not contain beta-carotene, alpha-tocopherol, copper, or boron.
This formulation includes active forms of nutrients to support overall health and energy metabolism.* Studies indicate that thrivers benefit from taking a daily multivitamin and minerals supplement.1, 2
About ProThrivers Wellness
The ProThrivers line of products has been specifically designed with the guidance of Lise Alschuler, ND, FABNO, a respected naturopath for 20 years and an expert in thriver care. Her present clinical focus is on addressing the needs of this specific population of thrivers using evidence-informed strategies. In addition, Dr. Alschuler is a thriver herself and uses her own experience to better understand their unique challenges



Suggested Use:
Take 2 capsules one to two times daily with food, or as recommended by your healthcare professional.
Serving Size: 2 Veg Capsules
Amount Per Serving
Vitamin A ... 750mcg
(as retinyl acetate)
Vitamin C ... 484mg
(as ascorbic acid and potassium ascorbate)
Vitamin D3 ... 25mcg
(as Cholecalciferol)
Thiamin ... 40mg
(as thiamine HCl) (vitamin B1)
Riboflavin ... 20mg
(vitamin B2)
Niacin ... 50mg
(as inositol hexaniacinate)
Vitamin B6 ... 10mg
(as pyridoxine HCl and pyridoxal-5-phosphate)
Folate ... 200mcg DFE
(as Quatrefolic® brand (6S)-5-methyltetrahydrofolate, glucosamine salt)
Vitamin B12 ... 500mcg
(as methylcobalamin)
Biotin ... 200mcg
Pantothenic acid ... 40mg
(Pantesin®)
Iodine ... 50mcg
(as potassium iodide)
Zinc ... 7mg
(as zinc citrate)
Selenium ... 160mcg
(as selenium yeast)
Manganese ... 1mg
(as manganese citrate)
Molybdenum ... 100mcg
(as sodium molybdenum)
Betaine HCl ... 50mg
Annatto Seed Mixed Tocotrienols ... 25mg
(DeltaGold® brand) containing d-delta tocotrienols and d-gamma tocotrienols
Vanadium ... 50mcg
(as vanadyl sulfate)
Other Ingredients: gelatin, plant-derived capsule (hypromellose).
Contains soy.


ProThrivers™ Wellness Multivitamin Does Not Contain
artificial coloring
artificial flavoring
dairy
gluten
preservatives
wheat
DeltaGold® is a registered trademark of American River Nutrition, Inc. and protected by U.S. Patent No: 6, 350, 453, and patent-pending application No: US2005037102.
Quatrefolic® is a registered trademark of Gnosis S.p.A.
Do not take if you are pregnant or nursing. Do not exceed recommended dose unless advised by a healthcare professional. If you have a blood clotting issue, or if you are taking any medications, consult a healthcare professional before use. Keep out of reach of children. Safety sealed with printed inner seal. Do not use if seal is broken or missing. Keep tightly closed.