ProtoClear Natural Berry Flavor
Protocol for Life Balance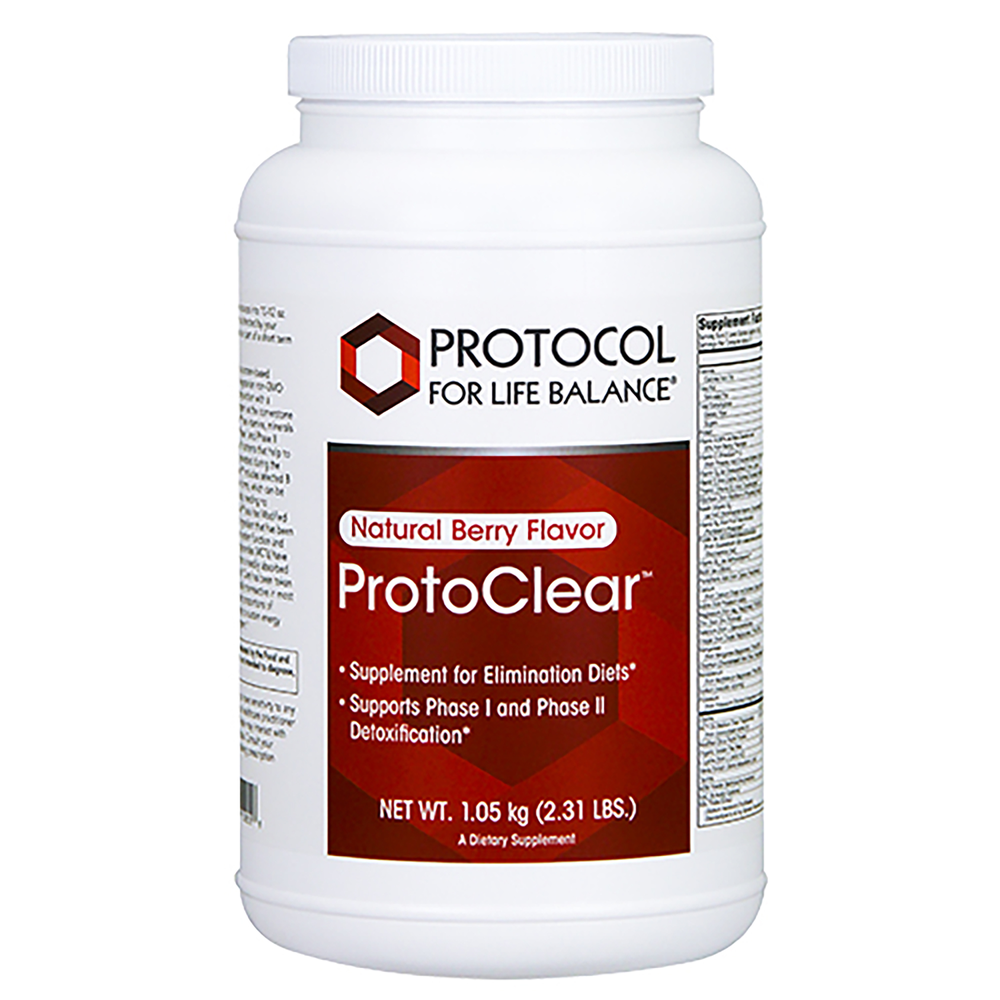 SKU: PROT-P5955
-Natural Berry Flavor
-Supplement for Elimination Diets*
-Supports Phase I and Phase II Detoxification*
-Made without Common Allergens††
-Quick Dispersion, Superior Flavor, Smooth & Rich
-A Dietary Supplement
ProtoClear™ is a protein-based nutritional supplement utilizing a vegetarian Non-GMO Pea Protein designed for use in conjunction with a comprehensive detoxification program as the cornerstone of an elimination diet. ProtoClear™ has vitamins, minerals and other nutrients that support Phase I and Phase II detoxification, as well as a blend of nutrients that help to protect against the free radicals generated during the detoxification process.* ProtoClear™ includes selected B vitamins in their biologically active forms, which can be readily used by the cells of the body, needing no conversion by the liver. ProtoClear™ also has Modified Citrus Pectin, a naturally sourced ingredient that has been shown to support healthy immune system function and cellular health.* Medium chain triglycerides (MCTs) have been included as a healthy source of fat that is readily absorbed and utilized as energy by the body.* Care has been taken to select ingredients that are typically nonreactive in most individuals. ProtoClear™s balanced proportions of protein, carbohydrate, and fats help to sustain energy levels during a detoxification program.*
As a dietary supplement, mix 2 level scoops (50 g) into 10-12 oz. of water, juice, or other liquid, or as directed by your healthcare practitioner. To be used as part of a short term detoxification program.
Serving Size: 2 Level Scoops (50 g)
Amount Per Serving
Calories ... 190
Calories From Fat ... 30
Total Fat ... 4g
Saturated Fat ... 3g
Trans Fat ... 0g
Cholesterol ... 0mg
Total Carbohydrate ... 18g
Dietary Fiber ... 4g
Sugars ... 5g
Protein ... 22g
Vitamin A ... 5, 000IU
(80% as Beta-Carotene and 20% from Retinyl Palmitate)
Vitamin C ... 300mg
(ProtoSorb™C)(from Threonic Acid Enhanced Buffered Calcium Ascorbate)
Vitamin D3 ... 200IU
(as Cholecalciferol)(from Lanolin)
Vitamin E ... 50IU
(from d-alpha Tocopheryl Succinate)
Thiamin ... 2mg
(Vitamin B1)(from Cocarboxylase)
Riboflavin ... 2mg
(from Riboflavin-5-Phosphate Sodium)
Niacin ... 10mg
(Vitamin B3)(as NAD [Nicotinamide Adenine Dinucleotide] Trihydrate)
Vitamin B6 ... 3.4mg
(from P-5-P Monohydrate)(Pyridoxal-5-Phosphate)
Folate ... 200mcg
(as Folic Acid)
Vitamin B12 ... 25mcg
(as Methylcobalamin)
Biotin ... 150mcg
(as d-Biotin)
Pantothenic Acid ... 20mg
(from Calcium d-Pantothenate)
Calcium ... 200mg
(from Calcium Citrate and Buffered Calcium Ascorbate)
Iodine ... 50mcg
(from Potassium Iodide)
Magnesium ... 200mg
(from Magnesium Citrate)
Zinc ... 10mg
(from Zinc Picolinate)
Selenium ... 35mcg
(from L-Selenomethionine)
Copper ... 0.5mg
(as TRAACS® Copper Glycinate Chelate)
Manganese ... 0.5mg
(as TRAACS® Manganese Glycinate Chelate)
Chromium ... 50mcg
(ChromeMate®)(from Chrom. Polynicotinate)
Molybdenum ... 25mcg
(as TRAACS® Molybdenum Glycinate Chelate)
Sodium ... 450mg
(naturally occurring)
Potassium ... 300mg
(from Potassium Chloride & Aspartate and naturally occurring)
MCT Oil ... 3.0 g (3, 000 mg)
(Medium Chain Triglycerides)
Glycine ... 1.6 g (1, 600 mg)
Modified Citrus Pectin Powder ... 1.0 g (1, 000 mg)
Organic Golden Flax Meal ... 1.0 g (1, 000 mg)
L-Lysine ... 250mg
(as L-Lysine HCl)
Stevia Extract ... 143mg
(Stevia rebaudiana)(Leaf)
Taurine ... 100mg
MSM ... 100mg
(Methylsulphonylmethane)
NAC ... 50mg
(N-Acetyl Cysteine)
Milk Thistle Extract ... 50mg
(Silybum marianum)(Fruit and Seeds)(Standardized to min.80% Silymarin Flavonoids)
TMG ... 50mg
(Trimethylglycine)(Betaine Anhydrous)
Green Tea Extract ... 50mg
(Camellia sinensis)(Leaf)(Standardized Extract) [50% EGCg (Epigallocatechin Gallate)(25 mg)]
Broccoli Powder ... 50mg
Ch


CAUTIONS AND INTERACTIONS: If you have sensitivity to any ingredients, please check with your healthcare practitioner before using this product. Milk Thistle may interact with tamoxifen and other pharmaceuticals. Consult your healthcare practitioner if you are taking prescription medications.

††ProtoClear™ is not manufactured with wheat, gluten, soy protein, milk, egg, fish or shellfish ingredients. Produced in a GMP facility that processes other ingredients containing these allergens.

**Co-enzyme Forms

ChromeMate® is a registered trademark of InterHealth Nutraceuticals Inc.

U.S. Patent 7, 838, 042 and patents pending, and the trademark TRAACS® are used under license from Albion Laboratories, Inc.

The Modified Citrus Pectin in this product is protected under US Patent No. 6, 462, 029, 6, 274, 566 and 7, 026, 302.

Formulated by doctors and clinical scientists exclusively for licensed healthcare practitioners.

This product is sold by weight not volume.

Store in a cool, dry place after opening.

Please Recycle.

California Proposition 65 WARNING: This product contains a substance known to the State of California to cause birth defects or other reproductive harm.



It looks like there are no similar
products available