ProtoSorb C 500
Protocol for Life Balance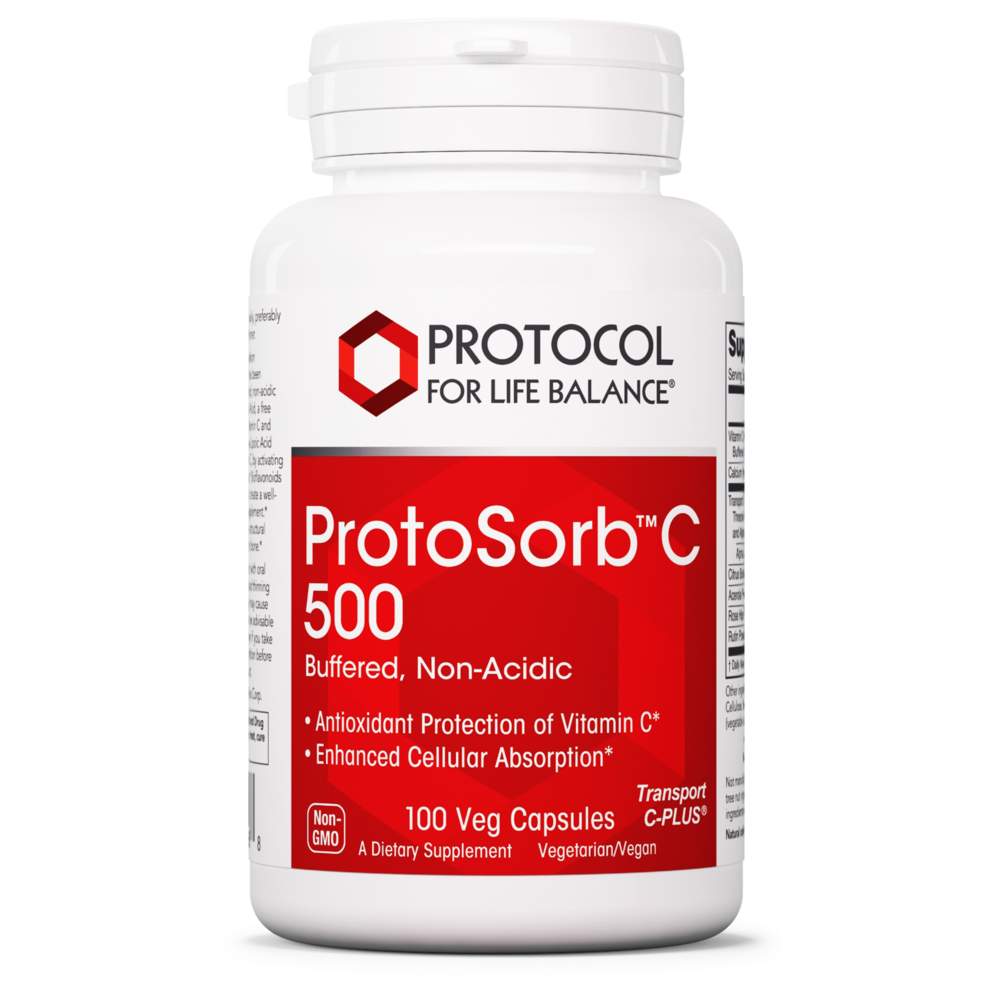 SKU: PROT-P0716
-Antioxidant Protection*
-Enhanced Absorption*
-Transport C-PLUS®
-A Dietary Supplement
-Vegetarian/Vegan
ProtoSorb™ C is a trademarked formulation containing Transport C-PLUS® Threonic Acid, which has been shown to enhance uptake of Vitamin C.* This buffered, non-acidic Vitamin C supplement is superior because it also contains Alpha Lipoic Acid, an antioxidant known to help regenerate both Vitamin C and glutathione in the body.* Furthermore, studies suggest that Alpha Lipoic Acid may further promote the bodys utilization of Vitamin C, by activating uptake into cells via the glucose transport pathways.* The addition of Bioflavonoids to this formula synergistically helps to create a well-absorbed, highly bioavailable Vitamin C supplement.* These ingredients also work cooperatively with other antioxidants, such as Vitamin E and Coenzyme Q10.*
Vitamin C is required for the synthesis of collagen, a structural component of blood vessels, tendons, ligaments and bone. In addition, Vitamin C is required for the synthesis of the neurotransmitter norepinephrine and of L-carnitine, which is required for the transport of fats into the mitochondria of cells.*
As a dietary supplement, take 1 capsule daily, preferably with a meal or as directed by your healthcare practitioner.
Serving Size: 1 Veg Capsule
Amount Per Serving
Vitamin C ... 500mg
(from Threonic Acid Enhanced Buffered Calcium Ascorbate)
Calcium ... 60mg
(from Buffered Calcium Ascorbate)
Transport C-PLUS® ... 650mg
(Trademarked blend of Threonic Acid Enhanced Buffered Calcium Ascorbate and Alpha Lipoic Acid)
Alpha Lipoic Acid ... 40mg
Citrus Bioflavonoids ... 100mg
Acerola Powder ... 25mg
Rose Hips Powder ... 25mg
(Rosa canina)(Fruit)
Rutin ... 25mg
Other Ingredients: Cellulose (capsule), Cellulose Powder. Stearic Acid (vegetable source), Magnesium Stearate (vegetable source) and Silica.
Not manufactured with yeast, wheat, gluten, soy, milk, egg, fish, shellfish or tree nut ingredients. Produced in a GMP facility that processes other ingredients containing these allergens.
Transport C-PLUS® is a registered trademark of Helios Corp.

CAUTIONS/INTERACTION
Doses of >2000 mg of Vitamin C per day may cause GI disturbances in sensitive individuals and may not be advisable for some people. Vitamin C may interact with oral estrogen medications, HMG CoA inhibitors, and blood thinning medications. Consult your healthcare practitioner if you take any prescription medications before exceeding the recommended dosage for this product.

This bottle contains an AGELESS® Oxygen Absorber to ensure freshness. Do not eat Packet.

Store in cool, dry place after opening. Please recycle.
*This statement has not been evaluated by the Food and Drug Administration. This product is not intended to diagnose, treat, cure or prevent any disease.