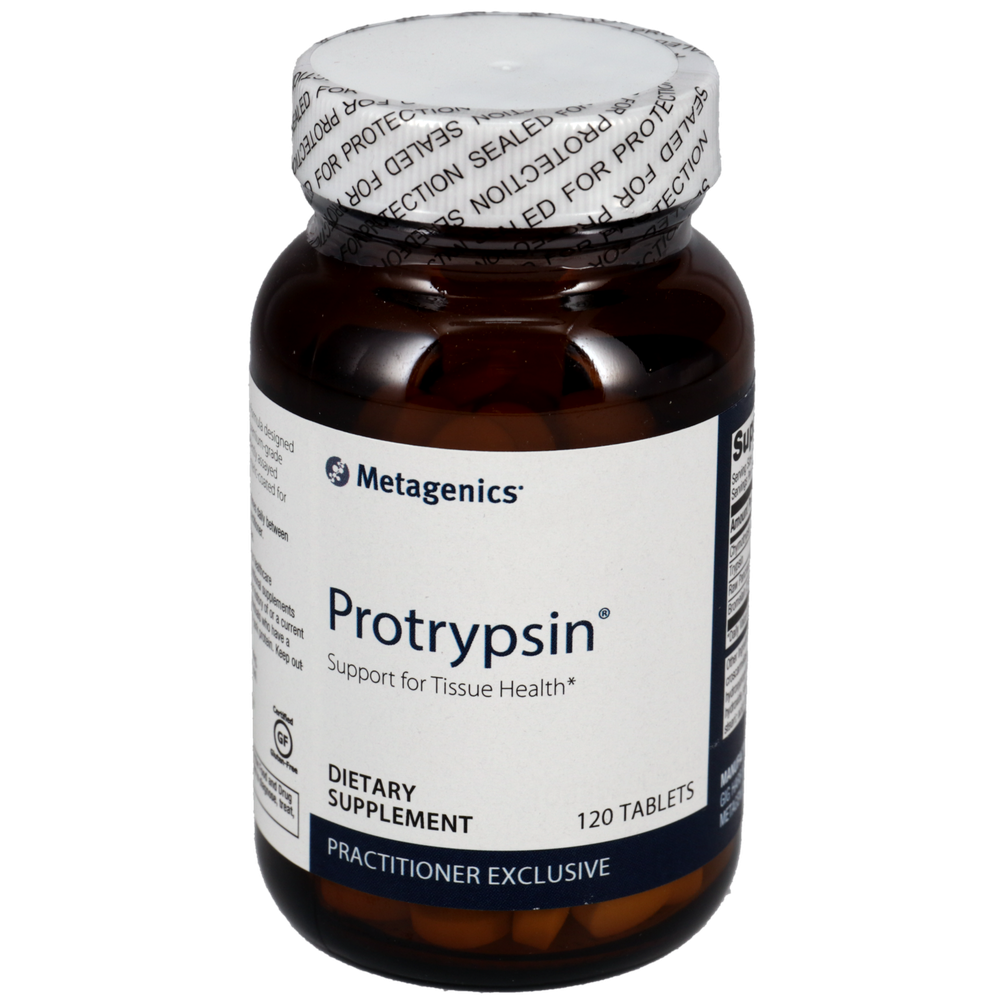 SKU: MET-PROT120
Protrypsin™
Protrypsin® is a potent, enteric-coated proteolytic enzyme formula featuring premium-grade chymotrypsin and trypsin to support tissue health.*
Supplement Facts
Serving Size: 2 Tablets
Amount Per Serving
| | |
| --- | --- |
| Chymotrypsin | not less than 6,000 USP Units |
| Trypsin | not less than 6,000 USP Units |
| Raw Pancreas (porcine) Concentrate | 100 mg |
| Bromelain (2,400 GDU/g) | 133 mg |
Other Ingredients
Microcrystalline cellulose, stearic acid (vegetable), croscarmellose sodium, silica, and enteric coating (ethyl cellulose, hydroxypropylmethylcellulose, medium-chain triglycerides, ammonium hydroxide, sodium alginate, hydroxypropylcellulose, oleic acid, and stearic acid).
Contains: Milk.
This product is non-GMO and gluten-free.Suggested Use
Take two tablets one to three times daily between meals or as directed by your healthcare practitioner.
Storage
To help maintain potency after opening, keep this bottle tightly closed and store in a cool, dry place.
Do not refrigerate. Refrigeration may cause moisture condensation on the product.
Cautions and Warnings
If pregnant or nursing, consult your healthcare practitioner before use if taking other nutritional supplements or medications. Do not use if there is a prior history of or a current peptic or duodenal ulcer. Keep out of the reach of children. Do not use in individuals who have a known allergy or hypersensitivity to pork or pork protein.
*These statements have not been evaluated by the Food & Drug Administration. These products are not intended to diagnose, treat, cure or prevent any disease.