Pure Harvest Greens (Elderberry)
Integrative Therapeutics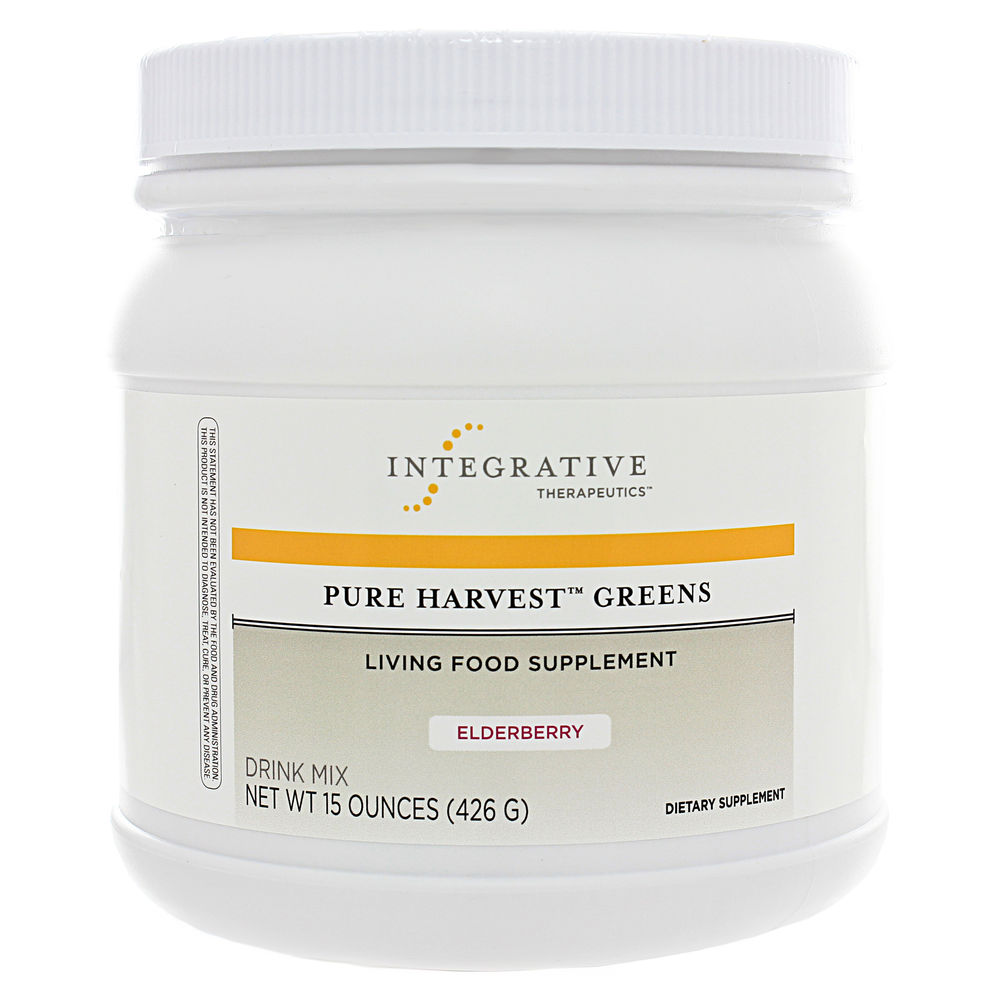 SKU: ITI-176002
Tonic antioxidant drink mix†
Elderberry Supplies essential nutrients to enhance energy, support digestion, and boost the immune system.†
Why are fruit, vegetable and fiber ingredients so important?
They provide many natural health benefits.†
Research has confirmed that diets high in natural foods are associated with benefits for immune, gastrointestinal, and cardiovascular health.†
Fiber supports colon health, and aids in the absorption of calcium, which is crucial for healthy bone formation.†
Why use Pure Harvest™ Greens?
It provides an excellent source of nutrients from vegetables plus fiber.†
Pure Harvest™ Greens provides more vegetable ingredients and fiber per serving than other leading super-green foods, and provides natural detoxification support.†
One serving provides essential nutrients needed to increase energy levels, support digestion and boost the immune system.†
It tastes great, naturally.
Unlike most green drinks, Pure Harvest™ Greens has a delicious natural flavor that can be enjoyed every day. This means your clients will actually want to take it every day - making compliance much easier compared to other green drinks!
It provides a tonic energy boost.†
Green tea in the formula gives just the right amount of boost, without the "over-the-top" caffeine found in popular energy drinks.† Just 28 mg of caffeine - about the same as a cup of green tea.
Each day, mix approx. 2 teaspoons (7.1 g) with 8-12 ounces of water, your favorite beverage, smoothie, or yogurt 1-2 times daily.
Stir briskly or shake in a closed container until mixed. Best if consumed within 30 minutes of preparation.
Serving Size: approx. 2 teaspoons (7.1 g)
Amount Per Serving
Calories ... 25
Total Carbohydrate ... 5g
Sugars ... Dietary Fiber ... 2g
Protein ... Sodium ... 5mg
Fiber Blend ... 2g
inulin and fructooligosaccharides (FOS) from chicory root (1.5 g), guar gum seed extract (500 mg)
Greens Blend ... 1.8g
barley grass (475 mg), alfalfa sprouts (405 mg), broccoli sprouts (405 mg), radish sprouts (393 mg), oat grass (125 mg), wheat grass (50 mg), alfalfa juice concentrate (12 mg)
European Elder Berry Extract 4:1 ... 231mg *
Vegetable Blend ... 222mg
carrot root (33 mg), collard greens (33 mg), broccoli flower (33 mg), cabbage leaf (33 mg),
tomato fruit (33 mg), mustard greens (25 mg), kale leaf (16 mg), spinach leaf (16 mg)
Green Tea Leaf Extract ... 100mg
Seaweed Blend ... 60mg
blue-green algae (30 mg), dulse (30 mg)
Stevia Leaf Extract ... 40mg
Other Ingredients
natural flavors, malic acid, silicon dioxide, and soy lecithin.
This product does not contain:
•artificial coloring
•artificial flavoring
•corn
•dairy products
•ingredients of animal origin
•preservatives
•yeast
This product contains natural ingredients; color variations are normal.
If pregnant, nursing, or taking prescription drugs, consult your healthcare practitioner prior to use.
Container is filled by weight, not volume; some settling may occur.
† This statement has not been evaluated by the Food and Drug Administration. This product is not intended to diagnose, treat, cure, or prevent any disease.