PureDefense w/Nac
Pure Encapsulations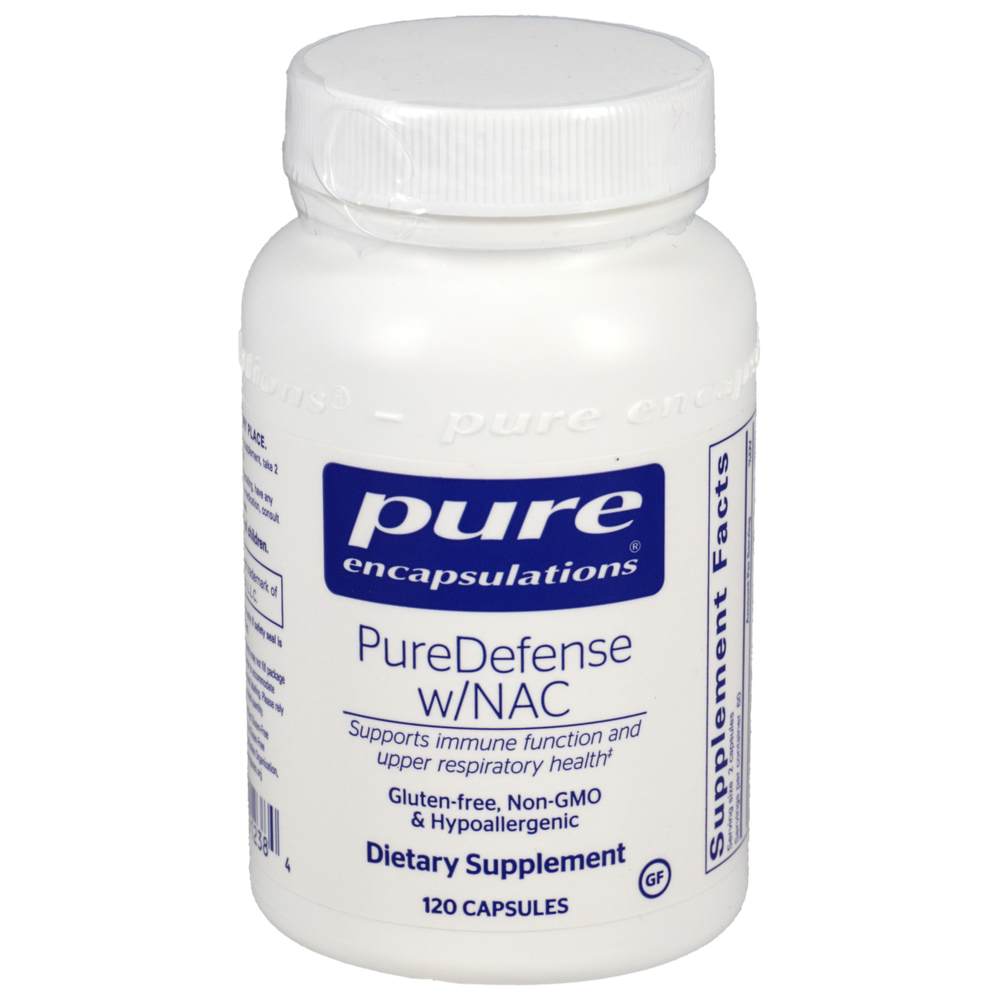 SKU: PUR-PDN1
Helps support immune health*
Maintains upper respiratory health*
Made with hypoallergenic ingredients
PureDefense w/NAC helps to support immune health and maintain upper respiratory health.*
Supports first-line immune defense and upper respiratory health*
Natural killer cells are part of the body's innate, or first-line, immune response. They respond more quickly than the adaptive immune system comprised of B cells and T cells. Once activated, natural killer cell activity peaks in as quickly as several hours, providing rapid support and wide-range immune defense. EpiCor® is a fermentate of Saccharomyces cerevisiae containing various bioactive metabolites. These nutrient metabolites are produced in a specialized fermentation process and enhance immune cell production. In one cellular study, EpiCor® promoted natural killer cell activation, as well as that of B cells and T cells. In two randomized, double blind, placebo-controlled trials, EpiCor® provided statistically significant support for upper respiratory tract health and overall immune health. A separate open label, in-house trial indicated a strong potential for EpiCor® supplementation to enhance secretory IgA levels after 30 days. These various actions demonstrate the ability of EpiCor® to address both innate and adaptive immune responses. NAC (n-acetyl-l-cysteine) promotes endogenous glutathione production for antioxidant protection and provides lung defense mechanisms for healthy respiratory function. In a randomized double blind trial involving mostly older individuals, NAC showed support for respiratory health. Quercetin and elderberry provide flavonoids that offer additional support for immune and respiratory function while vitamin C, vitamin D and zinc play important roles in immune cell activation. PureDefense w/NAC supports overall immune defense and provides enhanced support for upper respiratory health.
Take 2 capsules, twice daily, with meals.
Serving Size: two vegetarian capsules
Amount Per Serving
Vitamin C ... 250mg
(as ascorbic acid)
Vitamin D ... 25 mcg (1,000 IU)
(as cholecalciferol) (D3)
Zinc ... 7.5mg
(as zinc citrate)
N-acetyl-l-cysteine ...450mg
(free-form)
EpiCor® dried yeast fermentate complex ... 250mg
(from Saccharomyces cerevisiae)
European elder extract ... 200mg
(elderberry) (sambucus nigra) (fruit)
Quercetin ... 25mg
Other Ingredients: ascorbyl palmitate, vegetarian capsule (cellulose, water)
Epicor® is a registered trademark of Embria Health Sciences, L.L.C.
Warning:
If you are pregnant or lactating, have any health condition or are taking any medications, particularly immunosuppressants, consult your health professional before use.
Keep out of the reach of children.