Pureway-C Plus
Jigsaw Health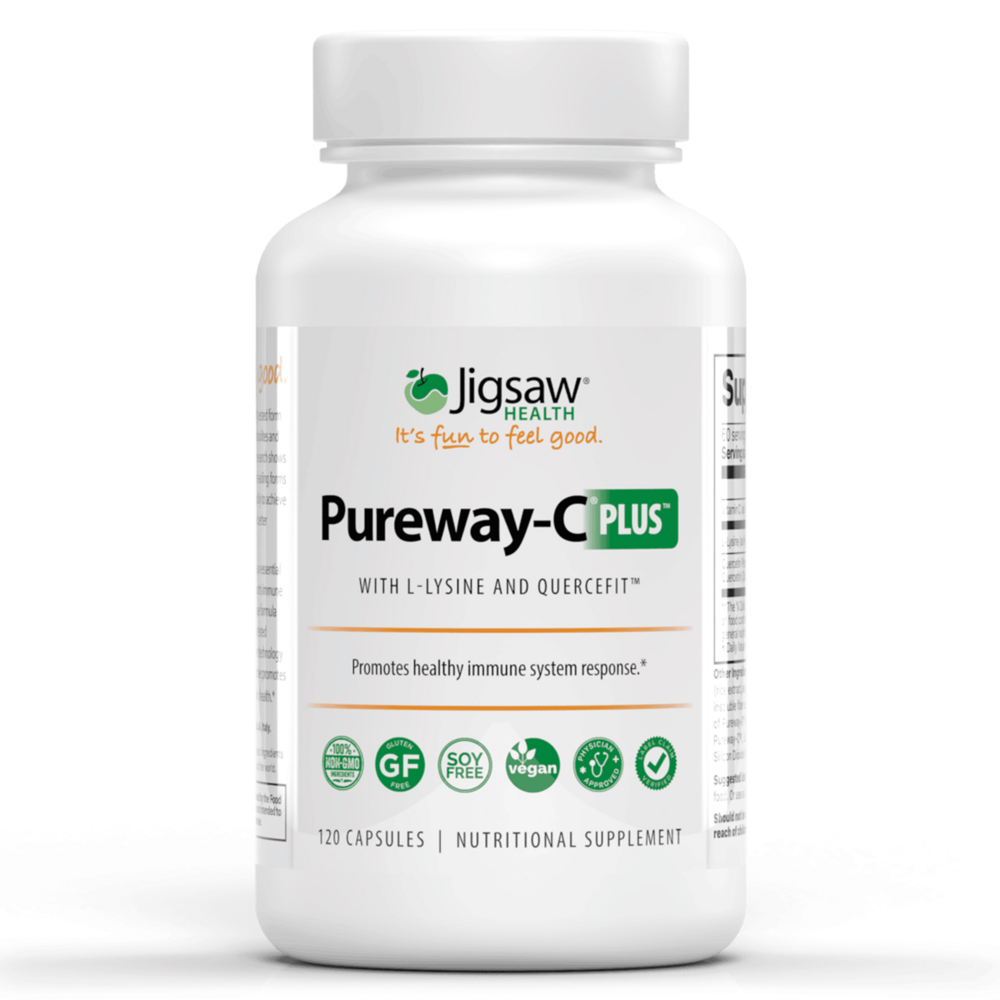 SKU: JIG-JI0047
JIGSAW PUREWAY-C® + LYSINE CONTAINS:
No GMOs
No Soy
No Gluten
Vegan Ingredients
WHY IS JIGSAW PUREWAY-C® + LYSINE A SUPERIOR FORM OF VITAMIN C?*
Pureway-C® is clinically proven to outperform other leading forms of Vitamin C by offering better immune protection, better free radical scavenging, and better antioxidant support.*
Research studies in vitro and in humans show that Pureway-C® is more rapidly absorbed and more highly retained in the human cells resulting in faster, more beneficial effects than other ascorbate brands.*
TOP REASONS JIGSAW PUREWAY-C® + LYSINE MAKES A DIFFERENCE*
More rapidly taken-up and absorbed by cells than other forms of Vitamin C.*
More highly retained by the human body than other traditional forms of Vitamin C.*
PureWay-C® is directly associated with greater reduction of plasma levels of C-reactive protein and Oxidized LDL in human clinical study.*
Potent antioxidant and significant free radical scavenging capabilities.*
Faster and greater beneficial effects than other forms of Vitamin C.*
More rapidly stimulates healthy neurons.*
More rapidly promotes wound healing.*
More rapidly protects immune system.*
WHY IS LYSINE INCLUDED?
Lysine, or L-Lysine, is an essential amino acid, which means that it is necessary for human health but cannot be made by the body. Amino acids are the building blocks of protein. Lysine is important for proper growth, and it plays an essential role in the production of carnitine; a nutrient responsible for converting fatty acids into energy and helping to lower cholesterol. Lysine appears to help the body absorb and conserve calcium, and it plays an important role in the formation of collagen.*
Lysine supports a healthy immune system response. Taking lysine supplements can support recovery time and reduce the chance of recurrent health challenges. Lysine also plays a role in supporting arterial health. Lysine is one component of a protocol proposed by Linus Pauling to promote optimal heart and immune health.*
THE TWO MOST IMPORTANT WORDS FOR ENHANCED IMMUNE RESPONSE: VITAMIN C*
Enhance immune system response*
Antioxidant support*
Premium Vitamin C & L-Lysine
WHY DO WE NEED VITAMIN C?
Unlike most mammals who produce their own Vitamin C in very high amounts (and even more under stress), humans do not have the ability to manufacture their own Vitamin C. Interestingly, we have 3 out of the 4 enzymes needed to make Vitamin C, but the 4th enzyme is turned off — the gene that made the 4th enzyme mutated and is no longer expressed in humans. Therefore, we must obtain Vitamin C through our diet and/or a Vitamin C supplement in order to support proper health.
WHAT HAPPENS WHEN THE BODY IS RUNNING LOW ON VITAMIN C?
According to the National Institutes of Health, too little Vitamin C can lead to serious health challenges. Low Vitamin C levels can affect several body parts and systems, including:
Hair health and texture*
Gum and dental health*
Dermal (skin) health and texture*
Wound-healing process*
Bruise recovery*
Joint health*
Red blood cell health*
Immune system response*
Metabolic rate*
CAN YOU REPLENISH A DEFICIENCY TAKING ONLY THE RECOMMENDED DAILY ALLOWANCE (RDA)?
No. The RDA is the minimum required to avoid scurvy, not the maximum needed for good health. As in all cases, "deficiency" is not something thats digital – meaning you either have it or you dont – its a matter of degrees. Researchers are proving the many ways in which "sub-clinical scurv
As a dietary supplement, take 2 capsules per day with food. Or use as directed by your healthcare professional.
Serving Size: 2 Capsules
Amount Per Serving
Vitamin C ... 1, 000mg
(as Pureway-C®)
L-Lysine ... 100mg
(as Hydrochloride)
Other Ingredients: Vegetable Capsules (as Hypromellose), Microcrystalline Cellulose (plant-based insoluble fiber used as an anti-caking agent) Organic Nu-Flow® (as anti-caking agent), citrus bioflavonoids (to enhance action of Vitamin C), and Fatty Acids (as part of Pureway-C®)
Caution: People who have a high risk of kidney disease or disorders of iron metabolism (iron overload) should avoid large doses of vitamin C and consult your doctor or nutritionist prior to taking supplementation.