Pycnogenol 25mg
Douglas Labs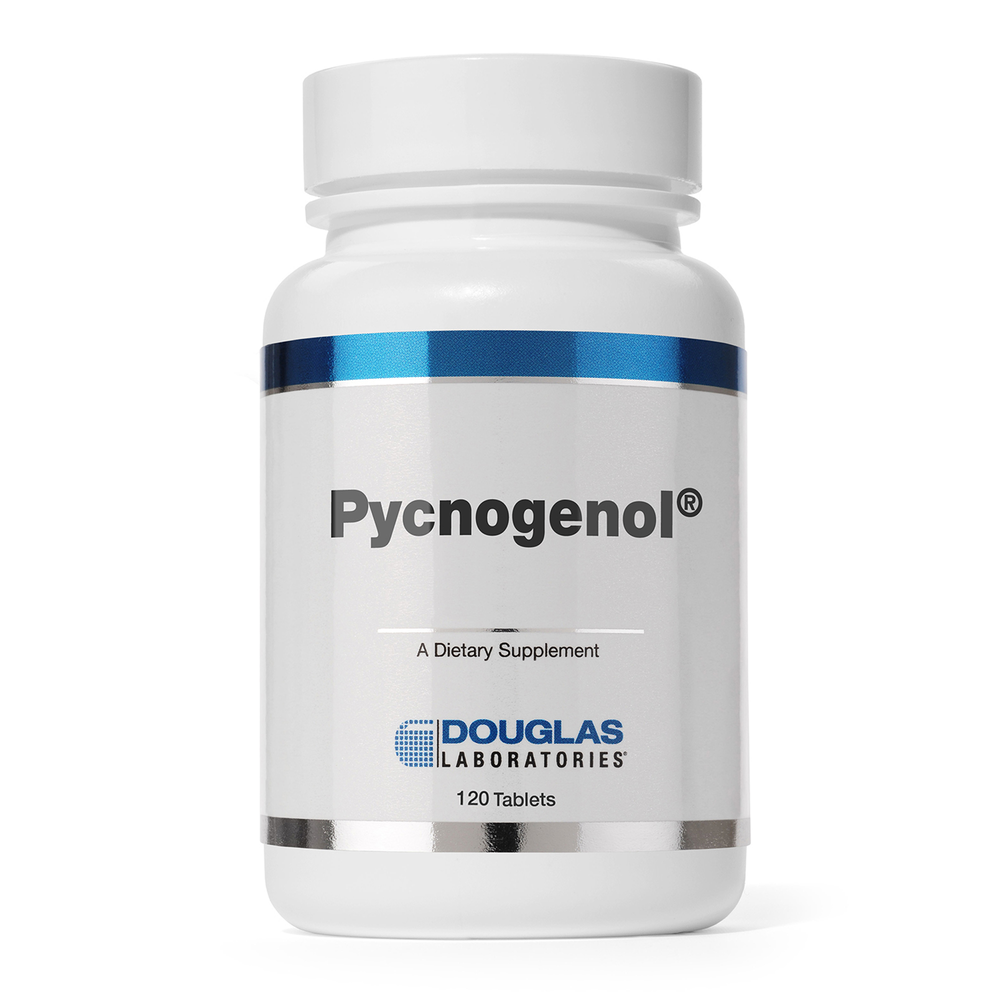 SKU: DL-7041120X
Pycnogenol capsules, provided by Douglas Laboratories, supplies 25 mg of pure, patented pine bark extract in each capsule. Pine bark extract is a powerful bioflavonoid that supports blood vessel, tissue and arterial health.†
Pycnogenol is a patented bioflavonoid complex produced solely from French maritime pine bark which contains a unique mixture of procyanidins, organic acids, and other active compounds. Pycnogenol is a unique product recognized by U.S. and international patents covering its innovative methods of extraction, preparation, and biological applications. Pycnogenol is made exclusively from Pinus pinaster, which grows along the coast of southern France.
FUNCTIONS Pycnogenol is one of the most powerful natural free-radical scavengers yet discovered. As such, it reduces oxidative damage to vital tissues and helps maintain a healthy capillary system. Pycnogenol acts as an antioxidant and may enhance the effectiveness of vitamins C and E when taken together for added benefits.
Pycnogenol is composed of water-soluble procyanidins, consisting of linked catechin and epicatechin subunits to form dimers, trimers and large flavonoid molecules with up to twelve condensed subunits. Pycnogenol is standardized to contain 70% procyanidins in accordance to United States Pharmacopoeia requirements. The remaining constituents of Pycnogenol resemble monomeric components such as free catechin, taxifolin and a range of naturally-occurring organic acids such as ferulic acid and caffeic acid.
The unique nutrient profile supplied by Pycnogenol helps maintain a healthy capillary system in several ways. It protects vitamin C which is necessary for the production of collagen. Pycnogenol can also naturally stimulate production of nitric oxide in blood vessels which is vital for supporting normal arterial health. Furthermore, Pycnogenol binds to collagen fibers, protecting them from attack by free radicals so that the natural elasticity of collagen in skin, joints, arteries, capillaries and other tissues is maintained.†
As a dietary supplement, adults take 1 to 3 capsules daily with meals or as directed by your healthcare professional.
Serving Size: 1 Capsule
Amount Per Serving
Pycnogenol ...25mg
(pinebark, dried extract)
Other Ingredients: Cellulose, gelatin (capsule) and vegetable stearate.
This product contains NO yeast, wheat, gluten, soy protein, milk/dairy, corn, sodium, sugar, starch, arti?cial coloring, preservatives or fl?avoring.
Pycnogenol is a registered trademark of Horphag Research Ltd. Use of this product may be protected by one or more U.S. patents and other international
patents.
Tamper resistant package, do not use if outer seal is broken or missing.
Keep out of reach of children.
Store in a cool, dry place.
*This statement has not been evaluated by the Food and Drug Administration. This product is not intended to diagnose, treat, cure or prevent any disease.