Q-Absorb Co-Q10 100mg
Jarrow Formulas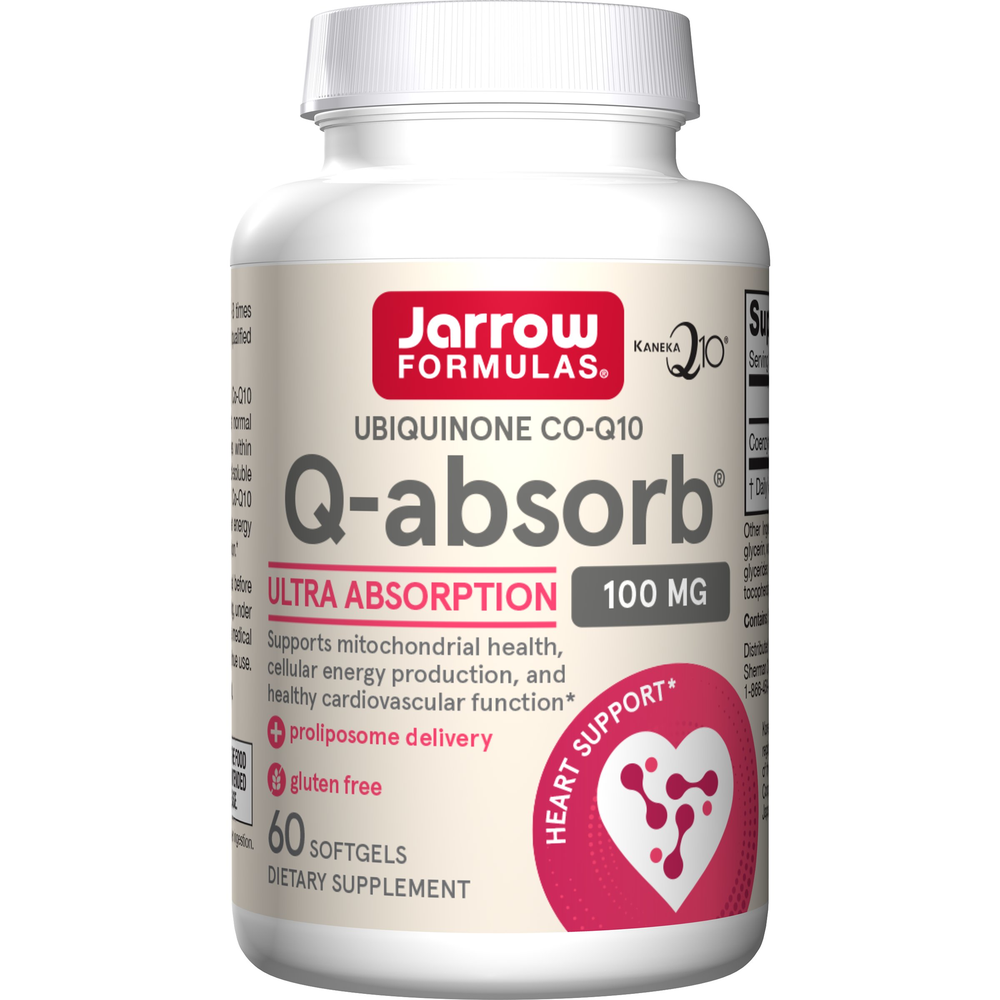 SKU: JAR-QQ160
Supports Heart Function*
High Absorption Co-Q10
2 Published Q-absorb® Clinical Studies
Natural Proliposome Delivery System
No Synthetic Surfactants
400% Increase Over Baseline Co-Q10 Levels*
Pharmaceutical Grade Kaneka Q10®
Q-absorb® is a proliposome lipid-soluble delivery system clinically shown in humans to increase Co-Q10 levels by nearly 400% over baseline with exercise and 3–4 times better absorbed than chewable Co-Q10 tablets.* Co-Q10 supports heart function as a component of the electron transport system, needed for ATP (i.e., energy) production within the cells, and as an antioxidant protects mitochondrial membranes and cholesterol from oxidation.*
Jarrow Formulas® Q-absorb® restores Co-Q10 levels reduced by the use of statins.*
Jarrow Formulas® Co-Q10 is derived from fermentation and consists only of the natural trans configuration, the same as is synthesized in the human body. Jarrow Formulas® supports clinical research on Coenzyme Q10.
Take 1 softgel up to 3 times per day with food or as directed by your qualified healthcare professional.
Serving Size: One Softgel
Amount Per Serving
Coenzyme Q10 ... 100mg
(Ubiquinone)
Other Ingredients: Soy lecithin, medium chain triglycerides and natural mixed tocopherols. Softgel consists of gelatin, glycerin, purified water, caramel and carob extract.
Contains Soy.
This product does not contain
wheat
gluten
dairy
egg
fish
shellfish
peanuts
tree nuts
Kaneka Q10® is a registered trademark of the Kaneka Corporation of Japan.
NOTE: If you have a medical condition, are pregnant, lactating, trying to conceive, under the age of 18, or taking medications, consult your healthcare professional before using this product.
Keep out of the reach of children.