Q-Evail 200mg
Designs for Health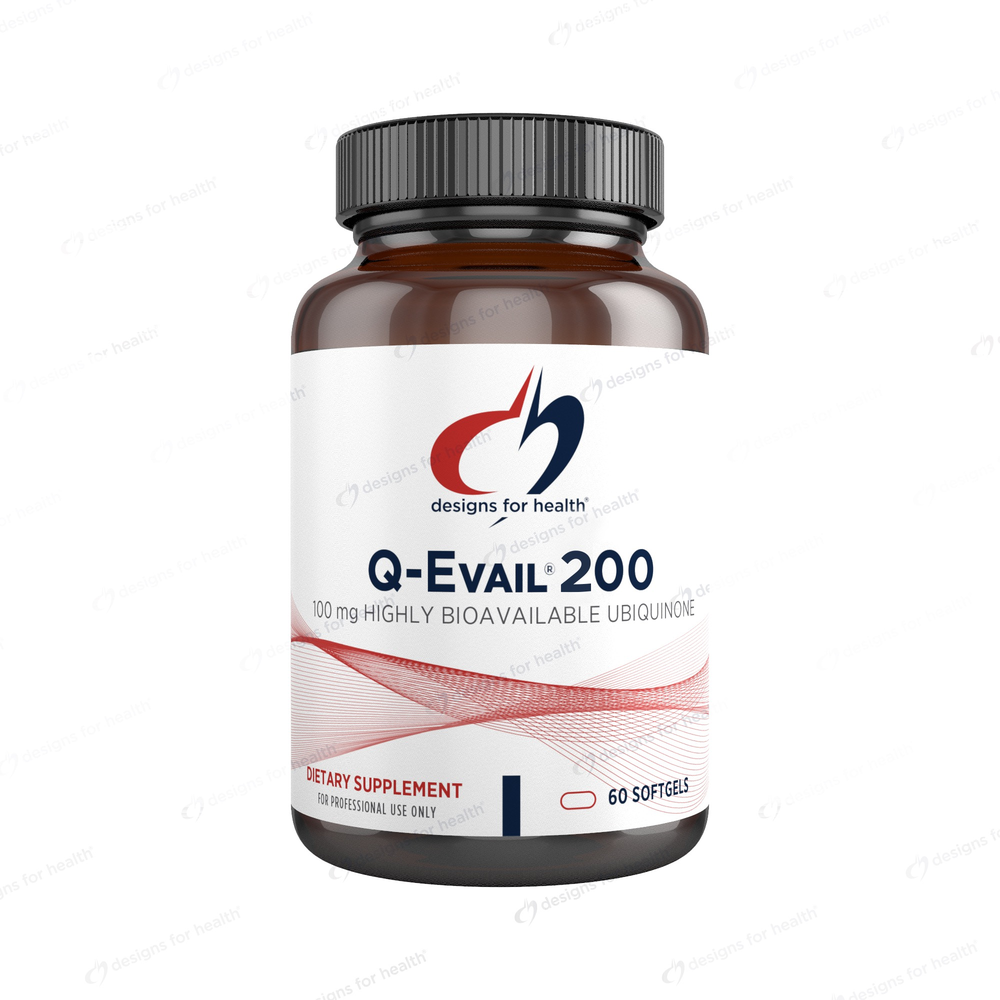 SKU: DFH-QEN200
Q-Evail offers 200 mg of highly bioavailable ubiquinone coenzyme Q10 (CoQ10) in easy-to-swallow softgels. It is manufactured via a new, proprietary emulsification process that uses all-natural ingredients, including vitamin E, medium chain triglycerides (MCT) and lecithin that is free of polysorbate 80. Superior bioavailability has been demonstrated in an in-house human clinical trial, showing this material to be up to eight times more bioavailable than crystalline CoQ10 powder.*
CoQ10 exists in both ubiquinone and ubiquinol forms, its names derived from the word ubiquitous because it is present everywhere in the human body. The number ten in CoQ10 refers to its biochemical structure, which consists of ten isoprene units attached to a benzoquinone head.*

CoQ10 is recognized for its significant role in the electron transport chain as well as being one of the bodys most vital antioxidants. It is found in the mitochondria, the energy-producing center or powerhouse of the cell. In addition to being produced in the body, CoQ10 can also be obtained in small amounts through certain dietary sources, such as fish and organ meats; yet these amounts may often be inadequate to meet the body's demands. Additionally, age and various illnesses, as well as the use of various medical classes, increase the need for CoQ10. Thus, supplemental amounts may be beneficial for supporting health and helping to prevent or limit oxidative damage.*
As a dietary supplement, take one softgel per day with a meal, or as
directed by your health care practitioner.
Serving Size: 1 softgel
Amount Per Serving
Natural Coenzyme Q10 ... 200mg
(Ubiquinone)
Other Ingredients: Medium chain triglycerides, sunflower lecithin, vitamin
E, high gamma mixed tocopherols; gelatin, glycerine, purified water, annatto
(color) (softgel ingredients).
Does not contain gluten.
Q-Evail features a proprietary vitamin E, MCT and lecithin-based bioavailability technology exclusive to Designs for Health.