QuerciSorb-SR
Tesseract Medical Research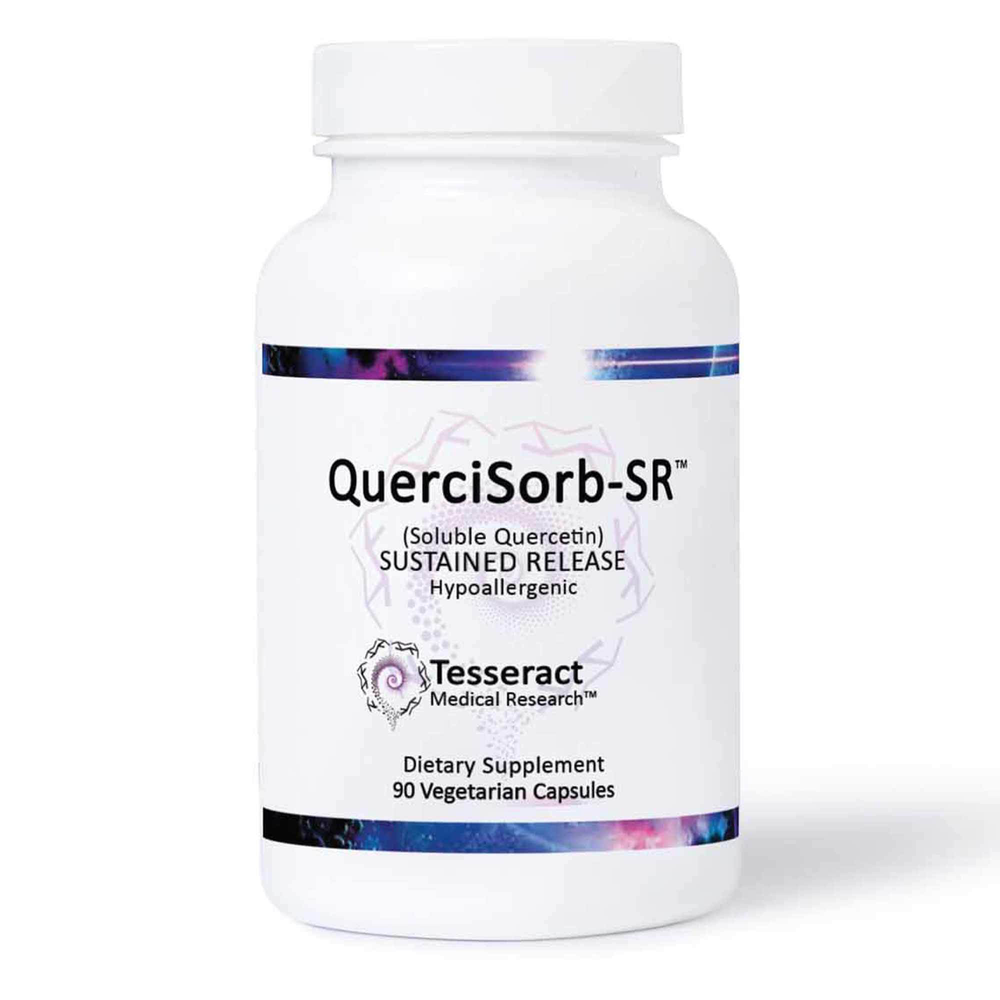 SKU: TES617-EX001
IMMUNE SUPPORT: QuerciSorb-SR contains Quercetin, a potent flavonoid found in many superfoods, with superior antioxidant properties, thought to help improve overall health, heart health, cardiovascular health, and to support immune function.*
INFLAMMATORY RESPONSE: Valued as plant-derived dietary supplement because of its ability to help maintain the body's inflammatory response. Quercetin may help strengthen immune function, and is indicated for increased overall health & improved wellbeing.*
SUPPORTS CARDIOVASCULAR FUNCTION: QuerciSorb-SR uses Tesseract's technology to offer higher bioavailability than many Quercetin capsules. Quercetin may help inhibit the oxidation of LDL cholesterol and may support optimal cardiovascular and respiratory health.*
PROVEN MOLECULES, OPTIMAL DELIVERY: Tesseract is using scientifically advanced technology to support patients struggling to restore their health in the modern world of compromised diets and environments. Our supplements are uniquely bioavailable.
TESSERACT IS REVOLUTIONARY: Tesseract nutritional supplements are in a class of their own. Compare their effectiveness to other supplements in the market.
Take 1-2 Capsules two times daily or as recommended by your health-care practitioner.
Serving Size: One Capsule
Amount Per Serving
Quercetin complex** ... 350mg

Other Ingredients: CyLoc™ gamma dextrin fiber matrix, high and low viscosity hydroxypropyl methylcellulose (sustained release), hypromellose (derived from cellulose) capsule, calcium laurate, leucine, plant amylase and silicon dioxide.
**Solubility enhanced Quercetin (from Dimorphandra Tul (pods) extract) in an octadextrin matrix molecular trap compounded with DexKey™ release agent (patent pending, Al Czap, Czap R&D, licensed by Tesseract Medical Research, LLC.)
Tamper Evident: Use only if bottle is sealed. If pregnant, consult your health-care practitioner before using this product. Store tightly sealed in a cool, dry place.