Quick Defense
Gaia Herbs/Professional Solutions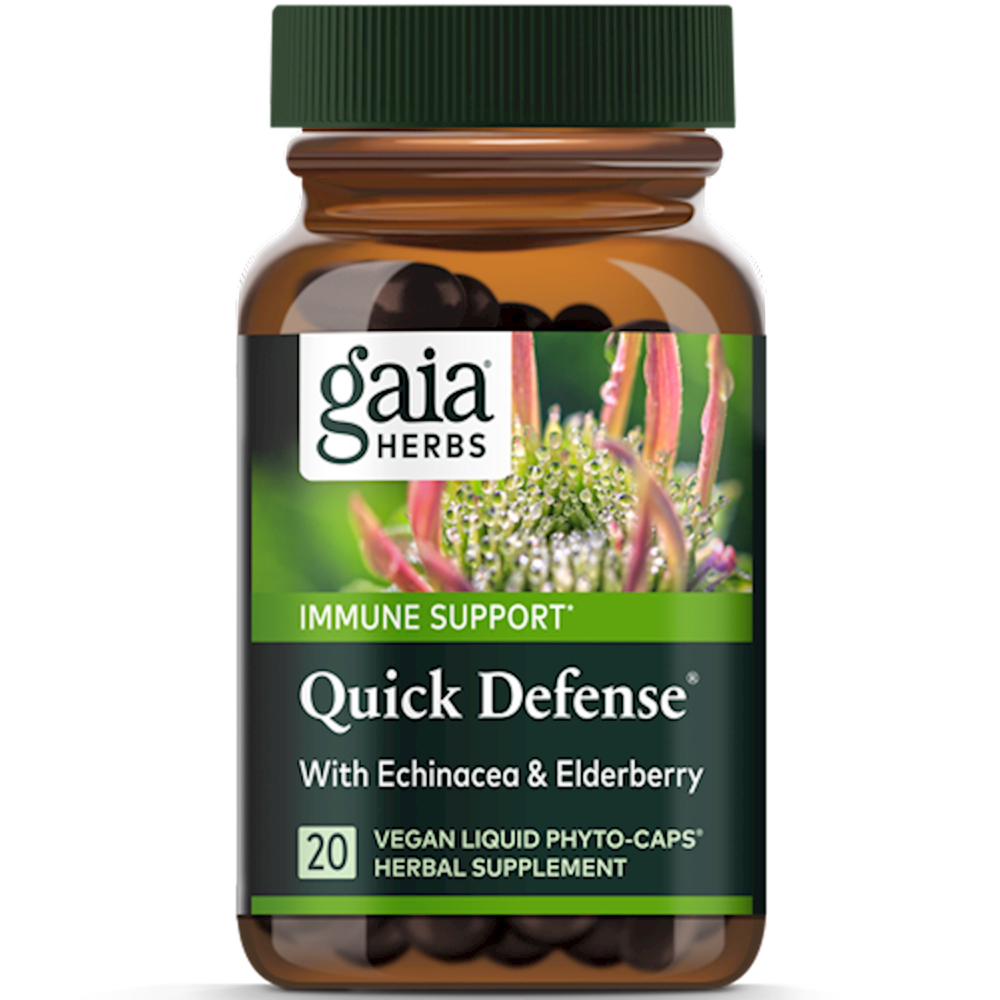 SKU: GAI-90A65020
Quick Defense

Dietary Supplement

Supplement Facts
Serving Size: 2 capsules

Amount per 2 capsules:
Calories 14
ALCOHOL FREE CONCENTRATED EXTRACTS OF -
Echinacea root 210 mg
(E. angustifolia & E. purpurea) (Organic Ingredient)
Andrographis paniculata (ecologically cultivated) 100 mg
Black Elderberry (Sambucus nigra) (Organic Ingredient) 100 mg
Ginger root supercritical extract 10 mg
(Zingiber off.) (Organic Ingredient)
WHOLE PLANT STANDARDIZATION PROFILE
Bioactivity per 2 capsules-
Rx-A Factors (Total Alkylamides from Echinacea) 10 mg

Each 2 capsules contain 5200 mg crude herb equivalent.

Other ingredients:
Vegetable glycerin, certified organic olive oil, vegetable cellulose (capsule).

Recommendations:
Take 2 capsules 5 times daily for 2 days at onset with a small amount of water. Repeat if necessary.

Not to be used during pregnancy or lactation. Keep away from children. Use only as directed on label. Safety sealed for your protection. Keep bottle capped at all times and store in a cool dry place. Natural separation may occur. This does not affect product quality.

Tested free of heavy metal toxicity.
Contains no animal by-products and no gelatin.

Certified Organic Grower
Certified Organic Processor
Whole Plant Standardization
100% Vegetarian

Liquid Phyto-Caps - Gaia Herbs' patented technology delivers a concentrated full spectrum alcohol-free liquid extract in a 100% vegetarian capsule.

Maintains a healthy inflammatory response.*

Synergistic properties of herbs in Quick Defense-
Quick Defense is a highly concentrated formulation of Echinacea, Black Elderberry, Andrographis, and Ginger. Each of these herbs, when combined together, deliver a synergistic effect that supports the body's response to challenges that trigger an immune system response. The anti-oxidative factors found in this combination are highly specific and quickly deliver their health promoting influences.

Rx-A Factors at onset-
The highly concentrated Echinacea Alkylamides, known as Rx-A Factors, only found in Quick Defense, are specific to support the body's immune response during times of challenge.* Quick Defense is formulated to take only for 2-4 days as needed and delivers the necessary response to unhealthy environmental influences.

Gaia Herbs
NIH-NCCAM Funded Research-
Over 5 years of federally funded research have resulted in the discovery of how the Alkylamide factors found in the roots of Echinacea act within the body. Gaia Herbs has now established a patent pending method for extraction of these highly active factors, known as RX-A Factors. Gaia Herbs is the ONLY U.S. manufacturer growing and extracting Echinacea to these factors. Gaia Herbs grows and extracts all of its Echinacea under Certified Organic conditions.

Gaia Herbs liquid Phyto-Caps Represent Superior Absorption-
Gaia Herbs' Patented Liquid Phyto-Cap delivery system represents an advance in absorption of herbal supplements. Our research shows disintegration of our vegetable based capsule within 4-5 minutes and full dissolution within 10-20 minutes. This represents a very quick utilization and complete absorption of the ingredients within each of our Liquid Phyto-Cap products. Now you can enjoy the superior bioavailability and fast absorption of a liquid delivery system in a vegetarian capsule. Gaia Herbs liquid Phyto Caps deliver all of the properties of a liquid with the convenience of a capsule.

*This statement has not been evaluated by the Food and Drug Administration. This product is not intended to diagnose, treat, cure, or prevent any disease.